Historic Cameli's Pizza closes after 26 years
After 26 years of service, Cameli's Pizza closed its doors on Dec. 11, 2022. 
Due to fluctuations in the labor market and flow of customers during the pandemic, the Italian restaurant and bar located in Little Five Points could no longer afford to remain in business.
George Cameli, the restaurant's former founder and owner, initially placed the property for sale in 2018. Yet, Cameli's continued to serve the surrounding community for five years before permanent closure.
"My brother and I own the property; I had been in [the restaurant industry] for nearly 24 years, and I was getting burnt out," Cameli said. "I started to see the writing on the walls in terms of sales, and decided it would be time to look at selling the property. It was a financial decision — we were losing money."
In 1996, the first Cameli's opened on Ponce De Leon Avenue. The restaurant began as a small business with a handful of employees consisting solely of family members. After the first months, the restaurant found almost instant success. Cameli's expanded to a second location in 2012, resulting in an increase in customers, employees and space for serving. 
"The idea behind the restaurant was to give people high-quality food at a good price, but in an atmosphere that was relaxed," Cameli said. "Now, there are millions of restaurants around the area, but back then it was difficult to find a good restaurant to go to. So, when people found a place that wasn't a national chain, It only took a couple of months before we were able to pay the bills. My family was working 12-hour shifts, and we were lucky to get moving forward quickly."
Maintaining both locations proved to be a challenge due to an increase in staffing and production. However, former General Manager Sarah Digioia, who had been employed at Cameli's since 2004, sais that there were also several benefits to the new Little Five Points location.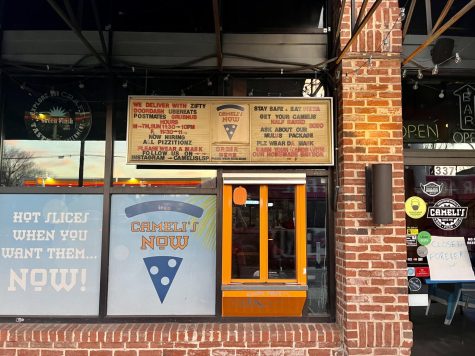 "Opening a second location was a huge undertaking, but we could do a lot of business with the space with almost 200 seats," Digioia said. "While keeping the Ponce location open, we also had to work hard to make sure that Little Five was busy all the time. Because it was in more of a neighborhood, people would come in and say that they had driven past the place a million times but never stopped in, so a lot of people knew who we were."
Although Little Five Points is considered by some to be an area dedicated to young adults, Inman Park resident and Midtown parent Ed Peterson says he never hesitated to bring his family into Cameli's. 
"The restaurant has a little bit of an edge to it," Peterson said. "It is not necessarily my kind of crowd, but the reality is that it is a local, family-run business. It is in the spirit of Little Five Points, but also somewhere you can bring a family. I had Cub Scout meetings there and hosted programs for a company for a couple of years. I even brought in 40 PTA parents for an event, as well. I always felt comfortable going in there."
Because Cameli is a long-time Inman Park resident, he made it a point to develop a deep connection between the restaurant and the surrounding neighborhood. By donating to local neighborhood institutions, participating in the annual Inman Park Parade and maintaining relationships with his customers, Cameli integrated himself and the restaurant into the local area.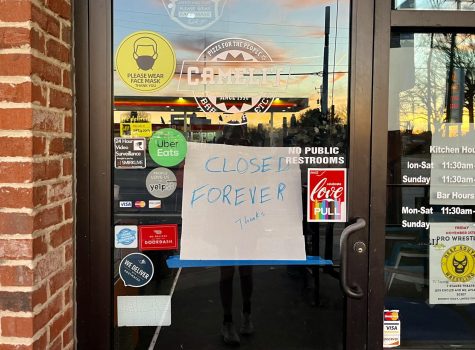 "The community is a compelling thing," Cameli said. "When you open a family-owned business, you learn that you need to be part of the community that you are serving. Our kids grew up in Inman Park and went through the APS (Atlanta Public Schools) system, and we got to know just about everyone in the neighborhood through school or business. I was always happy to help anyone who asked for donations because we knew that they were customers, and they were the parents of the children our kids were friends with. When you take care of somebody else, they are going to take care of you."
From Cameli's first to final day, several customers visited the restaurant on a weekly basis. Because of the high-quality service, food and inviting atmosphere, regular customer and Virginia-Highland resident Kate Gaboardi made eating at Cameli's a Friday night tradition before every Atlanta Braves home game for nearly 30 years. 
"My husband and I started eating there shortly after they opened," Gaboardi said. "I have probably eaten 400 chicken pesto sandwiches by now. My husband was diagnosed with cancer in 2012, and when his friends would take him to treatment, they would bring him there for lunch. He introduced everyone to the restaurant, and we would take everyone we knew to Cameli's with us." 
As Cameli's served as a special place for Gaboardi and her husband, his passing allowed her to celebrate his life in a space where they had shared countless meals and positive memories together. 
"When he died, I asked George (Cameli) if I could hold his memorial at Cameli's, and he said 'sure,'" Gaboardi said. "Instead of a funeral, we held a service complete with pizza, sandwiches and beer. George and his staff took amazing care of us. Before my husband died, the hospice workers asked him what he wanted for service, and he didn't know, so I suggested that I take everyone to a pizza at Cameli's. He loved the idea, so all of his friends and coworkers drank beer and sang his praises." 
Gaboardi appreciated Cameli's staff and says that the incredible service is what kept her coming back. 
"George had the best staff of any restaurant I have ever been in," Gaboardi said. "I have never had a bad service experience. Maybe there would be issues, but they were apologetic and took care of it. Just, amazing staff."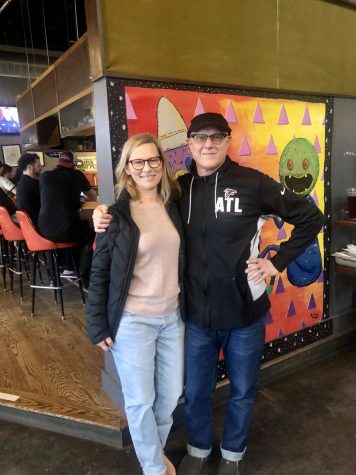 Cameli eventually closed the Ponce De Leon location in 2017 due to a nearly doubled cost of the rent. As the Little Five Points restaurant was now the sole Cameli's, a change in customer demographics and interests was noticed and adapted for by staff.
"The young adults that lived in Candler and Inman Park were our go-to customers," Cameli said. "We had a young-adult customer base when we expanded the bar at the Ponce location. The Little Five location got a lot of late-night, young-adult bar business which led us into the eventual downturn because when Covid came around, there were fewer people going to restaurants and bars, and we lost that late-night bar business. After the pandemic, we found that those customers that were there beforehand didn't really come back."
As a pizza restaurant, Cameli's was already equipped with efficient delivery services, mobile ordering and a to-go window. Yet, even with these advantages, the pandemic still resulted in a year-long hiatus for staff and a significant decrease in business. 
"The governor issued an ordinance and we saw an immediate decrease in the amount of customers that came in due to heightened awareness," Digioia said. "George eventually shut down the dining room, and we stayed closed from March 2020 until June 1 of 2021. We were in a false sense of hope. The longer it dragged on, the more obvious it became that the restaurant industry had changed and people were less willing to work in a restaurant. At the beginning of the pandemic, it was kind of survival mode, and it felt like, 'Ok we can do this,' but we knew we couldn't do it for three years." 
After receiving additional support from government programs, Cameli's remained open throughout the pandemic but ultimately closed due to lost revenue in 2022. Through an announcement on Facebook, Cameli said the restaurant would permanently close while thanking his friends, family and surrounding community for the years of support.
"It got to a certain point that we either had to get out or accept losing thousands of dollars every month," Cameli said. "I knew it was time. It is a relief, in theory, to stop losing money, but the sad part of it is the loss of customers and employees who grew up with Cameli's. For many of the young adults in the neighborhood, Cameli's was their first job."
After the announcement, Cameli's was packed with old customers and employees in its final weeks of service. 
"After we announced that we were closing on Facebook, the last couple weeks was a mad rush of employees and old customers coming back to revisit us and tell us how much they loved us," Cameli said. "They would tell us how they met their spouse, or what life-long relationships were formed or how great their job was here. It was nice to know that people's lives were impacted positively by your business, but at a certain point there is some relief with moving on."
While community members mourned the loss of Cameli's, Peterson said he feels more proud than disheartened by the restaurant's closing. 
"When I visited on one of the last days, the most I felt was pride," said Peterson. "For any business to be open for 25 years is a big deal and a major accomplishment. The fact that they did it while maintaining consistent quality and great food was incredible. Living in a neighborhood like this, you get nostalgic for the places that you love, but all I really felt was pride."
Now, Cameli finds himself in a comfortable position pursuing the creation and sale of hand-crafted furniture, a long-time interest of his. 
"I have always wanted to build and create things that people could see and that I could appreciate whether it was food or furniture," Cameli said. "I have built all of my restaurants, renovated all of my homes ,and I am the sort of person that is a doer. Hopefully, I can continue to create things that make people happy. After 20 some years, you start to recognize the complications and irritations of being in this business that drag you down. I'm sad, but I feel that I am ready to go forward and grow."
Peterson believes that this exemplifies the gentrification of Atlanta neighborhoods, and encourages members of his community to support local, family businesses. 
"There is something about local businesses and how they are enriched in their communities," Peterson said. "A family put their blood sweat and tears into [Cameli's], and it's a family whose kids went to Grady and who supported the neighborhood. If you have the opportunity to support a great local business, do it; if you love a local business, leave a review and tell your friends about it. There are little things people can do to help little businesses like that grow and sustain, just like Cameli's should have."