Senior Assassin brings class together
The first semester of senior year is notorious for the relentless pressure on students, but a game involving water guns, swim floaties and goggles is providing some fun outside school hours. 
Those with a Midtown senior in their home have probably heard of the game: Senior Assassin.
"It's fun," senior Spencer Lieberman said. "It gives you something to talk about with a lot of people, so it's a good conversation starter. It's also just a big game that gets everybody together."
Almost 150 seniors joined the game. The premise is pretty simple and participation entirely optional.
"Senior Assassin is a game for the senior class in which you're assigned different people, and the goal is to shoot them with a water gun in order to get them out," said senior class president and game organizer Chloe Walker. "Once you get that [assigned] person out, you get that person's target, and the game continues on and on until there's only one person left."
To protect themselves from being eliminated, those who choose to participate must be wearing swim floaties or goggles. Students are in "safe" zones inside school buildings during the school day, as well as inside their own home, at work or at sports practices. The game is not played in the school due to a water gun's close resemblance to a real gun.
"Rules are intentionally made," Walker said. "I specifically remind the GroupMe (group chat where all players communicate) multiple times, 'Don't bring your water gun to school,' and that's why it's not an in-school thing."
For an elimination to count, it must be captured on video and posted to the Senior Assassin Instagram page. Seniors who opted to play pitched in $5, which resulted in a $745 prize for the winner. After around eight weeks of competition, around 40 students remain in the game, with that number decreasing as the days go on. 
"I'm in it to win it," senior Virginia Maguire said. "I think that a lot of people complain about having to wear floaties and stuff, but I think that's the whole point of the game: you have to deal with wearing the floaties and going out in public, and it being annoying and embarrassing; that's how you win."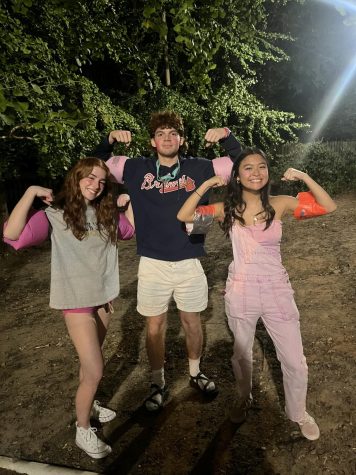 At this stage, remaining in the game requires dedication and a willingness to embrace the unusual look. 
"At the senior pictures, I was wearing them, and [a photographer] was like, 'Why are these people wearing floaties?' I was like, 'Oh, it's for the game,' and she says, 'Oh, I thought you were advertising for the swim team,'" Maguire said.
Before he was eliminated, senior Will Hunter was also hoping to take home the prize and was used to fielding questions about the game. 
"Back when it was just one floatie (earlier rules) and you could wear it on your ankle, when I would be at the YMCA playing basketball, people would ask me if I'm wearing it for ankle support," Hunter said. "Every time people ask, I have to explain the whole senior assassin thing."
If a player doesn't "assassinate" their target by the end of a week, they are added to a "bounty list," which is released at the end of each week via Instagram. Players on the bounty list can be eliminated by anyone still in the game rather than solely by their assigned "assassin." To get off the bounty list, students must "assassinate" their assigned target. 
Hunter was eliminated while on the bounty list after a strong showing, eliminating a total of nine players before his defeat. Even when staying the night at a friend's house, he slept wearing floaties. 
"I [was] very nervous when I [had] them off, so I just [tried] to keep a spare set of floaties in my car and then one at home," Hunter said.
Even those who aren't on the bounty list aren't willing to risk losing the chance to win close to $800.
"You'll see me out on the street or something like that, and I'll have my floaties on and then I'll have my goggles around my neck just in case I lose a floatie or something," Lieberman said. 
"For my first elimination, I camped outside of [my target's] house for 30 minutes to an hour waiting for her to get home from the airport," Lieberman said. "When she finally did, I ran out from behind the bushes and got her in front of both of her parents, which was kind of funny. Before that, I went to one of her soccer practices and waited for her there, but then she had a floaty on."
Senior Clodagh Dowling was Lieberman's first elimination. Although at first, she was upset about being eliminated, she's relieved to not have to stress about wearing floaties or goggles all the time. 
"He was very, very dedicated," Dowling said. "It is a little scary how he found out what flight I was on, even though I didn't tell anyone, so I don't know how that happened, but I admire his dedication; he's committed."
As the game continues, family members are also getting swept up in the competition. 
"My dad makes sure every morning that I have [my floaties] on before I walk out," Maguire said. "I was telling him that I'm going to get shoes for homecoming, and he was like, 'You need to be wearing your floaties.' He's so into it; I think he'd be mad at me if I got out."
Midtown's Class of 2022 played Senior Assassin, and the game lasted around four months. So, the game doesn't last forever; rules change as time goes on to ensure there is an end-point. Walker suspects the game won't last past Halloween, but students will have the opportunity to play again next semester. 
Students have said Senior Assassin has brought the twelfth graders together and is a fun way for seniors to bond before the class members go their separate ways after graduation. 
"Something I liked about Senior Assassin was that normally I wouldn't really talk to Spencer; we wouldn't really interact, but it gave us a chance to interact, which I think is fun," Dowling said.
Along with Senior Assassin, Midtown seniors will participate in an array of activities and traditions, including senior sunrise, a senior trip out-of-state, senior field day and going to Six Flags Over Georgia amusement park.
"It's just a fun thing for the senior class to do to celebrate going off to college," Hunter said. "Senior year should be fun, and so it's fun to have little senior year festivities like this."