Community speaks against recommended 4th and 5th grade academy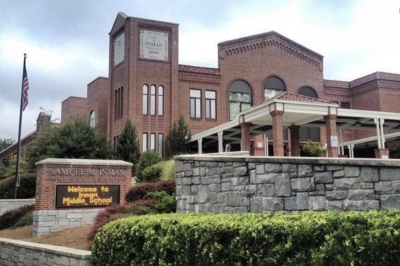 This week's community sessions to further discuss the use of the old Inman Middle School facility as a potential fourth and fifth-grade academy has been rescheduled after Superintendent Dr. Lisa Herring emailed Midtown students, families, staff and community members today.
Dr. Herring said the Facilities Master Planning process was supposed to start with a school board retreat this week, but the district's consultants needed more time to confirm the enrollment projections, so the process will now begin in January.
Community members spoke out against making Inman a fourth and fifth grade academy at last night's school board meeting, including Jennifer Palmer, a Midtown cluster parent and a leader in the movement against the academy. Palmer was upset after Dr. Herring rescheduled the meeting to discuss the future use of the academy.
"Clearly, this is extremely last minute, so it's a huge inconvenience to parents and community members who already had it scheduled," Palmer said. "At the very least this implies poor planning on the part of APS. If they were planning to start working with the facilities plan this week, doesn't it seem optimistic to think they would have results in time for a community meeting today?"
Morningside neighborhood resident Hayden Kelly said during the meeting that the K-5 system is not broken and that it doesn't need fixing.
"The problem that needs addressing is overcrowding," Kelly said. "The superintendent's recommendation does not address overcrowding, since a four five academy will be overcrowded a few years after it opens. It creates problems that wouldn't exist in a K-5, like more buses, a $15 million renovation, splitting families between schools and more transitions for students … If you choose the academy, you're choosing the plan that hurts kids with low socioeconomic status the most, according to the APS equity department."
Morningside PTA co-president Tony Moore said he feels the frustrations from the parents are dividing the community. He also said the parents need to have a solution rather than just being against the academy.
"The number of questions and concerns raised by parents outweigh the answers; parents should not have to submit hundreds of open records requests just to learn about potential impact," Moore said. "Parents and neighborhood associations, you also need to be willing to be for something as opposed to being purely against it. It's amazing to hear parents speak up about being pro the K-5. We now have another unhealthy divide between our neighbors, our neighborhoods, and our schools."
Moore said the board is not helping the schools in the Midtown cluster equally enough, and that some schools are being left behind.
"You have the ability to help all of the Midtown cluster elementary schools by distributing resources equally while simultaneously addressing the overcrowding concerns of parents," Moore said. "We really need to think about the needs of Hope-Hill and why they don't have a playground as well as the safety and walkability of that area and that school. Now is not the time for another academic experiment … let's deliver a K-5 and reallocate funding where it's needed in the cluster."
Midtown Cluster parent Emily Oren said that she moved to the Mary Lin district because she wanted all three of her children to attend public school. She said she specifically chose Mary Lin over Decatur because she did not want a fourth and fifth academy.
"An academy not only means more difficult transitions, but for families like mine, where the kids are three years apart in age, it means that for the vast majority of their education, none of my kids will attend the same school at the same time," Oren said. "We cannot begin to describe how difficult it will be for me and my husband to try and get three kids to and from three different schools everyday … I can tell you, that the more transitions my children have, the more stress and hardship on my family."
Oren said her kids are already stressed about the additional transitions they will have to go through if the academy is approved.
"My second grader is panicked about leaving her beloved elementary school early for a new school for which she will now only attend for two years and that would have three times as many kids in her grade as there are now," Oren said. "My rising kindergartener is already worried about starting a new school next year. I don't want to tell him it will only be for a few years and then he will have a new school again and again and again. It's not good for the children. Kids need stability, not frequent transitions."
Monique Nunnally is a former teacher at Carver High School. She said that the district is not putting enough focus on the Carver cluster.
"As this district works to better understand its role in creating equitable outcomes for all the students, in my community, we don't feel that this is a focus on the south side," Nunnally said. "We are hearing a lot from our Midtown parents and family members and community members about their struggles but there is not a lot of focus on the south side and it makes me feel like we aren't being paid attention to."
Nunnally said how the Carver cluster is losing students, and believes that the Midtown cluster is receiving more attention than the Carver cluster.
"We're missing 1,500 kids or more in our cluster because we are being gutted right now," Nunnally said. "We've lost 40 percent of our children in our enrollment because we are being gutted. And I need this board and the next board to really take the Carver cluster seriously and provide us with additional support for our strategic planning process … As we see right now and listening to Midtown talk about their concerns, overcrowding is happening to them while we are being gutted with nothing."
Jessica Stern is the education liaison for the Morningside Lenox Park Association (MLPA) and previously served on the Atlanta Board of Ethics for four years as the vice chair. She cited a survey in which 35 percent of current or future APS families will consider private schools if the Board approves Inman four five.
"I'm not yet a parent of an APS student; I'm here because the future of Inman is not just an issue for future APS families, but for communities at-large," Stern said. "A recent unbiased survey with almost 500 respondents, 40 percent of which will not have children in the system in the future, indicated 81 percent of neighbors oppose the Inman four five recommendation. This is a sign of poor community engagement and transparency on the Inman four five recommendation."