APS hosts APS NEXT event, discusses state of the district
Atlanta Public Schools hosted their APS NEXT event in November, at which Superintendent Dr. Lisa Herring updated the APS community of the state of the district, especially coming out of the pandemic. 
"When the unprecedented hit us, we knew we had to plan for what would be next," Herring said.  
In her speech Herring discussed the programs APS has implemented, such as universal screeners, additional counseling personnel, and laptops, to support students coming out of the pandemic. 
"Our team proactively developed reopening plans," Herring said. "In addition to the development of reopening plans, our team was thoughtful to ensure that we work together, and we put in place a two-year academic recovery plan," Herring said. "That includes universal screeners to identify learning disruption gaps, intervention and enrichment blocks for all students and a summer academy to make up for our loss of learning. That plan also includes whole child intervention and social-emotional learning and supports, all of which we know are critically important." 
One of these screeners included MAP (Measure of Academic Progress) which Herring said is one way the district was responding to concerns of learning loss brought on by the pandemic. 
"For the first time in the history of APS, we can look at the proficiency of the performance level of all of our students with the same assessment across every grade," Herring said in an interview. "That changes the game and the way we do our work, we do interventions and we measure progress and accelerate. So, that goes into the day-to-day practices of teachers' instruction.." 
Herring said increased social-emotional learning initiatives have made mental health support an integral part of students' education.
"We've started, since the beginning of the pandemic, what we call trauma to transition and so social-emotional learning practices and behaviors have actually become a norm in the way that we start the school day," Herring said. "It's a way to do a check-in for everyone. I think that's a critical part of what I have seen both virtually and face-to-face, literally in the classroom, and then adding that to our curriculum." 
Herring also emphasized the necessity of innovation and APS's progress toward a "21st Century Classroom"  which includes projects such as implementing technology into classrooms to teach elementary students math, science, and reading as well as "Innovation Cafes". 
"We have a responsibility to change what school looks like now, and that change is already in front of us in a space called innovation, and in an area called technology and an intersection where that leads," Herring said during her speech. "I believe, as an educator who is passionate about innovation, that [students'] classroom experience is not supposed to look like mine."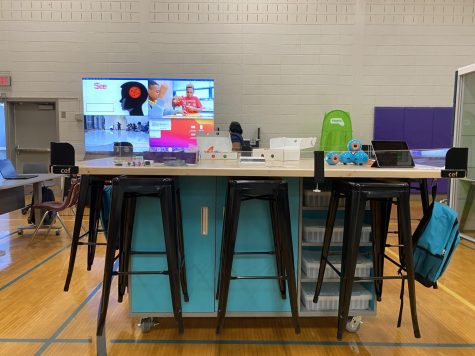 Alexander Rivera is a senior at South Atlanta where he serves as a mentor in South Atlanta's Innovation Cafe. His work involves giving advice to underclassmen working on their projects. 
"The innovation cafe can be used by teachers and students in a way where it's a business environment," Rivera said. "This added a new way for students to come in and make a jingle, or make a presentation, or work on assignments. [It's] a wonderful idea for many of us…This is an important part of the district because innovation needs to be everywhere. It involves people, creativity and thinking." 
Former principal of Inman Middle School, Kevin Maxwell is now the Assistant Superintendent for Innovation, Improvement and Redesign and is working on initiatives such as virtually connecting math teachers between Long Middle School and Sutton Middle School to ensure students have opportunities to take advanced math classes. Michelle Olympiadis, who was recently re-elected to her position as the District 3 representative on the APS Board of Education, said as a returning board member, she is excited about these types of solutions.  
"These are the kind of creative techniques we need to have throughout the district so that children have the proper exposure and opportunity to excel with education," Olympiadis said. "I believe in everything that I saw today that we are being intentional and being innovative. At the end of the day, we want to make sure we are creating as much fairness and opportunity and do the right thing for our children." 
Equity was also a major focus of the APS NEXT event and the district's plan for the future. 
"The Center for Equity and Social Justice is not quite a year old, so we've helped put people and practices in place," Herring said in an interview. "We've developed advisory groups and we're pushing into the schools…It's social justice by design. We're not quite there yet. We are developing a good bit of the blueprint, but we've accomplished a lot of things." 
Olympiadis said the district must focus on equity because of the major socioeconomic divides of the city. 
"With respect to equity and innovation, I think we are just going to have to put on a really hard hat and be like, 'We've got to do a little bit more to balance the playing field,'" Olympiadis said. 
The APS 5 (Data, Curriculum and Instruction, Whole Child Intervention, Personalized Learning, and Signature Programming) was a group of measures laid out during the event as the strategy APS would use to continue progress in schools. According to Herring, the APS 5 can be applied to ensuring the wellness of students, the district's success of becoming a 1:1 school system (each student receives a digital device) and each school having signature programming, such as STEM/STEAM.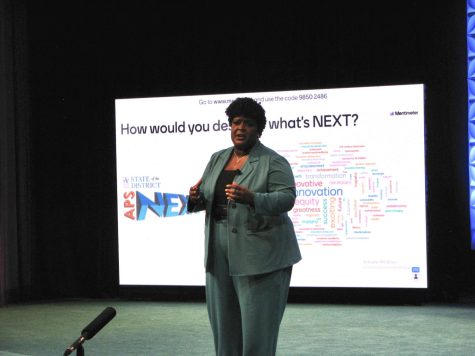 "APS 5 is a series of measurable activities and metrics," Herring said in an interview. "Data should be a natural extension of teaching and learning. Data drives decisions…the question is what data are we analyzing and how do we ensure that it's valid and that we have assessed it with fidelity. The APS 5 allows us to take a deeper dive into what that looks like for each child and work with schools to ensure they have a plan to get there." 
Senior Ronnie McCoy goes to South Atlanta High School and was part of the APS NEXT program. He helped to narrate a video outlining this data-driven strategy to lift up all students across the district. 
"I feel like the state of the district is headed toward greatness," McCoy said. "I feel like the APS 5 is going to take effect in about six months, and I feel like every student that's a part of APS is headed toward success." 
Leslie Grant currently represents District 1 on the APS BOE but did not seek reelection. She said, as an outgoing board member, she thinks the state of the district is moving in the right direction. 
"I love this, it's all about the students and I can tell there is a strong focus on what's happening for our students and really making that the sole focus of what's going on," Grant said. "I'm pleased that we've gotten to where we've gotten and just really hopeful."