Atlanta City Council scheduled to vote on controversial police, fire training facility development
The Atlanta City Council is slated to vote on a proposal to build a new police and fire training facility that would be developed on an 85-acre piece of land at the site of the Old Atlanta Prison Farm. However, the proposal, coined by critics as "Cop City," has drawn controversy ahead of today's city council vote. 
Supporters of the new facility argue it is needed to upgrade the subpar state of Atlanta's existing facilities. According to Deputy Chief Darin Schierbaum of the Atlanta Police Department, the building of a new training facility would be a key aspect of crime reduction efforts because it will help ensure the retention of a sufficient number of officers to be present across the city. 
"A role of a training facility, such as this or crime reduction, is ensuring that we have an adequately-staffed police department with qualified candidates that we retain the officers that we train," Schierbaum said. "I would be remiss if I didn't commend the Atlanta City Council for passing significant raises three years ago that helped us stop the attrition that was quite large in our police department. This [training facility] will allow us to continue to close the gap, and to ensure that officers don't depart us for jurisdictions that surround us that have proper training facilities."
With the Black Lives Matters protest of summer 2020, police recruitment nationwide has been on a downward trend, according to NPR.  A report by the Atlanta Police Department in 2020 found its initial numbers of 1,822 officers in January of 2020 had dropped to 1,733 in the following September. 
The Atlanta Police Foundation, which advocated for and proposed the training facility, did not respond for a request to comment. 
Senior Francesca Ruhe attended a meeting hosted by the Democratic Socialists of America, a socialist and labor-oriented non profit, about the training center. She thinks a potential new training facility will negatively impact the city. 
"Increased levels of police do more harm than good to our local communities," Ruhe said. "I believe that pouring money into their training and budgets shows no measured improvement in safety and their existing strategies have been proven to not work in serving the community." 
Seth Roseman, an Arts/Actions Team Leader for youth-led climate change movement, Sunrise Atlanta, said his hub signed onto the campaign organizing against the development. 
"I was sort of immediately floored that there were people that thought that this was a good idea," Roseman said. "And, that those people at the time that we jumped into the campaign, were winning. And, that I didn't know about it, and through being in the campaign, that so many other people don't know about it."
Lack of public engagement around the issue is one of the major concerns the Atlanta community has about the process of potentially developing this site. 
"The story of Cop City is, in many ways, the story of the subversion of local democracy," Roseman said. "Through the APF (Atlanta Police Foundation) and the mayor's office and certain council members, there has been an incredibly truncated and inefficient process for the community to actually engage … there's been a complete lack of publicity, of oversight."
Councilwoman Joyce Sheperd, who sponsored the original proposal, as well as Jon Keen, Atlanta's Chief Operating Officer, and Councilman Matt Westmoreland did not respond for a request to comment. 
Junior Clodagh Dowling first heard about the issue on social media where Atlanta residents have been spreading information, but she didn't realize how serious the issue was until she started receiving notices in her mailbox despite not living close to the proposed site. 
"I don't think it's fair for the people living around it, " Dowling said. "No one wants to live in an area where you can hear gunshots and bombs going off so close to your home. Also, a lot of these people are not aware or weren't aware of this facility until very recently, even though it's been in the works for so long."
Schierbaum said the new facility would be in line with federal, state and local regulations to keep neighbors safe. He also said they planned to implement noise muffling technology and other efforts to mitigate sound.
"We have spoken with a number of communities throughout the country [and] other fire and police departments," Schierbaum said. "We have learned from them [the] best practices that can be employed and how they interact with their neighboring communities to ensure that they are good neighbors that are contributing to the well-being of the neighborhood."
The location of the proposed project, the Old Atlanta Prison Farm, has historical significance as well. Dr. R. Candy Tate is CEO of Culture Centers International, a non-profit designed to sustain and explore the legacy of the African Diaspora, as well as a board member for Historic Atlanta. She believes that the location of the proposed construction site has historical relevance in today's age.  
"Just the fact that it says 'prison farm,' about laborers that were arrested and then farmed out for menial jobs is telling," Dr. Candy Tate said. "So, putting a police academy there would really bring about community servants who were not arrested and don't have to go to prison — they hold that power and ability. Police need to remember about the history of the civil workforce — they have the power to arrest but they also have the power to rehabilitate. That could be brought in with this new facility based on the history of the site." 
Another concern about the possibility of developing a training facility on the proposed piece of land is that doing so would require cutting down the forest that currently occupies the land. 
"[The proposed deal] gave a lot of money to the police for a new training facility, which I oppose on a personal stance, and also just cut down a lot of what makes Atlanta super special, which is green, lush forests," Ruhe said. 
Dowling shares Ruhe's concern.  
"I think it's a waste of forest space that could be used for so many other things, like recreation, there are so many other places they could put a training facility," Dowling said. "Like abandoned buildings, strip malls, and warehouses. I just don't understand why it has to be in this forest."
Some neighborhoods have passed resolutions agreeing with the development of a training facility but are against constructing it on the Old Atlanta Prison Farm land. In one such resolution, the Kirkwood Neighbors Organization rejected the location for the facility.
"In order to preserve the location's conservation in perpetuity for passive greenspace, natural habitat restoration, and future greenspace recreation uses, KNO rejects the location and installation of a Public Safety Training Center on the site of the former Atlanta Prison Farm," the Kirkwood Neighbors Association resolution said. 
Roseman said the possible new training center is about more than just the potential development because it connects to a multitude of social issues the city of Atlanta currently faces. 
"The fight to stop Cop City will last longer and is deeper than Cop City," Rosemann said. "What we're fighting for is obviously the cessation of plans to build a cop training facility in this area … But [also] the militarization of the police, the decimation of our green spaces in a city of trees, the anti-democratic processes of local, state and federal government, these things are the fights."
Tate hopes that if the proposed training academy is passed, it will come with a broader conversation and action regarding policing reform. 
"What we talk about is the prison industrial complex; it's who puts the brown and black bodies in prison," Dr. Candy Tate said. "So, they [the police academy] have the ability to assess the situation, and they can do that better with informed training in an academy to make better the best decisions for themselves and for the community."
Leave a Comment
About the Contributor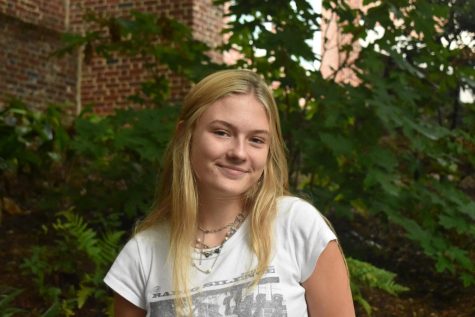 Lucia Gravel, Social Media Managing Editor
Lucia Gravel is a senior and a writer for the Southerner. This is her third year working for the paper. When she's not writing, she is playing lacrosse,...