New club brings sign language to Grady
More stories from Jessie Bouterse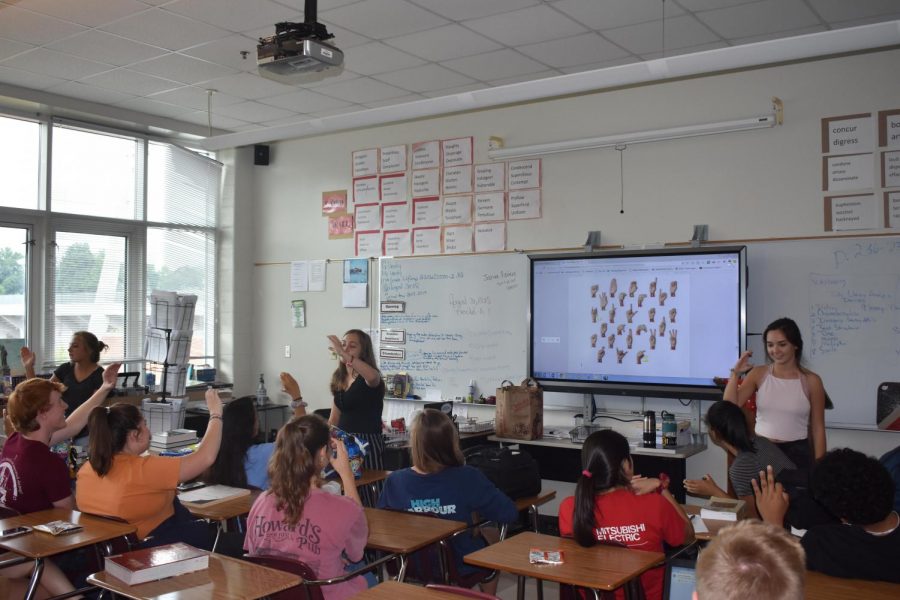 American Sign Language, also known as ASL, is used by people who are deaf in America. Juniors Liah Lawson, Olivia Bransford and Emily Schulz plan to educate students at Grady on ASL with their new sign language club.
"We were all at lunch during May last year wanting to start a club, and we started talking about all these ideas and what we could bring to Grady," Bransford said. "Then Liah brought up sign language. We kept talking about how the deaf community needed more attention, and we wanted to bring it to our school with this club."
From other students perspectives, you just see posters advertising a club and decide to join but actually in order to start a club, an approval process must start. They needed a form stating what the club was about, a sponsor, and 10 signatures for students who would want to join the club. After this they needed approval from the principal.
"There was definitely a lot of planning in order to start this club," Lawson said. "There were a lot of steps and it took awhile to actually start the meetings."
One of the club's main goals is to educate the students enough in ASL that they would be able to take the AP exam and be able to say they are bilingual in sign language on their college applications.
"The AP sign language test works the same way as any other AP language test goes," Bransford said. "If someone takes the test and gets a score of a 4 or 5, then you would get a bilingual seal on your diploma. We are hoping to have the test at Grady this school year."
Each week one of the three leaders makes a lesson plan of what they plan to teach the club. They educate themselves on the material and then they teach the club with help from different ASL videos.
"Liah, Olivia and I rotate every week making a lesson plan," Schulz said. "We kinda just ask the people who come to the meetings what they want to learn. And also the three of us come up with ideas of topics we want to learn like, animals, colors, food, etc."
Marisa Lopata, a member of Sign Language Club, used sign language while volunteering at the Candler Park Fall Fest.
"I was working a booth at fall fest when a deaf mom and child came up to me," Lopata said. "The son had a hearing aid and could hear but his mom could not, so the son would have to sign the answers to her questions. I really want to learn sign language because I want to know how I can speak to them and sign language club is really helping me."
Although this is only the first year of the club, it has overall been successful. In the future, the members want to become even more adept at sign language, and they hope to continue the club next year.
"There have been a few bumps along the way, but the people who are regularly attending the meetings are progressing more and more in their sign language knowledge," Lawson said.
Leave a Comment