Secondhand stores provide outlet for individuality
As a child, Nicholas Goodly remembers ditching his private school uniform for a costume every day after school. He sometimes wore his costumes out to the grocery store, sharing his quirky individuality with everyone around him.
"I've always dressed where I could be expressive and where I could say something with my clothes," Goodly said.
Goodly is now the manager at a vintage resale store in Little Five Points called The Clothing Warehouse that allows people to do just that: express themselves through one-of-a-kind, funky clothes. It is among several other secondhand stores in the Little Five area and throughout the city. These stores let Atlantans create unique, personalized closets that major retailers, like those you might find in Lenox Mall, do not.
"[Commercial stores] want you to be able to fit in, and that's never been an interest of mine," Goodly said. "I'd rather just dress like me and find clothes that reflect me."
Evelyn Craven, a Grady sophomore, mainly shops at thrift and resale stores, such as the Value Village in East Atlanta, buying individual pieces that suit her eclectic style.
"It's a lot harder to find stuff that I want [at second hand stores], but it's a lot more rewarding," Craven said. "When you go to a big department store, everything is expensive, and there's the mass produced stuff, whereas when you go to a thrift store, some of the stuff is awful, but the stuff that's good is really unique."
Sifting through the junk to find your treasure is time consuming, maybe even draining, but for those who want something that no one else has, it's worth it.  
"Here, if you're working with something that's from like the 60's, or out of the ordinary, it's kind of more fun to put it together yourself and make your own looks out of it," Goodly said.
For sophomore Clarice Hill, shopping at major commercial stores is even more draining.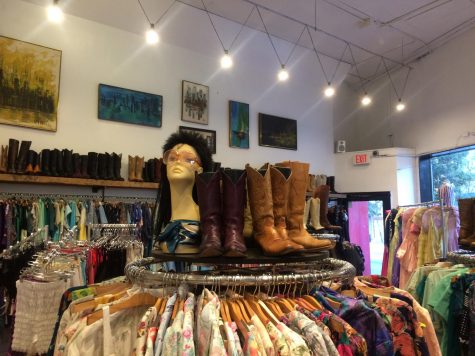 Second hand stores provide relief from the chaos of the masses.
"I really hate shopping," Hill said. "I'm not gonna lie. I really, really hate shopping. And going to a mall — going back and forth — is so strenuous for me. But thrift stores are more fun. You're looking for things. Walking around a big store — they always seem so stuffy."
Not only are these shops great for customers searching for a taste of something different, but they're much more affordable, especially for students who crave their own style without the price tag.
According to the Association of Resale Professionals, the resale industry is growing annually by about seven percent. Consumers' motivation to buy clothes at a cheaper price may contribute to this growth.
"You want me to pay three, four, ten times the price of something I could find somewhere else, for half the fabric," Hill said. "And it's not always good quality either."
Thrifting also prevents wastefulness by recycling clothes. Why throw something in a landfill when one person's trash could be another's treasure?
"I think that thrift stores are definitely good for reusing things," Craven said. "What I do with old clothes is I always donate them somewhere. I think that that's a lot better than throwing them out. It's not hard to donate stuff."
Whether people shop resale for the price, the atmosphere, or the clothes themselves, second hand stores provide a touch of something different, something that stands out from the rest. They provide expression like no other.
"You can choose your identity with clothes and create personas and create power out of what you're wearing," Goodly said.