Howard Middle School welcomes first students
With the school year nearly over, the new Howard Middle School building remains nearly vacant with only 375 students attending face-to-face learning.
Howard, which underwent a two-year, $52 million renovation, was originally built in 1923 and served as a segregated elementary school and eventually high school for Black students, including influential figures like Civil Rights leader Martin Luther King Jr. and Maynard Jackson, Atlanta's first African-American mayor.
Howard ultimately closed as a high school in 1973 due to declining enrollment. The 2021 reopening marks the advent of the first integrated school under the Howard name in Atlanta Public Schools.
"The students feel honored and privileged to carry on the legacy that the building has," Lindsay Murano, an English teacher at Howard, said. "So many important and influential figures attended Howard, so I feel that there is certainly a sense of upholding the history and legacy of the building."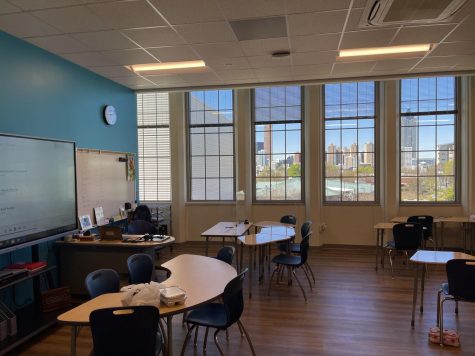 Although many students opted to remain at home for learning virtually, seventh-grader Halle Prevost decided to move to in-person learning. Prevost was particularly excited about the prospect of being in the new building.
"I have seen the building a couple of times, and my initial reaction was amazement at how good it looked," Prevost said. "When school returns, I'm excited to see the new library, courtyard, band room and the new gym—they are supposed to be much nicer."
With only five teachers per day allowed to unpack their classroom items from Inman Middle School, Howard's predecessor, the transition was difficult. Although, after the hassle, the teaching staff, now fully moved into the new building, are satisfied with their new space.
"I love the space," eighth-grade history teacher David Dorsey said. "I can honestly say that I like everything about Howard and working here."
The new learning environment provides numerous benefits to the students and staff, including cleaner classrooms, larger outdoor spaces, additional natural light and clear views of the Atlanta skyline.
"It's not just about the people in the building but also the environment," Joy Antone, the sixth-grade assistant principal, said. "When you feel good about yourself and where you are, you are able to think a little bit more clearly."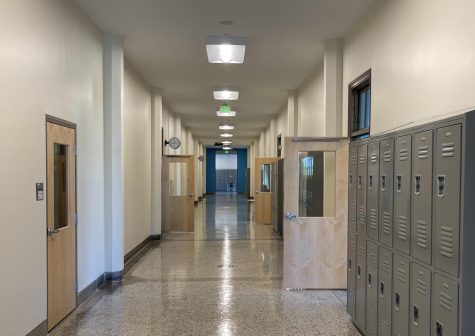 The school was purposely constructed in a square to make the campus easier to navigate. A spacious courtyard where students can enjoy fresh air lies alongside the athletic field. Each grade level has its own floor while all electives, known as "connection" classes are across from one another.
"I like the way the building is organized, and I especially love having outdoor space," Spanish instructor Bahji Varner said. "The glass walls allow you to feel less suffocated and more connected with nature. When Covid calms down, my students will be outside all the time."
Inman Middle School is currently being used as the temporary location for Morningside Elementary School. Inman was overcrowded and faced numerous structural problems, such as broken sinks and missing ceiling tiles. Compared to Howard, Inman lacks many helpful and engaging aspects that contribute to a positive learning environment.
"I like being back in-person," eighth-grader Saris D'Agostino said. "I feel more productive, and I love the space. It makes it enjoyable to learn … Inman was very dark, while Howard is bright and filled with natural light. It's a better learning environment."
Although the pandemic has had an impact on attendance and use of the new building, students who remain in-person fully experience the benefits Howard offers.
"The transition has definitely given us a sense of pride," Antone said. "When you think about it, we are almost creating a bridge between segregation and the first integrated Howard Middle School. We are making history."