Grady Drama adapts to adverse situation with "Whirligig"
From performers in full-face masks to those stuck on Zoom, "Whirligig" is a Grady play like no other.
A one-act play based on the 1998 novel by Paul Fleischman, "Whirligig" follows 17-year-old Brent Bishop as he atones for killing a girl in a drunk-driving accident by building whirligigs, garden ornaments with a spinning component, in each corner of the country. 
"He realizes that he needs to forgive himself and the people that he meets along the way help him to realize that," sophomore Haven Li said. Li plays Lea Zamora, the girl Bishop killed. 
Bishop has been forced to move with his family multiple times in his life, and this lack of stability has made it difficult for him to connect with others, especially his high school peers. Senior Nicky Taylor, who plays Bishop, believes the theme of connection is central to the piece.
"It's interesting because a big theme of 'Whirligig' is connection, in and of itself, and how all of your actions, be it positive or negative, are connected to one another and influence both yourself and so many people, even people in different generations," Taylor said.
Until January, when the Georgia High School Association announced that all one-act competition entries would be pre-recorded, no one knew the viewing format of the play.
"We had three possibilities all the way up to the beginning of January," "Whirligig" director and drama teacher Jake Dreiling said. "It was either we have to perform live; we might be able to film it, or we're just going to perform it on Zoom. All of those were still up in the air; so, we had to rehearse with those possibilities still hanging."
The play began virtual rehearsals in the fall. Because of the uncertainty, Taylor said he and the cast had to adopt an "open mind" from the very beginning. 
"We were going forward just trying to practice and get everything down and work the lines and work our circumstances and have Dreiling direct and all [of] that, just with an open mind," Taylor said. "We kind of tried to account for whatever that situation would be."
The performance was pre-recorded at the end of January for submission to the GHSA Regional One-Act Competition.
The cast is split between those who can record in-person, on the stage of Grady's Vincent Murray Auditorium, and those that can't. Most notably, Taylor, the lead actor, is remaining on Zoom.
"Me, personally, I am not comfortable filming in person due to concerns with Covid," Taylor said.
Taylor has faced difficulties away from the majority of the cast. He cites logistical issues, such as receiving information relayed at in-personal rehearsals later and not being able to interact with the set and props.
"I have much less of a clue what it actually looks like, the final product," Taylor said. "So, it's been a little confusing logistically."
All of the actors recording their performance in-person will wear full-face, white masks, which are decorated with colorful designs. Li, who also worked on costumes, hair and makeup, conceptualized the masks for the antagonists, "so that they sort of seemed inhuman to the main character."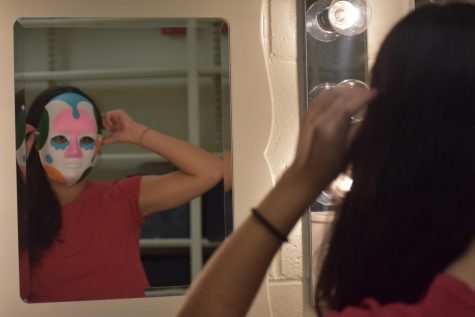 Dreiling decided that the entire in-person cast would be masked so that some could be body doubles for those on Zoom.
"The cool thing is, for those who can't be there, we just costume them in the characters' costume, and they play the roles," Dreiling said. "So, some of the actors will be mixing and matching. In other words, you may not be doing the role that you were casted. It's going to be sort of an ensemble, because you're in a mask, you really can't see the person's face, so it could be anybody."
Junior Brady Stroppel, who plays Brent's father, Mr. Bishop, described the difficulties of performing with not one, but two masks on.
"It's definitely not as easy to act because when you're speaking, it's hard to project with a mask on, and when you do speak louder, the air comes up and fogs up your mask," Stroppel said. "There's definitely a toll when acting with a mask on, but it's necessary, so we make it work."
A major design element of the show are the whirligigs, which are carved, decorative objects that have at least one part that spins. As the set designer, sophomore Ezra Taylor is in charge of these creations.  
"I take them home. I paint them. I bring them back," Ezra Taylor said. "Mr. Brandhorst made a really nice frame for them so that they hang correctly. I don't know how this is going to happen, but Brandhorst and Dreiling are working together to get the mechanics of it to work."
Production meetings for the show began early on, before there was any certainty about the online or virtual staging of the show. "Tech days," where both the cast and crew work on the set, have been held in person, and Li believes that the amount of effort put in by those involved is evident.
"Everything they do is very meticulous and thought-out, so that it is symbolic of what is happening in the play and what is happening on a more metaphorical level," Li said.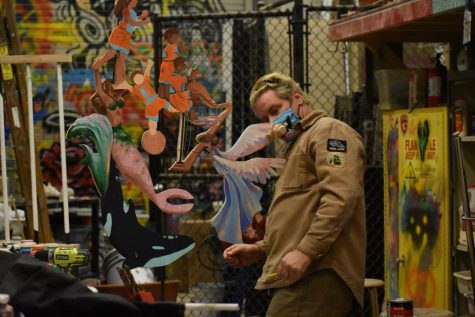 Dreiling predicts the set design will be a Grady Drama standout.
"If it all comes together, and we get to realize this design, it may be one of the best ones we've ever done," Dreiling said.
Because the play is being pre-recorded, many trademarks of live theater are missing. Unlike the "make it or break it" aspect of a live performance, actors can re-do their performances with ease.
"It definitely alleviates some of the pressure of performing live," Li said.
For Stroppel, the heightened emotions of performing have lessened.
"Our stage right now [before in-person filming started] is in our bedroom, which is obviously a completely different feeling," Stroppel said. "I don't get very excited before performing anymore." 
"Whirligig" will be streamed on AnywhereSeat for three days, from Thursday, Feb. 4 until Saturday, Feb. 6. Viewers buying tickets from AnywhereSeat's website can access the play unlimited times during those three days. 
"My grandma, who lives in New York, has always wanted to see me act, but she couldn't," Stroppel said. "So, now she can, which is really cool."
No longer restricted by physical access, Grady Drama can reach a larger audience than usual.
"It can now influence that many more people," N. Taylor said. "It can now touch and move that many more people and have an impact on them, which is seen all throughout the play itself."