Alum Deadwyler stars in thriller 'The Devil to Pay'
Seated at a kitchen table, a white woman clad in an apron and a smile grips the hand of an unnerved black woman and twists it. "Find your husband, return what's mine, or I'll murder your boy, and I'll bury you alive right next to him."
Danielle Deadwyler, Class of 2000, stars in horror flick, "The Devil to Pay," now streaming. She portrays Lemon Cassidy, a struggling mother who inherits her missing husband's debt and the wrath of the family he is indebted to. The film is a tale of familial devotion, revenge and survival, set against the Appalachian Mountains.
Deadwyler's costar was a familiar face: her son Ezra. Portraying a mother-son duo, Deadwyler and Ezra spent four weeks filming in the North Georgia mountain towns of Hiawassee and Blairsville. The cast and crew stayed in the home of one of the film's producers, Michelle Moreland, an experience which Deadwyler describes as integral to the creative process.
"We were digging into what it meant to be going through this journey of women," Deadwyler said. "My blood family, and then this film family, [were] colliding together. It's a creative world, and then a real-world experience colliding."
Complex roles like Lemon, a mother fighting to survive, appeal to Deadwyler when deciding which projects to pursue. She portrayed a homeless woman plagued with alcoholism in the 2012 film "A Cross to Bear," her television film debut. She also played Jane, a Mormon devotee who kindles a friendship amidst turmoil with the founder of the Church's wife, in the 2018 drama "Jane and Emma."
"A lot of the things that I do tend to lead with a certain kind of physicality, a certain kind of rawness and grit," Deadwyler said. "I think those are the things that are really interesting to me. These are women who aren't cut from a particular grid or cloth."
The film is available for rent or purchase on streaming services Fandango Now, Vudu and Amazon Prime Video.
Deadwyler was active in the theater department at Grady, performing in plays such as "Watermelon Rinds" and "Flying West." Jessica Dean, a 2000 graduate who was also an active member of Grady Drama, noted Deadwyler's ability to fully embody a character.
"She's absolutely fearless," Dean said.  "She's not afraid of going to those deep dark places; she's not afraid of challenging you."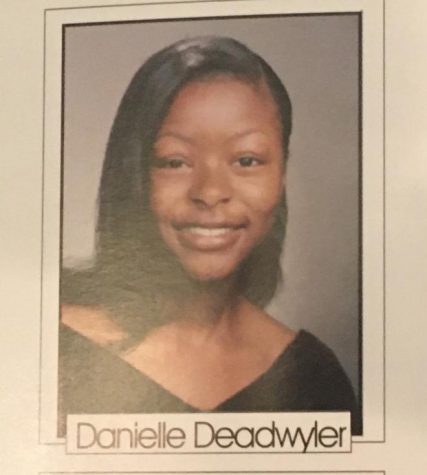 As a freshman entering the drama department, Deadwyler was immediately cast in various plays because of her talent, according to literature and drama teacher Lisa Willoughby. Because her sister, Gabrielle, also participated in drama, Willoughby theorized that some of Deadwyler's motivation was competitive, but she naturally showed the "mark of someone who is really skilled."
"I think what I really admire about her as an actor is she totally inhabits the role," Willoughby said. "A lot of the beginning actors try to affect things …There's a lot of indicating in their acting instead of just being, and Danielle seemed to understand from the first time I saw her perform, that really good acting is just about inhabiting the character that you're portraying."
Having performed since the age 4, Deadwyler found her first medium in theater. She credits her time at Grady as a "defining moment in learning what it is to do the rigor of theater."
"Theater was a part of every single year," Deadwyler said.  "Whether it be participating in productions or performing in forensics or as a part of Black History plays with Ms. (Janet) Milton, I lived and breathed in those dusty [parts] of the old theater. I loved every aspect of it. It's integral to my knowledge of what the experience is to be an actor in the theater world."
Deadwyler also competed in dramatic interpretation and policy debate. As a policy debater, she utilized her adeptness at performing as a rhetorical skill and vice-versa as an actor.
"There is a quality of performance that goes into debate, whether you're doing LD [Lincoln-Douglas] or policy," Deadwyler said.  "There's a certain charisma and energy that's being employed. So, policy supported that, the brain being able to think rapidly, to synthesize information. You've got to do that in theater, too."
After graduation, Deadwyler attended Spelman College as a history major, graduating in 2004. She then left Atlanta for New York City's Columbia University for a Master's of Arts in American Studies. Coming back to Atlanta, she taught general education at the Neighborhood Charter School for two years. 
In what she describes as "the beginning of a new iteration" of her life as an artist, Deadwyler was cast in the "For Colored Girls Who Considered Suicide/When The Rainbow Is Enuf,"," staged in 2009 at Kenny Leon's True Colors Theatre Company. Since then, Deadwyler has performed in various productions with True Colors Theatre, Horizon Theatre, Synchronicity Theatre, Theatrical Outfit, Aurora Theatre and the Alliance Theatre. In 2015, Deadwyler performed in the Kendeda Award-winning play "The C.A. Lyons Project," staged at the Alliance Theatre.
Deadwyler has delved into an array of artistic mediums: theater, film, television, performance art, dance, filmmaking and music. 
"I am meant to be flexible," Deadwyler said. "I am meant to be collaborative, and that means that regardless of medium, I want to go to different places."
On television, Deadwyler had guest roles on various shows, including "Watchmen," "Atlanta" and "Being Mary Jane." She appeared as series regular Quita Maxwell on Tyler Perry's "The Haves and the Have Nots" from 2015 to 2017 and as series regular Nique Green on "Paradise Lost" in 2020.
Deadwyler will appear in the upcoming HBO Max miniseries adaptation of Emily St. John Mandel's 2014 dystopian novel "Station Eleven." She is currently filming director Jaymes Samuel's Western film "The Harder They Fall." Jonathan Majors of "The Last Black Man in San Francisco," Idris Elba of "The Wire," Zazie Beetz and Lakeith Stanfield of "Atlanta," Delroy Lindo of "Da 5 Bloods" and Regina King of "Watchmen" all join Deadwyler.
Deadwyler has "worked from home," filming in Atlanta, for several of her television appearances, including "Atlanta," "Being Mary Jane" and "The Haves and the Have Nots." She finds that "the unique aspect of my work that allowed me to be given the opportunity is because I was in Atlanta."
Deadwyler is grateful that she maintained her Atlanta roots and for her journey, mainly in Atlanta, of self-discovery as a performer.
"We don't always have to rush off to prove ourselves to anybody else," Deadwyler said. "You have to prove yourself to yourself and then you will come to a clearer understanding and then the universe will come to a clearer understanding of what you're supposed to do, too."