New organization seeks to uncover the secrets of organized female cookie sales
The months of January to March is that wonderful time of year where you get swindled into buying eight boxes of cookies by your eight-year-old neighbor. You don't need them. They're just a little better than cookies you buy at the grocery store year-round. So why do people buy these specific cookies?
"It's almost too convincing." said community member Dwayne Tradler. "I mean, when a pack of elementary schoolers are yelling at you with their broad-faced grins and huge doe-eyes to buy a box of peanut-butter sandwich cookies outside of a grocery store, what are you supposed to do? Not buy them?"
Tradler and other frightened neighbors have formed an organization focused on finding out what makes the act of buying Lady Lookout cookies every winter so irresistible. They call themselves the Concerned Organization for Overseeing Kookie Intertrading Enterprises, or C.O.O.K.I.E..
"It's a big issue. Because of these little girls, Americans are wasting money, time and calories on these mediocre cookies," said C.O.O.K.I.E. member Sarah Gabriel. "We needed to find someone to blame for this crisis, and we figured out the real culprit: children."
C.O.O.K.I.E. has decided to take action and get to the root of the problem to find out why these young girls are embroiled in such an elaborate scheme.
"They're going to take over the world. I know it." said Tradler. "I'm not scared of powerful women, but these girls, with their loud voices and coordinated uniforms, are practically a militia. What's going to happen when they decide to enslave all of us? How will we fight back?"
In recent months, C.O.O.K.I.E. decided to send moles into the organization to find out its real goals, but they haven't had much luck.
"I sent my daughter in to be a member of the Lady Lookouts with express instructions to take pictures of everything and find out their real goals," said Gabriel. "After the first meeting, she came home with a smile on her face, a cookie order form and a green beret. She had been turned. I couldn't trust her anymore."
C.O.O.K.I.E. believes that the Lady Lookout summer camps are when the bulk of the training and planning for world domination takes place.
"Sure, it might look like they're roasting smores or kayaking, but behind the scenes, they're doing really sketchy stuff," said Tradler. "They're learning hacking, how to plan and execute a successful coup, necromancy, how to stretch the rules of the Geneva Convention, feminism. They're monsters."
Lillian Coulson, a counselor at a Lady Lookout camp, denies all of this.
"Yeah, I teach bead weaving," Coulson said. "I don't know how one could use beads violently. I guess you could throw them at people, but I don't think that they'd hurt very much. My brother would know– he's a Male Adventurer. That's more of their cup of tea."
Despite there being no substantial evidence for their claims, C.O.O.K.I.E. believes that the Lady Lookouts will attack any day now.
"Oh, I'll be ready," said Tradler. "I've got a whole bunker set up with food stores, WiFi and all ten seasons of Friends on VHS. By the time I have to exit the bunker, all of the eight year olds will be eighteen, and way less threatening."
Leave a Comment
About the Contributor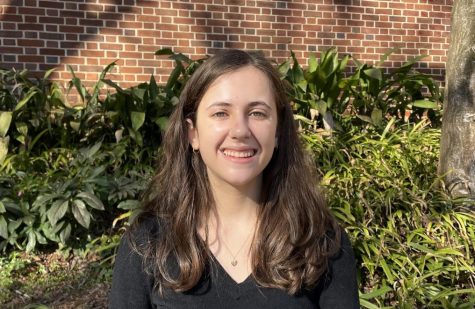 Anna Rachwalski, Co-Editor in Chief
Anna Rachwalski is a senior and this is her third year writing for the Southerner. Outside of the newspaper, she is president of the Quiz Bowl team, is...