Freshman Mahony excels through Irish dance
Sparkle and bling. Excellence and perfection. Music and movement. Freshman Aisling Mahony will tell you all of these things with a smile when speaking about her favorite sport: Irish dance.
Irish dance is a competitive type of dance of small movements, kicks, jumps, turns and foot-twisting performed with a rigid upper body. Steps are tailored to each individual's style and skill level.
"I like that it's fast-paced; it's high energy; there's always someone interested in watching you," Mahony's instructor Emma Burke said. "You have to have a certain taste for ballet, jazz or tap, but I think everyone stops and has a smile on their face when they see Irish dancers."
Mahony began dancing eight years ago after she saw a banner advertising her dance school, Atlanta Irish Dance.
As Atlanta Irish Dance has grown, so has Mahony's skill level. She dances in local competitions called feis, as well as regionally and nationally. Her goal is to qualify for world competition by placing in the top 10 of the regional feis in Washington D.C.
"I'm on an eight hand [eight person] team that's going to Worlds in Dublin this year; so, that's really exciting," Mahony said. "But I have to place top 10 at regionals to qualify for worlds, [in solos] and that's a huge deal, and I really want to do that."
To qualify for worlds, Mahony must put in hours of practice. She takes classes in her studio and practices at least three days a week as well as running for stamina, core work and stretching. Mahony is attending workshops to prepare for the regional qualifier.
"At dance class, we always focus on our steps, and we'll work on stamina and drilling specific things, and we're supposed to do the same thing at home," she said. "At workshops, sometimes, we'll do fitness ones, which are really hard, for stamina and core strength and focus on different muscle groups to help us."
There are two types of shoes in Irish dance: soft shoe and hard shoe. Hard shoe is similar to tap. A large component of grading hard shoe performance is based on the sound of the dance. Soft shoe is more like ballet, and the grading is entirely based on skill.
"By doing hard shoe and soft shoe, I think the key is you combine two different skill sets of grace and power, and that just shows your mastery," Mahony said. "Irish dance is a lot about opposites. A lot of moves are structured around opposing things."
Dancers compete at different skill levels. Mahony is at the highest level, the Open Champion level, meaning she must dance both a soft shoe and a hard shoe dance and a unique set at each feis. Mahony is one of only 20 students in her school at this level.
"She's a great girl, great personality," Burke said. "She's a big mentor to a lot of the younger kids; she's a very kind person, but at the same time, she's got a big competitor side to her."
There are many reasons for Mahony's love of Irish dance. One of her favorite things were the costumes.
"There is a lot of glamour involved, which is very exciting," Mahony said. "Everyone has their own personal costume, and they're coated in sparkles … They are blinged out and fancy, and there are wigs and sparkles, and it's crazy,"
Another part of dance that is important to Mahony is the friends she has made through the years.
"Because they're friends not through convenience, or 'I have math with you', it's 'I'm with you through thick and thin, leveling up, qualifying together, traveling the world together,'" Mahony said. "And it's spectacular."
Though not many people at Grady do Irish dance, the sport is becoming more popular, and many students are starting to dance at the Grady cluster schools. Burke's school in Morningside has now expanded to over 155 students.
Dancing is Mahony's passion, and she said she loves everything about it. She plans to dance in college and become an assistant dancer at her dance school.
"There are so many fun things about dance," Mahony said. "I just genuinely enjoy it so much. It's so fun and freeing to dance. It's magical, with the beauty of the sport at the same time as the raw power required for it. It's just a spectacular sport."
Leave a Comment
About the Contributor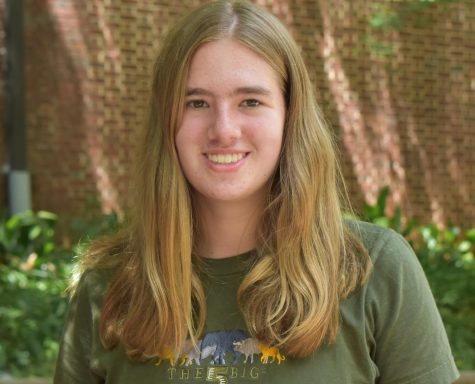 Annie Laster, News Section Editor
Annie Laster is a sophomore and section editor of Lifestyle. When she's not working on the newspaper, she is traveling, hiking, playing volleyball, or...