Historic Howard reopening combines history with a look to the future
David T. Howard Middle School, a historic school in Old Fourth Ward, is coming back to life for a new generation.
In 1924, Atlanta Public Schools opened a new elementary school for the African-American children of Old Fourth Ward in honor of David Tobias Howard. Howard was born into slavery and was freed, later becoming one of the first African-American millionaires in America.
Howard Elementary School became a high school in 1948 but was closed in 1976 due to low attendance and consolidation of schools. Students were sent to Grady and the now-closed Bass High School in Little Five Points. APS used it as offices from the 1980s until 2005. The building once housed APS student records and school archives, including old yearbooks and school memorabilia.
The school is scheduled to reopen next fall, serving as the replacement for Samuel M. Inman Middle School, Grady's current feeder school.
Sarah Lockwood is an architect working on the renovation and reopening and sees it as an asset to the community.
"I think the fact that it is this historic building is going to bring a lot of uniqueness to the project," Lockwood said. "This is a great project and will bring a lot of great things to the students and community."
Architecture firms Lord Aeck Sargent and Stevens & Wilkinson are collaborating to design the building's preservation and to add a new addition. Sarah Pitts is a historic preservation architect for Lord Aeck Sargent who has been working on the project for almost three years. She says the school's history can not be downplayed.
"I think it is fantastic that they are using this site," Pitts said. "Martin Luther King (civil rights leader) attended elementary school here; Maynard Jackson (Atlanta's first African-American mayor) went to high school here, and a number of other people that were significant to Atlanta went through this school. There's a history embedded in it. I think that it is amazing."
As Pitts said, many prominent African-American leaders attended the school before its closing, and the school has plans to honor its past with the building's architecture and historical displays throughout.
In addition to King and Jackson, other prominent alumni include: Walt (Clyde) Frazier, who played for the New York Knicks and is in the National Basketball Association Hall of Fame, Eldrin Bell, a former Atlanta police chief, who was an investigator on the Missing and Murdered Children's case in the late 1970s and early 1980s, Herman J. Russell, real estate entrepreneur, and Vernon Jordan, adviser to President Bill Clinton and former president of the United Negro College Fund and the National Urban League.
"There's going to be a section dedicated to the history of the building right outside of the media center," Lockwood said. "I also think the connections [bridges] between the historic building and new addition are going to be really unique and special moments when you can see the old meeting the new."
The new addition will more than double the already 80,000-square foot building to about 204,000 square feet. APS has budgeted the building's renovation at $52 million, which includes everything from furniture to technology, equipment and design fees.
Parrish Construction Company won bidding for the project. Forty six million dollars of the $52 million budget will go towards creating the new addition and bringing the historic building back to life.
Art Cofelice and Andy Webb are superintendents for Parrish who oversee the construction, said the project had some unforeseen issues that presented a few challenges
"One word. Unforeseen. That is the major obstacle on most projects," Cofelice said. "Unsuitable material, for example … In the 1940s, they had houses all around this property, and it looks like they just burned them, which does not create suitable structural fill. So, we had to go and haul it all out the landfill. Structural issues, including cracks in the old brick, also had to be repaired."
Despite setbacks, the school will open on time, allowing the next school year to be the first generation of students to go through Howard in 44 years.
"I think any transition is probably a challenge," Lockwood said. "but I think the new school building is a place they will love to be."
Leave a Comment
About the Writer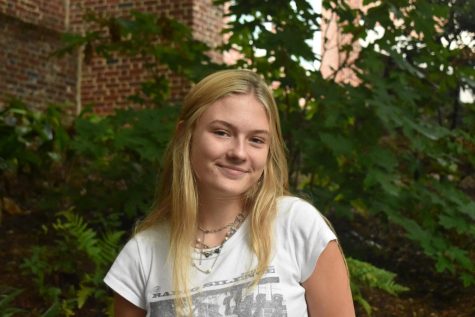 Lucia Gravel, Social Media Managing Editor
Lucia Gravel is a senior and a writer for the Southerner. This is her third year working for the paper. When she's not writing, she is playing lacrosse,...