Sophomore creates arts magazine, '404 Zine'
To sophomore Clayton Wilson and Atlanta Girls School senior Zoey Poole, Atlanta youth artists are underrepresented. Their solution: create a magazine full of poetry, photography and art that relies on submissions from youth of all artistic spectrums.
Wilson and Poole created the magazine, "404 Zine," in the summer of 2018. They released their first issue May of 2019, with a second issue schedule to come out Mar. of 2020.
"I came to Clayton with the idea of 404," Poole said. "I had been thinking about challenging myself with a big project for over a year at the time. She's good with design and has a good eye with putting projects together, so I thought it would be perfect."
The magazine's motto, "For Atlanta Youth, by Atlanta Youth," proved true for the first issue, where the city's artists were featured prominently. However, for the next issue, Wilson and Poole are looking to take the magazine to the next level and expand its scope nationally.
"The first issue, we were very happy with what we got. I think we took more time to get people for it," Wilson said. "We were very new. We didn't have anything to show anyone."
Catherine Wilson, Clayton's mother, described the base of artists Clayton and Poole worked with as a "wonderful community".
"At the same time I'm reading about and looking at the art of these young people, I am meeting most of them face to face," Wilson said. "…and they're praising my daughter and Zoey for all their work and including them."
Social media has proved to be essential to 404 Zine's development and expansion. Artists can send their submissions to the magazine's Instagram @404zine.
"We got most of our people through social media," Wilson said. "Whether it's people we followed before or people we discovered, then we DM [direct message] them. I don't know how successful we would have been if we didn't have social media." 
The city of Atlanta itself provides the main source of inspiration for 404 Zine. 
"I feel like Atlanta sort of has this arbitrary beauty to it," Poole said. "The buildings downtown are painted with spray paint, the streets are filled with the weirdest people but it is what makes Atlanta, Atlanta. I feel like there is no other city like it."
Excluding the submissions of those featured, Wilson and Poole are the sole editors of the magazine. Wilson mainly handles publicity and media while Poole works on the graphics and layout.
"It's just us, like creating it and putting it together and doing all of the public relations," Wilson said. "I'd say I'm more like media and public relations, and she's more the software."
Interviews in the first issue included local bands Lowertown and Neaptide. Wilson and Poole are planning to travel to New York to interview Laundry Day, who are scheduled to play at rapper Tyler, the Creator's Camp Flog Gnaw music festival in November.
"We've become pretty good at getting connections, like networking, and going up to random people and going up to 2Chainz' manager and being like, 'Want to be in this?'" Wilson said. 
Wilson and Poole worked on the interviews, compilation, editing, publicity and everything else that went in to 404 Zine themselves.
"They did every bit of it on their own," said Catherine Wilson.
Catherine Wilson didn't get a glimpse of her daughter's project until the night of the first issue's launch party. 
"She would basically say 'Hey, I'm going to meet somebody in the park to do an interview', and I said 'for what?', and she said 'for a school project'," Wilson said. "Then, we began to ask more questions, and she would not let us see the magazine until it was finished."
The inspiration for 404 came from the originality that youth creatives bring to the table.
"I think it just comes from us," said Wilson. "Artists that are in the magazine. Artists that we want to be in it. I think it's just whatever we want to put in it, we put in it."
Leave a Comment
About the Contributor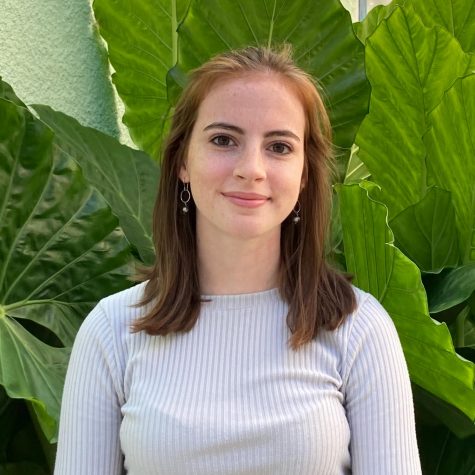 Elena Hubert, Co-Editor in Chief
Elena is a senior and a co-editor-in-chief of the Southerner. As the captain of both the varsity cross country and public forum debate teams, she can most...