Grady sees rise in new clubs
The second semester of this school year saw a sudden rise in new after-school clubs. Whether a student has an interest in alternative instruments, watching award-winning movies or promoting racial healing, there is now a club for nearly everyone. .
The new Boomwhacker Club explores alternate ways of creating music without prior experience. Boomwhackers are percussion instruments made of different length plastic tubes that produce different notes, and are played by a group, similar to a hand-bell choir.
"I first discovered boomwhackers while surfing YouTube," said junior Cate Crutcher, founder of Boomwhacker Club. "It was video of Harvard THUD (Harvard's percussion club) performing 'Don't Stop Believin' on boomwhackers. I kept it in the back of my mind, but I didn't consider starting a club until I mentioned boomwhackers in math class and my friend Daniel Wakefield came up with the idea of starting a boomwhacker club at Grady."
Boomwhacker Club is sponsored by chorus and AP Music Theory teacher Kevin Hill, who borrowed boomwhackers from Inman Middle School.
"We don't entirely know what we're doing, and we're learning together, because most people haven't done something like this before," Crutcher said.
So far, the club has learned to play "How Far I'll Go" from Disney's Moana and "The Banana Boat Song" by Harry Belafonte. They are currently practicing "All Star" by Smash Mouth for Grady's Spring Sing on April 28. The club also plans to perform at Grady's next Coffeehouse.
"Starting Boomwhacker Club was a way for me to exert my own will," Crutcher said. "Now, I love that I'm doing something to make Grady a fun and unique place. The people are really what make it such a creative community, and I'm glad to be a part of that."
Culture Club, founded by junior Lindsay Schroeder, is all about drinking La Croix, eating snacks and watching hit movies.
"Culture Club started as a joke between Cate Crutcher and I," Schroeder said. "We had both said that for the New Year we wanted to 'get cultured' and see movies that we've also been told we needed to see, so we made a club of it."
So far, Culture Club has watched "Logan Lucky," "Misery" and "Baby Driver." At their next meeting, club members are planning to watch "The Godfather."
Junior Leah Lawson recently brought the non-profit organization ARROW (Alliance to Reunite and Repair Our World) to Grady. Lawson is head of youth organization at ARROW. ARROW's missions is to create a just world and promote racial healing. They work to do this through training people to be advocates of their cause, hosting discussions and seminars that work to tear down stereotypes, holding protests and performing acts of civil disobedience. At Grady, ARROW is planning on teaching their workshops to students and promoting their mission. Their first meeting is scheduled to be today (Feb 26).
Clubs not only provide a place for students to delve into their interests, but students can also express themselves by starting new clubs.
"ARROW allowed me to engage my passions in a constructive way and share that feeling and idea with my peers," Lawson said. "ARROW is an organization that I truly believe in, and one that can really make a difference if humans can open their minds and their hearts, and to be a part of that is something I will forever be grateful for."
Leave a Comment
About the Contributor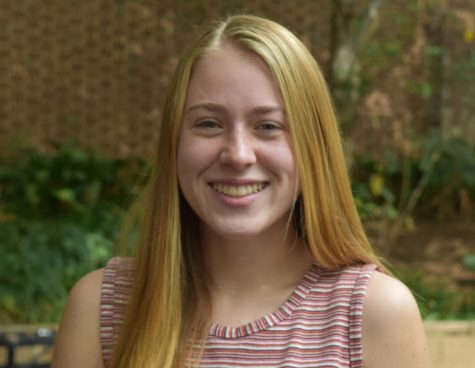 Abby Peters, Comment Managing Editor
Abby Peters is a senior at Grady and has been in the journalism pathway since her freshman year. This year, she is the Comment Managing Editor and last...