Q&A with Stacey Abrams, gubernatorial candidate
The Southerner posed several questions to Democratic gubernatorial candidate Stacey Abrams on her plans as Georgia governor to address issues relevant to Grady students. The candidate addressed the need to keep schools safe, the importance of protecting the environment and her plans for improving public and secondary education.
How do you plan on keeping students safe in their schools?
Our students' safety must be our highest priority; the ability to learn and to educate are wholly reliant on the security of our schools. We must take a holistic approach that examines both external and internal threats.
First, as governor, I will work to empower educators and students with the resources they need to support the emotional and mental health of our students. Having a mental illness does not mean you are dangerous, and dangerous actions do not mean you have a mental illness. We must work with the mental health community to increase understanding and reduce stigma regarding mental health. There is no shame in mental illness. We must equip our public schools' teachers and counselors with adequate resources to help students with mental health needs.
In addition, we must continue to build on Positive Behavioral Intervention and Supports (PBIS) initiatives to ensure our public schools remain safe. By instituting these effective initiatives, we can move away from relying on the force from police in our learning environments.
I also support expanded training for school resource officers and a new School Safety and Security Capital Task Force which will help effectively distribute our state resources to protect and empower all Georgia students.
We also must end the School-to-Prison pipeline once and for all. To accomplish this goal, we will work diligently to keep students on the path to productivity and create in-school discipline methods that avoid criminalizing student behavior.
I am the only gubernatorial candidate who has consistently opposed laws to weaken gun safety in our state. I will work to encourage responsible gun ownership while keeping firearms away from people who could harm our students or themselves. It is time for Georgia to work together to pass common-sense gun reforms to protect our students and preserve a positive, safe learning environment
Many of the students of Grady value the environment. Do you plan on taking any initiatives to benefit the environment? If so, what?
As Democratic House Minority Leader, I co-sponsored numerous laws to clean up hazardous waste, offer tax credits for low-emission vehicles, promote clean energy and protect our state parks. As Governor, I will continue my commitment to initiatives that benefit our environment.
As Governor, I will continue to advocate for legislation that protects our communities from climate change, and I will stand for economic justice, especially for communities of color and low-income communities that are disproportionally impacted by industrial and commercial projects. I will say "no" to offshore drilling off our Georgia coastline and expand public transit to drive down the effect of carbon emissions on our state and nation.
Furthermore, Georgia deserves a leader who sees clean, advanced energy as a stable source of economic development, a public health necessity, and an environmental justice imperative. I will set us on a course for 25,000 to 45,000 sustainable jobs in advanced energy, which will create an opportunity for working families for years to come. This initiative will allow us to build a diverse economy via investment in advanced energy sources while protecting our environment from further harm.
Do you plan on making any changes to improve education across the state?
Public schools moved my parents out of poverty and, despite their continued economic challenges, allowed them to achieve progress and provide an opportunity for their children. Access to quality public education also allowed me to attend college and pursue a career focused on improving the lives of all Georgians.
That's why I will be proud to become Georgia's first "Public Education" governor. To live up to this title, as governor, I will ensure public dollars go to public schools, adopt a more comprehensive education funding formula, and strengthen student transportation and teacher recruitment for rural areas. I will also empower educators with competitive salaries and benefits, reduced high-stakes testing, and smaller class sizes.
I also intend to uplift local, community voices to improve our education system. I will bring ideas and suggestions from parents, students and educators to the table to tackle the unique challenges Georgia public schools must navigate every day to ensure student success.
Beyond K-12 education, we must address the student-debt crisis affecting Georgia's college students today. To alleviate this problem, I will help our students graduate without debt at every level of post-secondary education. Critical to that effort is instituting need-based aid in the state of Georgia. I will address rising costs, gaps in support, and unmanageable debt for those who have already graduated. As students and parents step up to cover the cost of college tuition, I will also ensure the state provides support as well.
The Southerner attempted to contact Brian Kemp, the Republican nominee, but were not granted an interview.
View Comments (1)
About the Contributor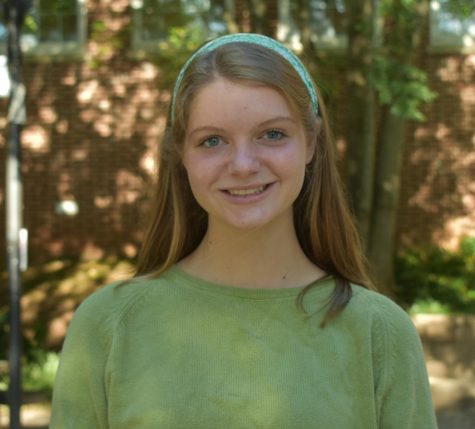 Charlotte Spears, Co-Editor in Chief
Charlotte Spears is a senior and the co-editor-in-chief of The Southerner. When she is not working on the newspaper and website, she is playing varsity...