FDA demands corporate crackdown on teen Juuling
The Food and Drug Administration last month issued an ultimatum for five major e-cigarette companies mandating they come up with a solution to rampant teenage vaping.
If they fail to meet these expectations in 60 days by early November, the devices could be removed from the market. One of the major companies targeted in this motion is Juul Labs Inc., maker of the most popular product, the Juul, which resembles a USB flash drive, accounts for 72.2 percent of the market, according to Neilsen Data.
"We understand, by all accounts, many of them may be using products that closely resemble a USB flash drive, have high levels of nicotine and emissions that are hard to see," FDA Commissioner Scott Gottlieb said in a statement announcing the agency's crackdown. "These characteristics may facilitate youth use, by making the products more attractive to children and teens."
The FDA believes flavored vape juices used in devices like Juul's product are the main problem and are easily marketed toward teenagers. The FDA believes removing the product from the market overall is the most viable solution.
"I think the elimination of the fruity flavors might actually make a difference [but] maybe not a huge one," said junior, Jolie Nelson. "Those who are addicted will keep Juuling with tobacco [pods] and take what they can get."
In some states, commercials promoting the use of e-cigarettes are illegal. California prohibits advertisements for tobacco products and e-cigarettes within 1,000 feet of any public or private elementary, junior high or high school. Recently, the FDA and Juul have been releasing commercials explaining the side effects of using these products. Some of these commercials include pictures of teens using Juuls and showing in graphic detail the physical side effects of nicotine use.
Juul Labs has invested over $30 million in independent research, youth and parent education, and community engagement efforts. So far, nothing has proved effective. In 2017, more than 2 million teens in middle and high school vaped, according to FDA estimates.  
The threat at Grady is no different. Students believe if only the flavorless products were available for purchase, the number of teenagers who use vapes would drop. According to the CDC, in 2014, 73 percent of high school students and 56 percent of middle school students who used tobacco products over a 30-day period reported using a flavored tobacco product during that time.
The FDA believes using nicotine products at a young age will lead students to "make the deadly progression from experimentation to regular cigarette use." Students desperate enough to satisfy their nicotine craving will switch over to other tobacco products. Because they are accustomed to the tobacco flavor, cigarettes aren't that far of a stretch.  
"If they remove vapor products from the market, then all of the people that are addicted will shift over to using cigarettes, which is worse for their health," sophomore Ryan Martin said.
Although Juuls and other vaping devices were made for the sole purpose of making a beneficial alternative to adult smokers, teenagers who have never smoked cigarettes are becoming addicted to the product. One of the worries of the FDA, if flavored juices are banned, is the fear of students switching to cigarettes.
"I think cigarettes are generally looked down on in our society, so I don't think that people will start to smoke cigarettes," said sophomore Anna Lee Creekmur. "Either they'll quit or possibly move on to another form of nicotine vaping devices that aren't the Juul."
While using e-cigarettes may appear to be "healthier" than using tobacco products to some students, the amount of nicotine in each product differs. Typically, nicotine levels are higher in e-cigarettes. Nicotine is profoundly addictive substance.
"When you're younger, the addiction has a chance to grip you more solidly. Addictions make grooves in your brain; they make a pattern," said school nurse Wanda Taylor. "The younger you are, the longer that pattern has to grow and be established. When you are older, you do some things and if you don't keep doing them or if they are not regular, then the pattern is not great, so you can just drop it. When you're younger and later on you want to drop that habit, it is very hard. "
The age to purchase a Juul or other e-cigarette is 18, which means the products can be purchased legally by some upperclassmen. Minors can purchase the devices and pods, which contain the vaping juice, from older students. Freshman Cassie Maggard believes that "teens will still have access to it even if there are stricter policies".
Although Juuls are the main nicotine vaping devices used by teens, other companies are also affected by the FDA's ultimatum. Vuse, MarkTen XL, Blu and Logic were other brands also ordered to find a solution to the teen vaping epidemic.
If flavored vape juices cease to exist, schools are left with a new problem: withdraws. Those quitting the products may experience symptoms within the first few weeks after quitting the nicotine products. According to the American Cancer Society, nicotine withdrawal typically starts within the first few hours of quitting and peaks after the second or third day. While there is no danger in the withdraw process, those going through it may experience uncomfortable symptoms including headaches, tiredness, fatigue, anxiety, and more.
"Some people rely on that [nicotine] to focus and get through the day, so it might have a very bad effect on some people," said Maggard.
Leave a Comment
About the Contributors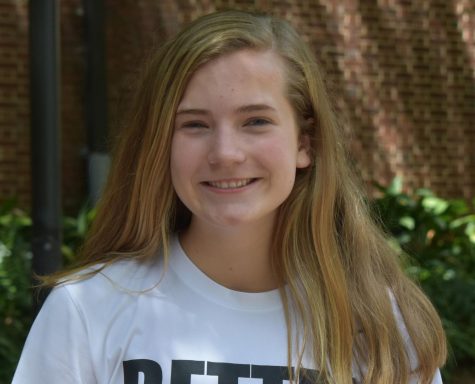 Katie Dwyer, Social Media Editor
Katie is a junior at Grady and is very excited for the upcoming year! She loves writing and managing the social media. In addition to being a part of the...