Juul: the new generation of nicotine addicts
In student-designated bathroom stalls, in the hallways, at lunch, on desks and in teenage hands, students are inhaling carcinogenic, or cancer-causing chemicals at a magnitude unimagined by parents and teachers.
The nationwide trend of teenage vaping is gradually generating awareness and responses from high school administrations. At a February 2018 school board meeting in Winnetka, Il., officials at New Trier High School said they were considering installing nicotine vapor-detecting devices in bathrooms. In Placerville, Calif., Oak Ridge High School shut down all but two bathrooms in November 2017 to prevent widespread vaping.
Nicotine vaping devices have been around since the 1960s, but in 2015, the creation and distribution of the Juul redefined the e-cigarette and vaping market. A sleeker, trendier gadget that allowed inconspicuous nicotine consumption was born. A Juul allows the user to access nicotine without the smoke inhalation and tobacco of cigarettes. According to the Juul website, the goal of Juul Labs, Inc. was to supply adult nicotine addicts with an alternative to smoking cigarettes.
Is juuling safer than smoking and exposes users to less nicotine?
No, it's not safer and the nicotine exposure is higher (64%, 28 Votes)
Yes, it's safer and has less nicotine exposure (32%, 14 Votes)
What is juuling? I'm not sure. (5%, 2 Votes)
Total Voters: 44

Loading ...
These devices increased in popularity after the attorneys general of 46 states and the U.S. justice department filed suit against the big tobacco companies, including Philip Morris, Brown and Williamson, and R. J. Reynolds, forcing the companies to expose the cancerous implications of tobacco and to remove mass media advertising for its products. The negative attention encouraged cigarette consumers to switch to e-cigarette devices as an alternative to tobacco.
According to the International Journal of Drug Policy, in 2009, the sales of e-cigarettes reached $20 million in the U.S. From June 2017 to June 2018, Juul's sales alone increased 783 percent to $942.6 million, according to Wells Fargo. The company accounted for 72.2 percent of the U. S. e-cigarette market as of Aug. 11, 2018, according to Nielsen data provided to cable business news network CNBC.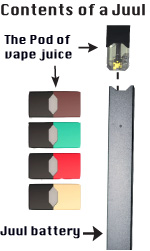 However, Juuls became popular with teenagers, many of whom had never previously struggled with nicotine addiction. Thus, after a national effort led by non-profit organizations, such as the American Cancer Society, to limit cigarette smoking starting in 1970, vaping devices, like Juuls, have led to a new generation increasingly dependent on a nicotine fix.
According to an informal, non-scientific Southerner survey of 222 students out of the 1,379 Grady students during the two lunch periods, 92 percent of the students who responded reported they know someone who uses a nicotine vaping device. Of those surveyed, 55 percent indicated they have used a Juul vaping device and 28 percent of respondents indicated they own a device or previously owned one.
The trend is not limited to upperclassmen; freshmen admitted to owning vaping devices and using them in school.
"The first time I juuled, I felt kind of pressured into doing it because all of my friends were doing it," said an anonymous freshman. Identities are being withheld because nicotine products are against Atlanta Public Schools policies, and the devices are illegal for minors to possess. "It relaxes me. As bad as it sounds, when I'm having a stressful day, I'll head on over to the bathroom and go in the 'Juul stall.' People are addicted to the nicotine and can't go even seven hours without it."
The former vice president for the class of 2019 and current candidate for Student Government Association executive vice president, Kendal Evans, spoke on behalf of the student body.
"
For students, it's more of a lead-follow thing, so I wish we could tell them about the effects of it so that they are aware because they do it because everyone else is doing it.
— Kendal Evans, SGA vice president candidate.
The U.S. Department of Health and Human Services reported the reason nicotine users feel relief from anxiety is because they are alleviating their withdrawal symptoms.
The Juul trend caught on so quickly teachers and parents were often left in the dark and are still struggling to grasp the concept.
"I would guess 50 percent, but I might be low on that," said Andrew Copeland, AP psychology teacher, underestimating the number of students who use the nicotine-delivery device. "Last year we had a joke that if you were a junior girl, you Juuled."
Principal Dr. Betsy Bockman made an effort to educate teachers on the matter.
"All I knew about [a Juul] was what Dr. Bockman put in that email," said AP Language teacher Lisa Willoughby of an email sent to faculty about vaping devices. "I knew it was an electronic version of a vaporizing delivery device for certain substances."
The exact composition of Juuls are largely unknown by its users. A Juul is made up of two parts, the battery and the pod. The battery is a longer, typically black, metal rectangle similar to a USB flash drive. The pod is a shorter, black square containing the vaporizing liquid. According to the Juul website, which requires a visitor to give an age upon accessing the site, the liquid in the pods is made of nicotine salts from tobacco leaves, other flavors and chemicals such as acrylonitrile, acrolein and propylene oxide, chemicals often found in industrial manufacturing and food or oil processing.
The addictiveness of nicotine is what turns some students away from vaping.
"Getting addicted to nicotine with nothing in return is just dumb," said Grant McNiff, Grady junior. "It's unfortunate and sad. It makes me upset. Obviously, it's not as bad as cigarettes, but people act like it's nothing. People are getting addicted to the same things as cigarette smokers, so it's not 'nothing.'"
The secrecy of juuling has left parents in the dark, but the news that their children may be abusing nicotine has traveled by word of mouth. Some parents were further informed by attention in recent news articles published by The New York Times and The New Yorker.
"If you're such an advocate for yourself, and it's so cool to be independent, it seems counterintuitive to actually be getting them (Juuls)," College and Career Center volunteer Cindy Sands said in response to an earlier statement of paying large corporations for something to which one will get addicted.
SCHOOL USE
Some teachers recognize the problem. The school's nurse, Wanda Taylor, has first-hand experience with vaping devices after working in a prison where the devices were given to inmates during the day.
"
It's a bad habit. It's a little bit worse than cigarettes because you are getting the nicotine as you would in from a cigarette, but you are also getting the byproducts of the vaporizing activity. Sometimes there is lead. There are other heavy metals; mercury or whatever, then there are the metals or the chemicals that may come from the actual machine and the vaping process so it is a little bit more than just the nicotine and paper you would get from a cigarette.
— School nurse Wanda Taylor
It is no longer a secret students vape in class. Lee Pope, AP United States history teacher said he would be shocked if he saw a student vaping in his class.
"I would take the proper disciplinary action," Pope said. "First of all, it's just rude. Secondly, it's nicotine, which is a controlled addictive substance, so why not just pour cocktails before class, and everybody have a martini?"
However, not all teachers, staff or administrators are familiar with the issue. Assistant Principal Rodney Howard and other administrators are largely unfamiliar with the scale of the issue indicated by the student survey results.
"I haven't heard much in reference to Juuls being used at Grady," Howard said. "I know [kids using them] may be underground, but in terms of being reported to administration, we haven't seen many tips on usage. We haven't caught many students."
Leola McNeil, the biomedical science teacher, was unaware of the phenomenon as well.
"I did not realize that the technology was there that you could make an electronic cigarette look like a USB," McNeil said.
Peer pressure no longer only determines what music you listen to, how you dress, or how you act, but it can influence use and experimentation with drugs such as nicotine. Some students said they felt pressured into vaping for the first time.
MEDICAL RESPONSE TO THE DANGERS
Danielle Ramo Ph.D, an associate professor of psychiatry at the University of California, San Francisco, is an adolescent and young adult substance use researcher. Her research includes the impacts of tobacco, electronic cigarettes, alcohol, cannabis and other drugs and their potential for abuse.
"To the extent that someone uses any nicotine, including through Juuls, it is possible that they will become addicted to nicotine," Ramo told the Southerner. "In cigarettes, there are also other additives that increase the likelihood of someone becoming addicted, but nicotine itself is addictive."
Mark Rubinstein, professor of pediatrics at the University of California, San Francisco and lead author of the study "Adolescent Exposure to Toxic Volatile Organic Chemicals From E-Cigarettes," found that e-cigarette vapor is unsafe due to its cancer-causing properties.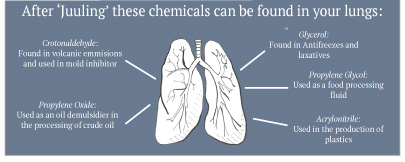 "Although e-cigarette vapor may be less hazardous than tobacco smoke, our findings can be used to challenge the idea that e-cigarette vapor is safe because many of the volatile organic compounds we identified are carcinogenic," Rubinstein said in his study. "Messaging to teenagers should include warnings about the potential risk from toxic exposure to carcinogenic compounds generated by these products."
Succumbing to recent pressure presented in a letter dated April 18, 2018 led by Illinois Democratic Senator Dick Durbin and 10 other senators addressed to Kevin Burns, Chief Executive Officer of Juul Labs, Inc., the company has redesigned its packaging to emphasize its product contains nicotine and that the drug is an addictive chemical. A week after the letter from Congress, Juul announced a$30 million dollar initiative to combat youth vaping.
Caroline Kemp, a spokeswoman for Juul Labs Inc., responded to a Southerner email request for the details of the company's initiative. According to the company, the efforts will be dedicated to independent research, youth and parent education, and community engagement efforts, and is actively supporting state and federal initiatives to raise the minimum age to 21 to purchase tobacco products.
Rubenstein finds it important to educate teenagers because nicotine has a more intense effect on the developing brain. He conducted an experiment with rats to see how nicotine affects adolescent rats compared to adult rats.
"The rats that were exposed during adolescence became addicted in such that they were self-administering nicotine, and they would dose themselves at higher doses and more frequently than rats who became addicted as adults," Rubenstein told the Southerner. "And that suggests there's something about the teenage brain that makes it more vulnerable to addiction."
The incorrect, safe-perception of vaping devices due to their design is making the path to a solution difficult because adolescents have become desensitized and don't view them as harmful.
"I most definitely believe that teens perceive vapes to be safer than cigarettes," Ramo said. "One large reason accounting for that is that these products are marketed as safer alternatives to cigarettes, as a way to deliver nicotine, or just to vape. Some products even mislead users and imply that there isn't any nicotine in them. I've seen teens that I work with say that they don't believe that there is nicotine in Juuls, and yet there is, in all the Juul products."
According to a study published by the American Academy of Pediatrics, led by Krysten W. Boyd, a research scientist at Yale University, the use of vaping devices in teens led to the smoking of cigarettes, while the smoking of cigarettes was not directly associated with the future use of vaping.
It was concluded the goal of vaping devices is not solving any problems in high school. It is, however, creating one. The study said prevention and intervention efforts and policies targeting youth e-cigarette use may be needed to reduce future conventional tobacco use among youth.
SCHOOL SOLUTIONS
The school has a program that aims to help all students with drug problems. Teachers and parents alike have begun to brainstorm potential solutions to the rise in vape use.
As schools across the nation have begun to take action to prevent vaping, Grady staff is becoming more aware of the issue.
"I would say education, but you know, if you get everyone in a room and say juuling is bad, no one is going to listen," said Copeland. "We can't monitor the bathroom; I know that's a popular place. I've heard it's like a cloud in there. I don't know what kind of steps would work for this. The one thing would be educating the staff on what it is."
Educating the staff is a course of action many students and administrators agree with, but as students use the product more and more, it will get harder and harder to stop the problem.
"We have a program here at Grady called Project Connect, and if we catch any kids using drugs or alcohol, we try to educate them," Howard said. "[Grady counselor Lamar] Young has an outside vendor that comes in and talks to kids about making the right decisions. We wish that no students would use Juuls or drugs."
School Resource Officer Derrick Hammond would take precise action if he saw a student with a vaping device.
"I would escort them to Office of Student Affairs, and have the Code of Conduct re-read to them," Hammond said. "I would have the administration that is there, which would be Mr. Howard, and he would follow up with that student as to what would happen next."
Officer Hammond added that vaping using a Juul is like most other fads with teenagers.
"
It's a fad that is rapidly growing just like anything kids wear, how they do their hairstyle, but the only difference is juuling is a little bit more detrimental to your health. Juuling could lead to other things, normally when you're smoking, it leads to other things, when you're drinking it does, and so, I think it's a cool thing for kids to do, and they just adapt to it.
— School Resource Office Derrick Hammond
TARGETING TEENS WITH THE JUUL'S DESIGN
One of the largest appeals of the Juul is its appearance. At first glance, a Juul can be mistaken as a flash drive, eraser or portable charger. The device is no longer than 5 inches and has detachable flavor containers known as pods. When turned on, the coils in the machine heat up liquid that resides inside pods and creates a vapor.
According to the Juul Labs, Inc. website, the creators of Juul, James Monsees and Adam Bowen, have a background in product design, and have used it to make the product that altered the vaping industry.
"It's like the wave of a new cell phone, you go through here [Grady] and see who has a cell phone," Jemetrius Myers, healthcare teacher, said.
The familiarity of technology has allowed a younger generation to feel comfortable using them.
"It's easier to hide," said sophomore Lindsey Snyder. "It's really small and looks like a USB."
They are simple and easy to use. No buttons or switches; all a user needs to do is insert a pod.
With flavors like cool mint, mango and creme brulee, Juuls take on a candy-like resemblance. Flavors like these have been targeting teens from all grades.
The "solution" to nicotine addiction is now the problem, and teachers are beginning to realize it.
"I think it's unfortunate," Copeland said. "There's been so much work to get rid of nicotine addiction and stuff like that, and so I worry that kids are just signing up for a lifetime of dealing with this issue when they haven't really thought it through, and no one really knows what the future research might show. They could come out in 20 years and have all these people juuling but find out there's something really harmful about it. It's just kind of the assumption that kids are making that it's not a big deal."
From gas stations to vape shops, Juuls are extremely accessible. The prices are deemed affordable, retailing for $34.99 and pods can range anywhere from $13.99-$19.99 for a pack of four. One only has to be 18 years of age to buy one legally, purchasable by upperclassmen, which makes Juuls obtainable.
Students who are not 18 years old buy these devices from older students, siblings, or use fake IDs. A female junior student estimates she spends $360 on Juul pods every year.
The Juul website and its Instagram does, however, require the user to declare whether they are over or under the age of 21. Multiple states have increased the age to purchase tobacco or nicotine devices to 21, prompting Juul to adopt this policy.
THE DIFFERENT TYPES OF VAPES
While Juuls are the main interests at Grady, there are also many different types of vapes that students use, including Junos, Phixs, Sourins and box vapes. Each type has a different appearance, but all look fairly similar to the small, sleek Juul.
The Phix is a gray rhombic prism-shaped device; the Juno, an oval prism-shaped vape with detachable pods like the Juul; the Sourin, which has various shapes, but the most popular is a teardrop-shaped vape that comes in different colors on the exterior; and finally the original Vape. This device can have myriad shapes, including some that look almost identical to a pen or a cigarette.
"There are a lot of different vaping devices available to high schoolers," said sophomore Emma Uppelschoten. "The most common I think is the Juul. They're significantly less expensive than other devices, and the refill pods are cheap and easily attainable. The widespread use of Juuls makes it easier for students to sell and make money off of selling pods and devices for very cheap."
With reporting by Katie Wood and Aneska Walrath