Softball's new approach yields first win in years
Coach Lawson Yale knew she had to do something different when the softball team lost every game last season. So, starting this July, Yale and 13 girls worked harder than they thought they could and set out to do something they hadn't done in a while: win.
"From last year to this year, we are continuing to raise the bar," said Yale, who also teaches environmental science and anatomy. "We are asking for a little bit more of the girls as time goes on. We are increasing our expectations, having them work harder, really drilling them down on some fundamental stuff, and I think we are seeing the results of that in having more wins. We are seeing the fruits of our labor for sure."
To their amazement, the Lady Knights softball team won its first game against KIPP Atlanta Collegiate. However, according to Audrey Irving, pitcher and first baseman, the team did not fulfill its dream of a winning season, gaining only two wins.
"We thought we [had a promising season] in the beginning because we were actually really excited to win our first game, but the more and more we had been worked, the harder it was for us to keep up because you work hours and hours a day in a week, and then your body is exhausted from sports," Irving said.
This year, Yale brought assistant baseball coach Ron Killingsworth on board the softball program to help the girls with his 17 years experience of coaching baseball at Grady.
"The transition for the girls was kind of rough because he has super high expectations, but he also knows the game very well, so they had to make some adjustments, but it shows," Yale said. "They are starting to win games. So, it's definitely been a positive thing."
When the season ended on Sept. 25, the Lady Knights finished with a 2-12 record. Yale said the program "won't change overnight." Grady plays relatively difficult teams throughout the season, including its biggest competition, Region 6AAAAA rival Decatur, which has girls who play year-round softball on club teams.
"We need to reinforce that this game is very difficult mentally, that only playing 6 weeks out of the year isn't going to produce the best result," Yale said. "It's much better for a long-term outcome if you are working on your discipline year round versus limiting it."
The Georgia High School Association has strict rules for softball. The earliest date allowed for a high school game is Aug. 3 and the season ends Oct. 6. Softball has one of the shortest seasons of any varsity sport, creating limitations to team chemistry and skill development.
Yale grew up in a competitive softball environment in south Florida that gave her a different perspective to the game than the players she coaches.
"I think because my exposure to that makes it hard to show girls that level of intensity, and it's hard for them to see that level of potential or how other teams got to where they are," Yale said.
Grady's home softball field is currently at Crim High School in Kirkwood, but with the much anticipated Walden Athletic Complex opening soon, the team had hoped to play its last game there. However, the fields need six additional weeks for the grass to take root.
"It's unfortunate we didn't get to play there at all this year, the field and facility are beautiful, but we'll be there 100 percent next year," Yale said.
Leave a Comment
About the Writer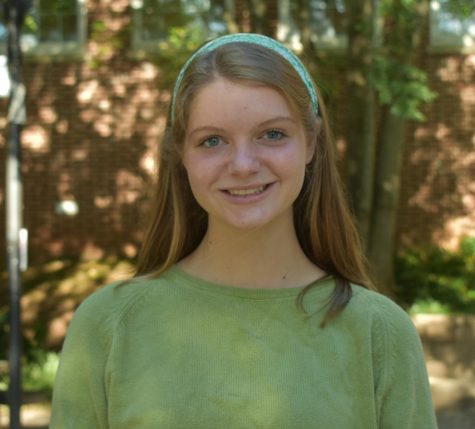 Charlotte Spears, Co-Editor in Chief
Charlotte Spears is a senior and the co-editor-in-chief of The Southerner. When she is not working on the newspaper and website, she is playing varsity...