Freshman wins over public in Georgia governor's race
Satire
Former Georgia House Minority Leader Stacey Abrams has received a lot of attention in her historic bid for Governor, but there is another candidate on the November ballot looking to make history:
Grady Freshman Mason Lowell.  While Lowell may be four years shy of voting age, that has not stopped him from setting his sights on the state's top office and the amenities that come with.
"It's a sweet crib," Lowell remarked, in reference to Georgia's famous Governor's Mansion, located on West Paces Ferry Road. "It's got a hot tub and two 4K TVs!"  
While Lowell is no doubt enamoured by the perks he would receive if elected governor, he promises that is not the sole reason for his run.
"I'm doing it because of 'What are the odds?'," Lowell said, referencing the popular game often played by teenagers. "My bro Darren was like, 'Dude, what are the odds you run for Governor?' and I was like, 'Governor of what?' and he was like, 'Georgia,' and I was like, 'One in twenty,' and he was like, 'Three…Two..One…' and we both said, "sixteen," and I was like, 'I guess I gotta do it.'"  
Lowell had limited knowledge about requirements to run in a state election, most likely due to failing civics three years in a row, so he set out to perform a quick Google search.  There, he found that most states require candidates to be at least 18 years old, but due to a loophole in state election law, Georgia is one of three states with no official age requirement.  
Many of Lowell's friends and family members have jumped on board with his campaign, but not everyone who knows the 9th grader is as enthusiastic about his run.
"I would never vote for Mason," said one of Lowell's classmates, who asked to remain anonymous.  "The way he talks about girls is just awful. If you had asked me a few years ago, I would of called it sexist, but I guess these days it's considered presidential."
While his campaign may have started as a joke, Lowell said he has decided to take it seriously, pointing to his policy agenda as evidence of this.
"I'm running on a Grady-first platform," Lowell said. "If elected, I pledge to make Grady good at sports again!"  
While Lowell claims this as one of his strong points, political pundits have said the opposite, noting that his Grady-focused campaign lacks wide appeal.
"He needs to do better in connecting with rural voters," political analyst Sarah Stone said. "Until he does that, he is not a viable candidate."  
Furthermore, Lowell has drawn widespread criticism from the LGBTQ community for his repeated, and widely-believed to be derogatory, use of "gay" in the comments section on Instagram.
"It's 2018," said Liz Moore, president of the Atlanta Alliance for LGBTQ Rights, at a press conference. "Using 'gay' in a hateful manner, as Lowell has repeatedly done when commenting on memes, is absolutely unacceptable."  
Experts say Lowell lacks name appeal, a trend exacerbated by his choice to not participate in any debates.
"Debate is for nerds," Lowell said, speaking to reporters on Monday. "No way I'll be seen doing that."
While Lowell is surely a long shot for Governor, pundits have said not to count him out.
"The last presidential election showed us that voters don't care about candidates' maturity level," said former DNC advisor Marcus Lassiter. "So, it's definitely possible we'll see a 14-year old governor."
Note: this satirical story was inspired by high school students in Vermont and Kansas, who, due to loopholes in state law, were allowed to run for governor in their respective states despite being too young to vote.
Leave a Comment
About the Contributor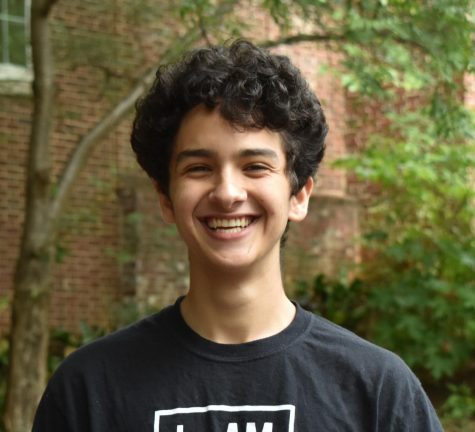 Royce Mann, Writer
Royce is a Senior in his second year at Grady. He is a member of the Grady Governance Team and is the President of Amnesty International Club.