Boys cross country buys into training
The boys cross country team is preparing a season in which it aims to finish top four at the state meet in Carrollton on Nov. 2.
"Finally, I got the boys to actually buy into training and training hard and more consistently, so this year, we are really pounding the miles," coach John Lambert said.
The boys have morning and afternoon practices everyday with the exception of Friday afternoons, ranging between 40-60 miles a week.
"Morning practices make our team much more serious and get a lot more into the sport itself as every morning we go out there and we know the ones that come out are dedicated and it makes us so much better," junior co-captain Bram Mansbach said. "We are doing speed in the morning and distance in the afternoon. We are building and building and constantly getting better every day."
To help prevent injury, Lambert is introducing a new bike ride regime scheduled to start August.
"We are going to start off at 20 [miles] and hopefully build up to about 40-mile bike rides," Lambert said. "It is going to save their knees where they are not constantly running all the time, especially being in the city. We don't have a lot of grassy lawn areas so that [the bike ride] is going to take the place of their long run."
The team, which is mostly juniors, still has high hopes for the season.
"We do kind of have an inexperienced team," junior co-captain Elias Podber said. "I think we will do okay, though, because we have coach Lambert, and I think we will still finish better at state this year than we did last year (5th), and that even though we are inexperienced, we have a lot of talent."
Starting the season with a young team may have some benefits for competition.
"The competition is going to be tough this year, and even though we're a young team we know that and I think we'll be successful anyway," Podber said. "That is the good thing about having a young team like we do. We have this team, and they don't know anything about us, but they have a team, and we know a little about them."
Lambert believes the boys are stepping up even after top runners Isaiah Davis and Aidan Goldston graduated.  
"Last season, when I first came in, it took awhile for the boys to really buy in and, of course, like I said, we had Aidan and Isaiah, and they were the front runners, and the [with] rest of the team, there was a huge gap in between them," Lambert said. "We have really closed that gap this year, and that is what I think is going to make us stronger because we are more a team than we were last year."
The boys respect Lambert and his training regiment as it has significantly improved their times and team ranking.
"Coach Lambert, since taking over the boys cross country team [last year], has immediately made us jump [in the rankings]," Mansbach said. "We went from 12th with a good team to 5th with the same team in the course of a year. We did not lose that many people, but his training regime got us in such better shape that my 5K time went down by two minutes [now 16:58], and his expectations are so high that he thinks I am going to jump another two minutes, which with him, is not that unrealistic."
With a young team and an intense practice schedule ready for the season, the boys are looking for results. Their first meet is Aug. 29 at Grant Park.
"He gets results and overall you can't beat results," Podber said of coach Lambert. "I am excited for this season."
Leave a Comment
About the Contributor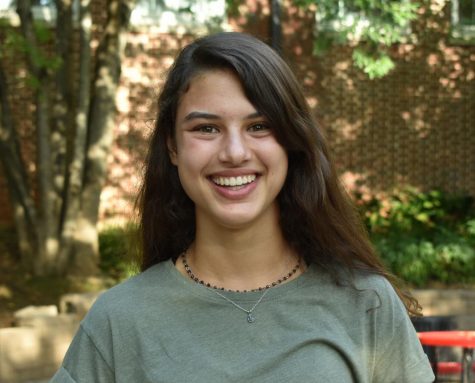 Kaitlin Palaian, Sports Managing Editor
Kaitlin Palaian is a senior and ready to co-lead the sports section to excellence this year. She is excited to be on staff again this year and share what...