Girls track and field athlete excels at state
For senior Mutnodjmet Debnam, track is not just a sport, but her "gateway to happiness."
Debnam was named Region 6AAAAA Female Field Events Athlete of the Year after sweeping the pole vault, high jump and triple jump at the region meet. Debnam finished third in pole vault, fifth in high jump and eighth in triple jump at state meet on May 11.
"She works really hard, and that's what got her first place last year in state," senior distance  runner Aidan Goldston said.
In 10th grade, Debnam attended Washington High School before coming to Grady.
"For me personally, being at Grady was just really nice; everyone was really nice and helpful," Debnam said.  Debnam  won state in the pole vault as a junior.
Four years ago, Debnam was longing to participate in track events. The week of the state meet she visited Division 1 school Kennesaw State University women's track and field team. Not thinking she would be accepted to a D1 school for track and field, she was quick to accept a scholarship offer.
With the workload of college, in addition to being a student athlete, the challenges of high school will soon be long gone as Debnam prepares for her future as an orthodontist.
"I feel like life is just a building block," she says. "The memories and achievements that we have now will prepare us for the future and who we are."
Debnam is already planning her future course.
"I really like school," Debnam said. "It'll really help my career, [from] undergrad to masters or medical school." 
Debnam appreciates that the Grady community is made of such accepting individuals and appreciates that the whole team that supports her throughout the season. Her love for the team is undeniable as she said "hands down, my fam, I love them 'till the end of earth."
Debnam encourages anyone questioning their devotion to anything to try something new.
"If you like or have a passion for something go for it; it could have a huge impact on you," Debnam said. "It's the small things that make a huge difference in life. People in life will say what you can and can't do, but it's always up to you because only you know what's best for you."
Leave a Comment
About the Contributor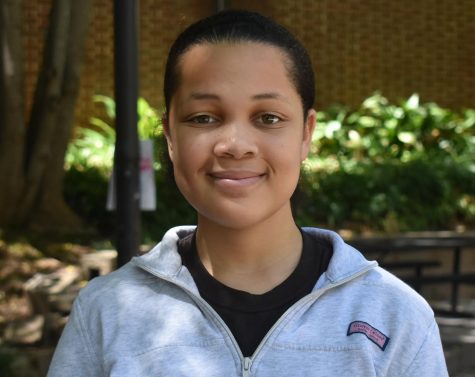 Bria Brown, Photography/Multimedia
Bria Brown is a second year staff member on the Southerner as well as a senior in the Class of 2020. She is currently Photography/Multimedia Editor and...