Okeh, a patient and disciplined presence in science department
Lili Chalfant and Aidan Downey
The new teacher is already extremely involved in the school's science department, as he teaches almost every science-related class.
Mr. Godwin Okeh teaches biology, physics, environmental science and anatomy. He teaches alone and co-teaches with Mr. Nikolai Curtis, Mr. Roderick Hill, Mr. Pierre Davis and Ms. Jillian Breen.
The middle-aged, Nigerian native fulfills many values. As he says he is a disciplinarian and extremely patient, his story easily shows how his path was paved.
"There was a time I was going [to Nigeria] every two years, because I strongly believe in where you come from," Okeh said. "That's my home, so I try to save up money, and I travel. Hopefully by summer, I'll get there."
Okeh values his heritage and credits his upbringing for his success.
"I had a very strong influence in my father," Okeh said. "My father believed so much in education. My mom was on the preacher side. She would always pray for me, while my father would always say 'School, school, school!'"
Okeh came from Nigeria to Atlanta 14 years ago. His time in North America has been spent in Atlanta, the Caribbean, Alabama and Arkansas. Before coming to Grady, Mr. Okeh taught middle school and high school in Arkansas.
"I travel a lot and I enjoy traveling," Okeh said. "I want to go to all seven continents. I've been to three. My next move is Australia. [In North America], I like Atlanta the most. People will tell you they can't live in Atlanta because of all the traffic. Back in Nigeria, I lived in big cities, so I'm used to that."
Okeh has always wanted to teach. After working in the industry for awhile, he decided it was time to go into the classroom.
Before he began teaching, Okeh went to college in America and Nigeria. He received his Master's at the University of Arkansas – Little Rock. In his education, Okeh discovered the differences between higher education in Nigeria and in America.
"The college experience in Nigeria grinds you," Okeh said. "It prepares you for tough times.You go through more rigor going to a college there than here. Here, to me personally, is a piece of cake. I had a 3.8 GPA when I got my Master's."
Okeh's teaching style is unique and extremely interactive.
"Mr. Okeh takes small groups and works with them," science teacher Pierre Davis said. "He gives his students attention and is very good at keeping students focused."
Okeh has always enjoyed helping students. When he was in the Caribbean, he tutored students in an after-school program because he wanted to help the community.
"He is a great teacher and is very nice," Nigerian junior Theresa Afosaa said.  "He always gives students advice and helps them a lot."
Mr. Okeh especially likes teaching teenagers and thinks it's important to teach them life lessons.
"I like to work with young people because they need a lot of advice," Okeh said."Someone who is not focused in life will make a lot of mistakes that probably when they're old, they'll regret. I like to sit down with people and talk to them. That worked very well when I was in Arkansas. I was able to talk to a lot of them. Today, whenever they see me or talk to me on the phone, they tell me one or two things that helped them to get focused."
Okeh is very passionate about teaching and loves to see his students learn and grow.  
"I like to see when I teach my students and the next day when they see me and they're able to tell me what they learned or they're able to move to the next level," Okeh said. "That gives me satisfaction. So it's not the money actually. It's the ability to impact other people."
Mr. Okeh also loves soccer. If he coaches a Grady sport, he will coach soccer. He enjoys watching national soccer and is a fan of both the Nigerian and American teams.
"Soccer is the number one priority in Nigeria. That's why I can easily tell you if the Nigerian team plays today, I'm going to side with them because I believe they are going to win," Okeh said.
Mr. Okeh's passions also extend to the arts. He played the drums since he was a teenager in his church, a band and for five years in college.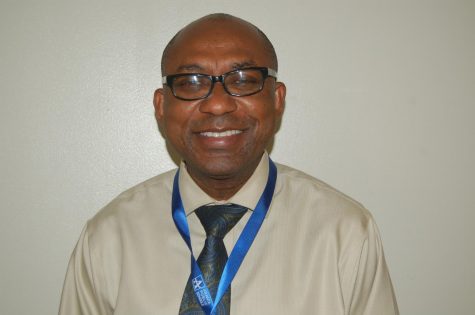 Leave a Comment
About the Photographer
Nafez Zohbi, Writer and Photographer
Nafez is a student at Henry W. Grady high school. He is a a writer and photographer for the Southerner print and online publication. He produces "Southerner...