Custodian Walton splits time between Grady and philanthropy
Changing the ceiling tiles, installing new light bulbs and cleaning up spills are not always jobs acknowledged by students and staff at Grady. These tasks are only a few of the custodial staffs' responsibilities. For Quintez Walton, or "Mr. Q", who has been a custodian at Grady for over a year, knowing the ins-and-outs of the school is a requirement for his daily routine.
"Us being here is beneficial to everybody. Custodians have to be on the building if the building's in operation, like on weekends," Walton said. "Even after school, you have certain functions going on, [so] we have to be in the building."
Walton began doing custodial work when he was in high school. Since then, he has had numerous jobs. He resumed work as a custodian at Carver High School a year before starting at Grady. Although he has only been at Grady for a year, Walton already takes pride in his job and his contribution to the school.
"A lot of stuff that people might think are our jobs are actually courtesies because as custodians, we service the building, not the people in the building," Walton said. "Someone always has to clean up. Remember that."
Art teacher John Brandhorst works with Walton on a day-to-day basis and admires his role and dedication to his job.
"We're both in the business of handling the chaos of this place," Brandhorst said. "I have my messes to clean up. He has his. We pray for good, boring, level days that don't involve something crazy."
On numerous occasions, Brandhorst has noticed a misconception among students about the role of the custodians.
"They're not here to work for students. I've heard these ridiculous comments like 'there's people for that,'" Brandhorst said. "When I've confronted someone about littering, they'll say 'well I'm helping someone keep their job.' [That's] just the most strange, selfish response."
Senior Liliana Chanler has seen the dedication Walton and the other custodial workers have put into maintaining the school. As a member of the debate team, she is usually at Grady after the school day has ended and frequently notices the custodians' extra hours. Like Brandhorst, she also wishes the other students would be more aware of the custodians' role.
"I don't think we're appreciative enough for what they do for us," Chanler said. "A lot of people don't realize the trash they leave behind, even if it's just a wrapper, is picked up by them, and we should be more thankful for them."
In addition to Walton's job as a custodian, he has also been driving for Uber for three years and has been involved with multiple sports teams. Last school year, Walton was the junior varsity girls' basketball coach and worked with the junior varsity football team. Currently, Walton coaches youth football where he is a videographer and manager.
While Walton works multiple jobs and coaches different sports teams, he is also involved with three nonprofit organizations.
"One [of my nonprofits] is my family foundation called Shirley Safehouse. It's to help youth teen adolescent boys and also house homeless veterans," Walton said. "Initially, it started out when my friends and my older uncles could always come and hang at my grandmother's house. It was like the place to be so we wouldn't be out in the streets getting into trouble. We would come in there play games, kick it, [or do] whatever. That's why we started out. It's been going on five years."
Last year, Walton co-founded his own nonprofit with two other Grady custodians.
"Mr. AB, Ms. Q and I started HOPE. It's called Help Our People Elevate," Walton said. "Who are our people? The people we deal with on the daily basis. You guys are our people. That's what we do this for."
Currently, the organization is still being developed. The goal of HOPE is to support young people and small businesses. In April, it aims to host a showcase where small business vendors can advertise for free.
The third nonprofit that Walton is a part of is the New Jerusalem Regular Grand Lodge of Georgia. Walton has been working with the group for four years.
"I'm a mason. We help build humanity," Walton said. "A real mason builds things, but we build it in a different sense, in a spiritual sense. We do a lot of charitable [work and] a lot of volunteering."
Although Walton has many jobs, he involves himself with them because of his passions.
"You take the things you love to do, and you make them your business," Walton said. "You love fellowship, family [and] friends. You just bring people together. Network. You never know where certain things will take you, [or] where certain people can take you."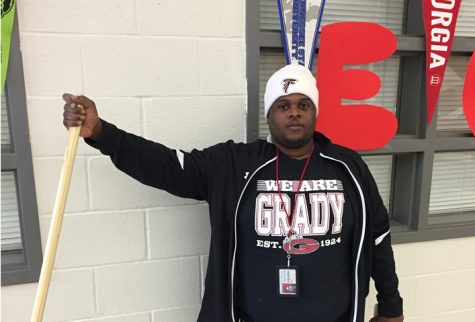 View Comments (2)