Beloved by students, Mr. Smith enriches Grady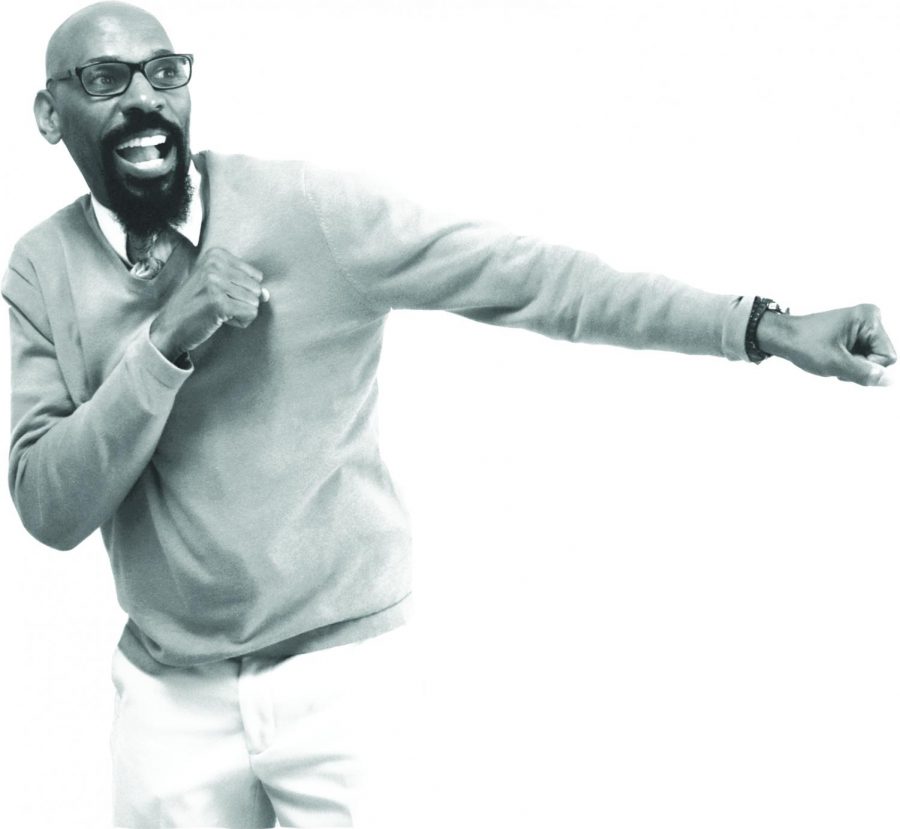 By Jack Hudson and Caleb Weinstock
Most substitutes don't get the type of responses that this one does. Students flock to him to say "hello" or to ask him to tell one of his renowned riddles. His warming smile and his upbeat mindset fills the hallways with energy.
Anthony Smith has been teaching for 31 years in various schools, but now finds himself as a staple in the Grady community.
"My core desire to help people is why I teach," Smith said. "I helped my mom raise my younger siblings and really even my older siblings, too, and I have just gone on from there."
Smith has lived in Atlanta his entire life. He attended Brown High School in Southwest Atlanta, which is now Brown Middle. He studied aviation as an undergraduate at Georgia State University.
After working in several positions for numerous airlines, Smith decided to go into teaching after helping a nephew who was having behavioral issues at school. Smith has continued to teach ever since.
"I believe we are all teachers; the question is: 'What are we teaching?'" Smith said.
Smith is nothing like the substitutes who students have grown accustomed to. His exciting and entertaining classrooms are a welcomed rarity at Grady compared to the nonchalance of the usual uninterested substitute.
"I like that he likes to joke around," junior Ezi Ugwuh said. "Other subs are too serious, and they don't joke around the way he does."
Smith also incorporates funny, memorable quotes in his teaching to add to the fun of the class environment.
"He's very fun, interacting and gets the class excited by making us work before hearing a riddle," senior Jacob Salomon said. "I remember one of his quotes is, 'If Jesus could walk on water, and you can walk on a watermelon, which is 90 percent water, are you 90 percent Jesus?'"
Smith credits many of his beliefs to the people that he looks up to most: Albert Einstein, Jesus, Rumi and Martin Luther King.
"All the people who inspire me are the crazy ones," Smith said.
"I think some people just think I am crazy, but it's important not just to be someone who is normal."
One of Smith's primary goals is to help students' creativity come out when he substitutes.
"You can't live inside the box," Smith said. "I want to help kids be who they are inside. I see a lot of human doings and a lot of human talkings, but I want to see these kids become human beings."
Using his connections, Smith brought in Dwight Eubanks, a well known fashion icon, for career day. Eubanks then went through his clothing line with Grady's fashion students.
"I am really excited that Mr. Eubanks came, and that Mr. Smith brought him so other people could have opportunities in the fashion industry," senior designer Leila White said.
Smith substitutes for teachers in schools throughout Atlanta Public Schools and Fulton County Schools but says Grady is one of his favorites schools to substitute at. 
"There are so many great kids here with so much potential," Smith said. "Remember, it's `Grady High,' not 'Grady Low.'"
Besides substituting, Smith's current endeavors include acting and modeling. He plans to continue his multi-faceted careers.
"Subbing is just a little piece of what I'm doing right now," Smith said. "Besides everything else, I also try to inspire people and to make people laugh.
Although Mr. Smith may be considered an eccentric substitute, his unconventional wisdom flows through the Grady hallways.
As he recites a quote of Wayne Dyer, "If you change the way you look at a thing, the thing you look at will change," students see Mr. Smith as a valued member of the Grady community. 
"He's a great teacher," junior Adam Miller said. "No student here isn't excited when they see Mr. Smith come into class." 
View Comments (1)
About the Photographer
Nafez Zohbi, Writer and Photographer
Nafez is a student at Henry W. Grady high school. He is a a writer and photographer for the Southerner print and online publication. He produces "Southerner...