Markovic masters real-world photo skills
The annual Atlanta Celebrates Photography had its open exhibition in October, and Creative Loafing awarded exemplary photographers shown in the exhibit. Senior Jackson Markovic won the Teen High School Second Place award. Markovic has been an active participant of Grady's photography program since his freshman year.
"Photography at Grady has been a very special place to learn and master darkroom photography," Markovic said. "One of the best things the school has done is push me out of it and gotten me away from high school and into the real world with opportunities such as the ACP open exhibition."
Grady photography teacher Dawn Wadsworth pushes students to work hard and achieve greatness in their art. Wadsworth furthers this point by stressing that students perfect the printing stage and work to hone their skills for a perfect picture.
"It's half developing your artistic sense and half skill level in printing," Wadsworth said. "Whoever wins puts forth effort and thinks outside of the box. They put more into the assignments."
Markovic appreciates Wadsworth's teaching style, claiming her drive enhanced his work.
"I appreciate Ms. Wadsworth to no end for being so constructive in her criticism and giving her energy to help me grow as a photographer and letting me, as well as everyone else, be creative and bring what they want to the table." Markovic said.
Atlanta Celebrates Photography is an exhibition Grady has participated in for years, submitting student works in hopes of gaining recognition. Markovic has been submitting work in to the competition since ninth grade.
Along with Markovic's award, Grady received praise as the "Best High School" in the competition and junior Alyssa Stanley received an honorable mention award.
"People have always said our stuff looks better than high school," Wadsworth said. "It's not having the darkroom, it's what [we] do with it."
Wadsworth has taught Markovic since his freshman year and has been impressed with the evolution of his style.
"He's really developing his own eye and style," Wadsworth said. "He actually makes the assignment his own thing. He works toward making his vision happen, and his printing has gotten so good."
Other students also recognize Markovic's growth as an artist and appreciate the drive he brings to his work.
"He's really creative and thinks outside the box," senior Bella Romeyn said. "He really puts a lot of thought into it. He's such a unique person."
With Markovic's award-winning pieces, he tried a different photographic approach: shooting pictures underwater.
"Right now, I'm working on a series about water, which involves taking pictures in the pool and underwater," Markovic said. "Its an interesting and very challenging way to shoot because being underwater, you're forced to work in a different mode. It's really exciting overall; there's not a lot of people who shoot like that. I'm in lesser charted territory."
Wadsworth and Markovic agree the key to winning awards and improving your craft is practice and creativity.
"To Photo I students, I would suggest practice," Markovic said. "Even in photos on your phone,  be creative and try things. Make sure you have fun with photography. Be creative in every step of the process and shoot what you like. Make the photos you want to make."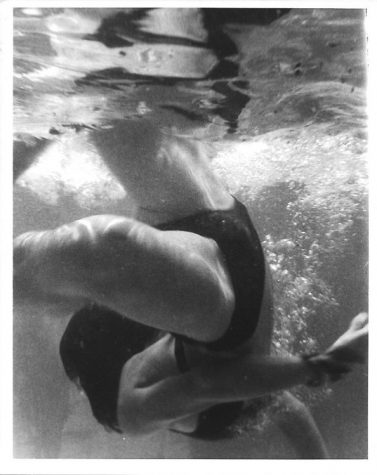 Leave a Comment
About the Contributor
Parker Killenberg, AME for the A&E
Parker Killenberg is a senior and the AME for the A&E section. She enjoys taking part in activities including Model UN and Grady's IGNITE chapter and...