Elementary school girls advocate for dress code change
By Charlotte Spears
Two little girls stood on their tiptoes to reach the microphone on the lectern. Their brightly colored leggings and pigtails stood out in the crowd of business suits and solemn faces. It is rare to see two fifth graders speaking at an Atlanta Board of Education meeting, but Falyn Handley and Ruby Segerman came prepared to advocate for policy change.
According to current Atlanta Public Schools policy, students are prohibited from wearing leggings because they are considered distractions to a learning environment. At the board meeting on Nov. 13, Handley and Segerman, from Springdale Park Elementary, asked for the policy to be rewritten to allow students to wear leggings.
"We are here [pushing] policy to change it and take out the restriction," Handley said. "I want to do this so girls can wear leggings throughout APS and take out the restriction because it is labeling clothing, which isn't a distraction."
During their individual two-minute speeches, Handley and Segerman talked about the dress code policy and how they believed it was "embarrassing," "unfair" and "punishing." They asked the board to remove the legging ban.
Before advocating at the school board meeting, the girls had gathered support from the community by collecting over 1,100 signatures supporting the policy change and orchestrating a dress code protest. With the help of social media, Handley and Segerman had encouraged girls in elementary, middle and high schools across APS to wear leggings on the day of the board meeting in support of the policy change. Consequently, at Inman Middle School, girls were called to the school office for violating dress code by protesting the leggings policy.
Nina Stern, Grady senior, is familiar with the fight for dress code reform. As a freshman, she protested the dress code on Twitter and around the school, and she also joined the Feminists for Dress Reform group, where she was a part of a school-wide movement to bring light to the sexist dress code.
"Young people are the core of many social justice movements, and we have definitely faced the challenge of not being taken seriously because of age," Stern said. "It's incredibly important that young girls stand up for themselves because it empowers them and those around them and inspires everyone watching."
While there is widespread support in APS for a new dress code policy that allows leggings, not everyone supports the proposed change. Brooke Ramey, Grady English teacher, says that the code against leggings solves other dress code problems in schools.
"I think if we ban leggings or, if we say 'you can't wear leggings,' then it trickles down to other attire that should not be worn by females or young men in the school building, such as crop tops, spaghetti straps or things that are overly revealing," Ramey said.  
Aside from making waves protesting the legging policy, Handley and Segerman have shown the community the importance of involvement in local government. The increase of students having their voices heard at APS board meetings is something Matt Westmoreland, District 3 board member, has personally advocated.
"I came up though Atlanta Public Schools, and I used to teach history at Carver High School, and I would talk to my students about how [students] have a voice," Westmoreland said. "Adults in these situations and these positions hear from students so infrequently that when you reach out, it really does amplify."
Board Member Eshe P. Collins of District 6 also believes in the importance of student advocates.
"We want to provide the best educational environment, so when students see something that is not working, we want to hear from them, too," Collins said. "We want them to exercise these channels to get the message to us and become young advocates."
Westmoreland encourages students to reach out to their board members like Handley and  Segerman did.
"All of this is a great lesson that students choose to use their voice advocating for themselves, then change can happen and that is awesome," Westmoreland said. "Call us; email us; come meet us face-to-face because we are here to listen."
At the meeting, the board acknowledged the dress code policy as the first reading, but did not rewrite or vote on the policy. However, the next school board meeting is scheduled for Dec. 4, and the proposed policy change will be brought up again at that time. The December meeting is the last meeting the current board will sit in on, as the Nov. 7 election solidified new positions. In the recent election, Westmoreland was elected to the Atlanta City Council and, subsequently, will no longer serve on the school board.
As for the community, after the meeting, many felt empowered.
"I am definitely inspired that girls as young as them feel empowered enough to stand up for what they believe in and being so proactive about making a change, especially since they are so young," Stern said.
Coverage of Atlanta Public Schools' dress code by the Atlanta Journal-Constitution
http://www.myajc.com/news/local-education/fifth-grade-aps-dress-code-crusader-clothes-are-not-distraction/ybeIlKyENfBjjtSXuMVheJ/
http://www.myajc.com/news/local/modesty-fairness-proposed-school-dress-code/hXKnzGVVRqFozC5cINgNwK/
Leave a Comment
About the Contributor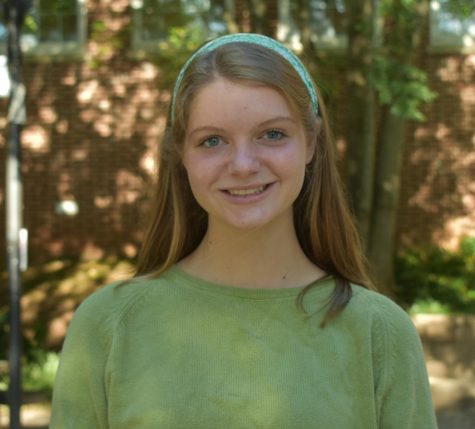 Charlotte Spears, Co-Editor in Chief
Charlotte Spears is a senior and the co-editor-in-chief of The Southerner. When she is not working on the newspaper and website, she is playing varsity...