Addition by subtraction: Cavs benefit by losing Kyrie Irving
By Jack Rafferty, Assistant Managing Editor, Comment
In a 2010 post-game presser, then Chicago Bulls center Joakim Noah said, "I've never heard anybody say 'I'm going to Cleveland on vacation.' What's so good about Cleveland?".  
Apparently, Kyrie Irving agrees, as he formally requested a trade from the Cleveland Cavaliers in July, and officially joined the Boston Celtics on August 22nd.  In the trade, the Cavs gave up Irving for a package of Isaiah Thomas, forward Jae Crowder, 20 year old center Ante Zizic, and the 2018 Brooklyn Nets unprotected 1st round pick, which will likely land in the top five.   
Irving is 25 years old, has a salary of just under $19 million next year and is under at least two more years of team control. For an all-star caliber player, this deal is fairly affordable, and Irving may very well be yet to reach his ceiling. Thus, on the surface, he looks like an ideal trade candidate, explaining why the Cavs received a king's ransom for him.
In reality, while Irving is a phenomenal scorer, he is an uninspiring athlete, passer and defender.  He's an elite scorer, but not much else, ranking 40th in assist percentage and 71st in defensive real plus minus.
While Thomas, at 5'9", is undersized and has significant struggles on defense, he is a better scorer than Irving, averaging nearly 4 more points per game than him on fewer shots, with a .045 higher true shooting percentage fueled by much better shot selection.  According to NBA.com, Thomas took 3.4% less tightly contested shots and 4.7% more wide open shots.  
Most impressively,  Thomas was the first option on his team, while Irving unquestionably benefited from defenses focusing on James at times.  Thomas is fairly equal to Kyrie in other aspects of the sport, averaging 0.1 more assists but 0.5 fewer rebounds per game last season.
As one-dimensional scorers, both Thomas and Irving are poor fits against their teams' realistic competition for the NBA title. Three of the four Western Conference teams considered to be in contention for a championship, the Warriors, Rockets, and Thunder, have at least one all-star guard, and the Spurs have exceptional ball movement. In the modern NBA, it is best to have athletic, long defenders who can effectively guard multiple positions.  
The Cavs still have the problem of having a poor defensive point guard, but the affordable and versatile forward Jae Crowder can immediately slot into the Cavs' lineup and effectively guard multiple positions, including picking up a guard. This is important because it allows the Cavs to more effectively guard the versatile Western Conference elite.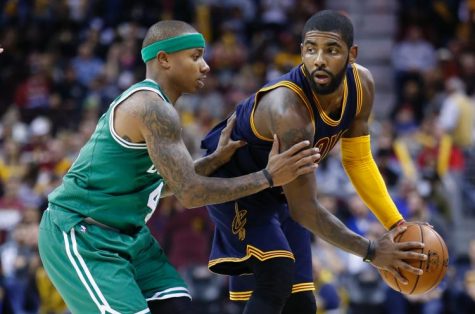 Irving is flashy and has a good reputation, but doesn't provide much actual value to his team.  The Cavs theoretically had an elite point guard, but were only good when Lebron James was on the floor. the Cavs had a worse net rating—point differential per 100 possessions—than the 26-win Lakers last season with Kyrie on the floor without James in last year's regular season.  In stark contrast, the Celtics were tied with the Warriors for the best offensive rating in the league when Thomas was on the floor— I can only imagine what he could do with James on his team.
Next year, you can expect the Celtics to be a worse version of the 2016-17 Cavaliers: a great team, but certainly not one I'd bet on to win a title. Free agent acquisition Gordon Hayward is a great player, but will never be able to be a dominant two-way player in the mold of James, and the Celtics will surely struggle on defense after replacing the defensively elite Crowder and Avery Bradley, who was traded to the Pistons, with Irving.  
Earlier in the offseason, the Celtics played the long game, holding onto valuable assets like the Nets' picks.  Now, they have given up a great pick in what looks to be a stacked 2018 draft, two valuable veterans, and a promising rookie for the luxury of having a point guard under contract for 2 years before commanding a max deal, instead of one.  This trade did not make the Celtics better in the short or the long term.
For Cleveland, though, this trade is the Lufthansa Heist.  In the short term, the Cavs have put a vice grip on their position as the East's team to beat.  In addition to getting about as close to a player as Kyrie Irving as possible, the Cavs also got the 3-and-D wing they sorely needed, and could be in position to sign Dwayne Wade after a likely buyout.  It's certainly possible that Thomas leaves the Cavs as a free agent next offseason, but Kyrie would have done the same in two seasons anyways.  
This trade is also beneficial to the Cavs in just about any long-term scenario.  As anyone who has ever watched ESPN knows, James can become a free agent after the season.  Ideally for the Cavs, this trade will help convince him to stay, but even if both him and Thomas leave, the Cavs have jumpstarted their rebuild.
Assuming both Thomas and James leave, the Cavs will already have a young player with potential in Zizic, plus a good chance to pick a future star with the Nets' pick.  Furthermore, Kevin Love and Crowder both have three years left on their contract, with Crowder's salary being under $8 million each year.  Both of these players could be traded for a good value.  Some blessings come in disguise, and Irving's trade demand could be the gift that keeps giving for the Cavs.