Former coaches receive stadium nominations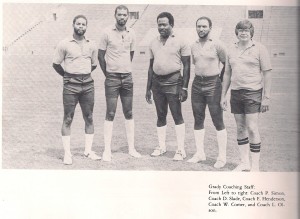 The Southerner
February 29, 2012
Hang on for a minute...we're trying to find some more stories you might like.
By Nally Kinnane
Coach Eddie Henderson Sr.'s first day at Grady in 1970 consisted of racial discrimination and paint sprayed all over his car.
Forty years later, the field at Grady stadium will be named in honor of either Henderson or Erskine Russell, another former teacher and coach at Grady. The community is showing its support of these two men by submitting nomination letters on their behalf to the official naming committee.
In November 2001 Henderson passed away after dedicating 18 years of his life to Grady and 30 years to Atlanta Public Schools. Erskine Russell spent eight years at Grady as both an assistant and head coach and passed away in September 2006 following a stroke.
The Atlanta Board of Education will   give the newly renovated Grady stadium an official field title during its meeting on Oct. 18. The board will vote to either accept or reject the name that the official Grady field naming committee has selected. For the past month, this committee, made up of athletic directors, booster club members, neighborhood representatives, APS administrators and students, has been accepting nomination letters from people wishing to show their support for one of the nominees. The final decision regarding the name of the stadium will be based on these letters along with other outside information.
Erskine "Erk" Russell
In September 1948, the Grady Grey Knights football team played its first game at Grady's stadium. This was the only game the team won that season. Russell became the head coach of Grady's football team in 1952 and led the team to a winning record. In 1953, he led the team to Grady's first and only Georgia High School State Football Championship.
David Baldwin, one of the Grady players on Russell's state championship team, wrote a letter nominating Russell to be the stadium's namesake. He wrote that it was Russell's innovation that led the team to win the state championship.
"Russell realized that Grady had good runners and kickers, so he changed from the T-formation to the single wing to take advantage of his good runners and kickers," Baldwin wrote in his letter.
Russell remained the head coach at Grady for the next six years. Even though the team did not return to the state championship game, Russell remained a highly respected coach.
"As a coach, he had the ability to explain very clearly what each player's job was and how to do it," said Mike Trotter, president of the Grady High School Class of 1954 and co-captain of the state championship football team. "He would let you know very clearly if you weren't doing what you were supposed to do, but he also had a way of encouraging you to do better."
According to Trotter, one of Russell's main accomplishments as a coach was his ability to take advantage of his players' skills. During the 1950s, Grady was considered one of the most academically oriented high schools in Atlanta.
"A lot of us who played on the football team were more geeks than jocks, but Russell motivated us to be successful both as athletes and as students," Trotter said.
According to Trotter, Russell affected the lives of students not only on the football field but also in the classroom.
"He was a fine teacher and very much was interested in the welfare of every student in his charge," former student Wilder Scott wrote.
Scott, who was in Russell's eighth-grade civics class, wrote that Russell taught him everything he knows about the local, state and national government.
"He was very popular with the students at Henry Grady [High School]," Scott wrote. "He was beloved by all who knew him, trained with him or were taught by him."
After teaching and coaching at Grady for a six years, Russell began leading other schools to football championships.
"It was from these humble beginnings at Grady, then to Georgia, after a short stint at Vanderbilt, and on to Georgia Southern where Erk [Russell] became recognized as one of the greatest coaches ever to grace the state of Georgia," wrote Bill Dicristina, a member of the class of 1950, in a nomination letter.
Eddie Henderson sr.
Forty years ago, Grady hired its first African-American coach, Eddie Henderson Sr. The Grady community, despite being integrated in 1961, was not accepting of Coach Henderson at first, said Henderson's son, Eddie Henderson Jr.
"[Henderson] loved Grady so much that he didn't allow these things to stop him," Henderson Jr. said.
During Henderson's 18 years at Grady, he coached a variety of sports teams. He was the physical education instructor, the football coach, and the boys and girls basketball coach. He then went on to become the athletic director at Grady and then the athletic director for APS. As athletic director, Henderson brought many new sports programs, including the girls soccer program, to Grady and APS, according to athletic director Douglas Slade.
"As a coach, Henderson was knowledgeable and was thorough in his coaching and techniques," said Slade, who was a basketball coach at the same time that Henderson coached football.
"Football was his passion," Slade said. "He lived and breathed football."
Slade said that Henderson was dedicated and committed to his players and his team.
"He believed in creating better players at the expense of winning games instead of winning games at the expense of players," Henderson Jr. said.
Henderson Jr. described Henderson as a teacher and father figure to his players.
"He made them better adults and was always trying to mold them into better people," Henderson Jr. said. "Grady was his family. I could see my dad evolve and grow as a result of being at Grady. He loved Grady so much."