APS Board Meeting: Mar. 7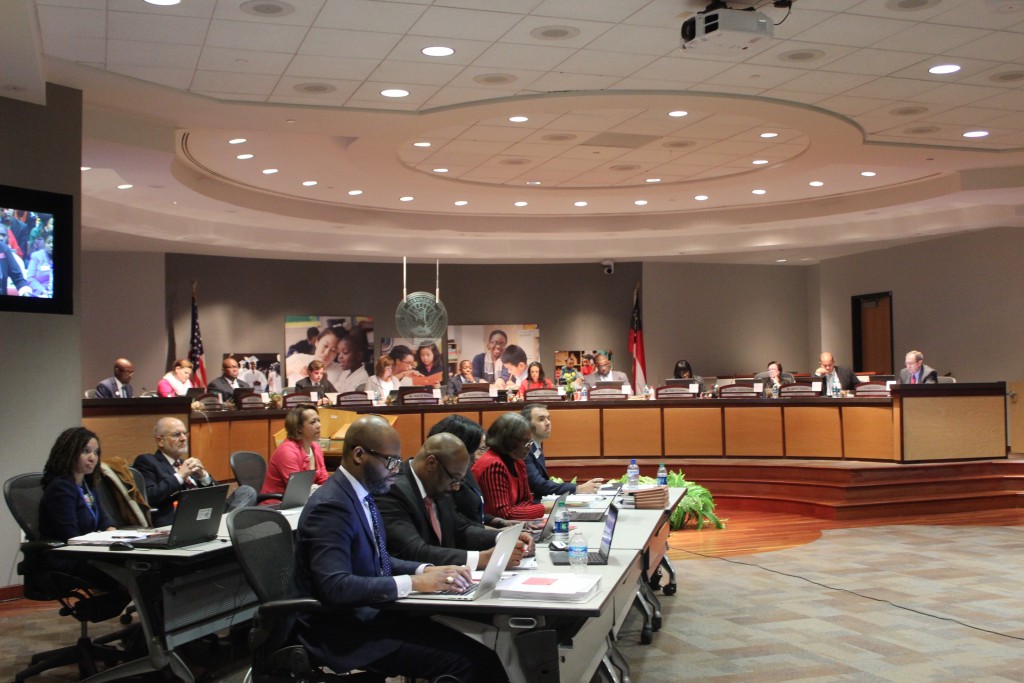 The Southerner
March 8, 2016
On Mar. 7, 2016, the APS board met to discuss the turnaround plan with the local community. While many community members were not pleased with Dr. Carstarphen's plan, the board unanimously passed the turnaround plan.  
The turnaround strategy is a plan that hopes to address chronic underperformance in schools that have scored below 60 on the college and career readiness performance index scores for at least three years. Carstarphen plans to partner with Purpose Built Schools of Atlanta to reform Carver High, Price Middle and Slater and Thomasville Heights Elementary. Working with Kindezi, a firm specializing in creating a network of public elementary through middle school charter schools, the Board wants to transform Gideons Elementary. Then in the Washington cluster, Carstarphen plans to close Bethune Elementary and move students into Kennedy Middle School, which will become the city's first K-8 school.
Carstarphen's turnaround plan came in response to the state's Opportunity School District (OSD) plan, which would affect Douglass, Washington and Carver clusters.
"Atlanta Public Schools is our school and home," said Herschel Gay, senior technician engineer for APS. "To have the state come in and tell us to do things and take schools from us is not good for the community itself."  
While local members mutually agree the OSD plan is not ideal, many feel the turnaround plan is equally flawed and rushed.
"You can either go from one school to another school take over," said Deborah Scott,  executive director of Georgia Stand Up. "They should hold it and wait to give parents clusters an opportunity to figure out a more local plan for their schools."
Agreeing with Scott, families and faculty from Thomasville Heights, an elementary school affected by the strategy, spoke against the turnaround plan.
Gay, however, believes Carstarphen had to act quickly considering the alternative.
"Once Dr. Carstarphen learned there was an OSD strategy that could hurt us, she went immediately into action to form this [turnaround] plan" Gay said. Really, we are out of time."
Another common concern from the community was the turnaround's plan to have all current faculty reapply along with other candidates. Later in the board meeting, Courtney English, chairman of APS Board of Education, addressed these worries saying staff who showed promise could receive prioritization in the application process for those schools most affected by the turnaround strategy.
English then assured parents and teachers that APS has made adjustments based on their concerns to best benefit the community and the students.
Some community members, however, remain skeptical.
"Other states and districts have done this and they have been a failure," Reverend Diane Dougherty said. "The financing has gone to companies without any consideration of the children. I don't think the communities will benefit five years down the road."
Addressing concerns about other turnaround strategies, namely in Louisiana, Carstarphen has analyzed those strategies in order to strengthen APS's. She explained APS revisited past budgets and staffing allocations for the schools undergoing the operating model changes and identified any other support they needed for the transition.
APS has already started implementing these programs such as launching tutoring in high impact schools, creating a spring break academy for students to get remediation and enrichment and to change instructional time to give them more time during this school year.
"With change will come some pain, but with growth there is pain," Gay said. "Overall when we're done with the turnaround plan, it will be all for the good of the community."