Grady swim team dominates APS championship, makes splash at state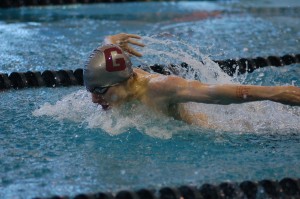 Erik Tischer
March 5, 2016
Hang on for a minute...we're trying to find some more stories you might like.
By Erik Tischer and Ben Bizot
On January 26, 2016 the Grady swim team dominated the competition at the Atlanta Public Schools Swim Championship. The Knights finished very well with the boys finishing in second place with 653.5 total points, only 27 behind rivals North Atlanta. The girls finished in first place with 768 points, which was over 200 more points than the next best team. With this, Grady won first place overall, and took home the trophy for the second consecutive year.
"The grady swim team has been very successful this season", said swim coach John Rives, and it's hard to disagree.
The team was led by senior Justin Cucci and junior Melissa Brown. At the meet, Cucci qualified for the state meet in the 100 yard backstroke and the 200 yard individual medley. Brown also qualified for state in the 100 yard backstroke and sophomore Max Nevins qualified for state in the 100 yard butterfly and the 200 yard freestyle. Additionally, both the boys and the girls teams qualified for state in the 200 yard relay.
At the state meet both Justin Cucci and Melissa Brown made it to finals. Cucchi placed 12th in the 100 yard backstroke and Brown finished third in the 50 yard freestyle and 16th in the 100 yard freestyle. This is the first time in the history of Grady that a swimmer has finished with a medal. With eight of Grady's swimmers competing, Grady had a great show out at state. With the season coming to an end Grady has to look towards next year to see how they are going to prepare for next year with seniors graduating.
Because of Cucci's spectacular performance at both the APS meet and the state meet, he has really been able to make a name for himself. He has committed to Villanova and plans to swim there competitively as well.
"We are losing several seniors which we will have to replace," coach Rives said. "Our juniors will have to step up and we hope to get some new blood in from our graduating classes in eighth grade."
As they prepare for next year, the team looks towards current junior Melissa Brown and sophomore Max Nevins to help lead the team to state success next year.