Grady transfer athletes thrive on new turf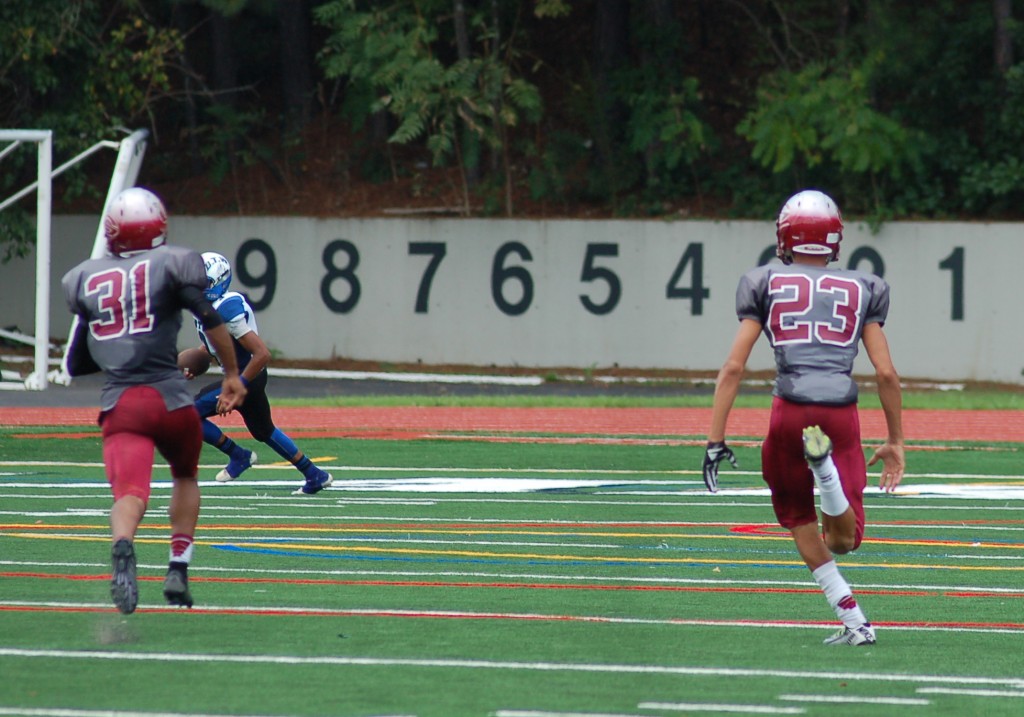 Alex Tonico
December 17, 2015
Transferring can be tough. Moving from what you know to something completely new is hard, but playing football can make the process a little easier for you.
Eight student athletes this year had to go through the process of transferring schools, but luckily for them and for Grady's football team, they made a difference.
"They were a good combination of what we already had,'' head football coach Earthwind Moreland said. "They've done some good things. I think they adapted very well to what we do as a football team, but not just as a football team, but what we do as a school, so I think it helped in both ways.''
The student-athletes he's talking about are senior Javier Russell, 6 foot 7 inch junior Kemari Averett, junior Tyreeze ''T.J.'' Alford, junior Theron Anches, junior Jeffery Black and junior Isaiah Washington. Together, they play a variety of positions, including cornerback, running back, wide receiver, defensive end and linebacker, and they have each brought different skill sets to the Grady varsity football team, helping lead the team to the second round of state playoffs.
"We've been doing well this season. I don't know how they were last year, but I feel like everyone of our [transfers] has contributed and done their part, and it helped us get this far," Theron Anches, a transfer from Everglades High School in South Florida, said.
Not only are the transfers liking their new home, but their teammates enjoy having them on the team.They all bring different skill sets and contribute in key ways.
"I feel like they helped a lot. We wouldn't be the team we are without them," junior cornerback Christian Jones said.
Offensive coordinator Terry Jones had high praise for the transfers as well. With them coming in, he was able to do more on offense.
"Some of the new kids into the program, they brought really good attitudes into the system,'' Jones said. "It took them a minute to buy into the system and buy into what we are trying to do at Grady but each one of the kids that came in brought a different element to the game … The kids helped us in areas where we weren't necessarily weak in those areas, but they made those areas a lot better for us and brought us some depth. That's a difference that we didn't have in last year's team. We weren't as deep."
This new depth has not only helped with production, but it has lessened the fatigue of players who had more of a workload last year.
"I don't have to do all the work. I don't get that tired anymore," junior running back and wide receiver Jacquez Sloan said.
A unique thing about this group is that all of them are able to play and excel in a position on the offense, which makes the play calling a lot more versatile.
"Last year, we were able to run a lot of different things,'' Jones said. "Each year, I base my offense on the personnel that I have and having Jeffery and T.J. (Alford) plus having [returning players] a year older in the system, it makes things a whole lot easier." The transfers brought in almost 1,000 yards of offense 7 interceptions on defense this season.
"We all function well together,'' junior receiver Aaron Hudson said.  "We are all good as an offense; so, it works out."
The transfers also had high praise for their new teammates.
"My team helps me stay focused,'' Russell said. "My coach puts me in the right position. It's just up to me to make the play."
Russell is a senior cornerback who's played football for Mays and North Gwinnett before spending his senior year at Grady. He ended the season with four forced fumbles and six interceptions, two of which were returned for touchdowns.
"Right now, we are sticking together as a family and sticking in there," Alford said. Alford finished with 464 rushing yards, 43 receiving yards and 3 touchdowns.
Caylin Newton, junior quarterback, says the transfers have helped. Averett, who was a key player on offense and defense, finished with 22 catches, 388 yards, five receiving touchdowns, one interception and one fumble recovery for a touchdown during a playoff game.
"When in need, they haven't failed. So, we love to build and create confidence so that we can be comfortable with each other and make bigger plays," Newton said.