GOP clinches victories in midterm elections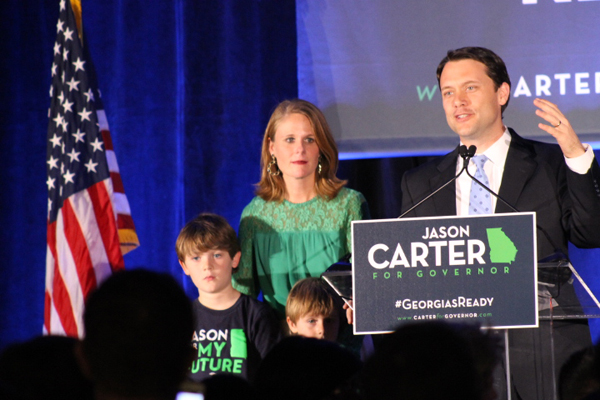 The Southerner
January 8, 2015
Hang on for a minute...we're trying to find some more stories you might like.
By Mary Claire Morris and Ben Simonds-Malamud
[slideshow_deploy id='57918']
Tuesday, Nov. 4 was a great night for Republicans. The party gained control of the Senate by gaining seven seats to secure at least a 52-seat majority. Candidates also claimed 12 formerly Democratic seats in the House of Representatives to maintain a 244-seat majority and won closely contested gubernatorial elections across the nation.
In Georgia, Republican Gov. Nathan Deal won reelection with 53 percent of the vote compared to Democrat Jason Carter's 45 percent and Libertarian Andrew Hunt's 2 percent. Many Georgia voters appeared to vote straight tickets for their political parties. For the state's open U.S. Senate seat, Republican David Perdue beat Democrat Michelle Nunn and Libertarian Amanda Swafford by the same percentage margin as the race for governor.
"I promise you tonight as I promised you during the election," Deal said in his speech after Carter called him to concede the race. "We will continue to make Georgia the best place in the country for every possible thing you could imagine."
In addition to winning the governor and U.S. Senate seats, the GOP fared exceptionally well across the state, winning the races for lieutenant governor, secretary of state and attorney general, among many others. Of the 64 partisan races for which 11Alive published results, Democrats won only 15.
"The president's [low] approval rating and the state of the Georgia economy made the races difficult for Democrats," said Scott Ainsworth, a professor of political science at the University of Georgia. "Deal had the advantage of incumbency."
According to the United States Election Project, voter turnout in Georgia for the 2014 midterm election dropped to 34 percent of eligible voters compared to 41 percent in the 2010 midterm. Andra Gillespie, an associate professor of political science at Emory University who specializes in political mobilization and the minority vote, said even if the turnout had been higher in Georgia, the election results would not have changed.
"When people talk about differences [in election results due to turnout] they think that typically people who would've voted Democrat didn't turn out to vote," Gillespie said. "But when people studied this in the past, and they studied it a long time ago, they see that sort of difference is only a couple of percentage points. So given the fact that the Democratic candidates lost by eight percentage points in the governor and Senate race, chances are extra turnout—even if it had included more Democrats— wouldn't have changed the outcome of the election."
According to CNN exit polling, Nunn and Carter both won the majority of the Latino and black vote, and most white voters cast ballots for Republicans.
The demographic breakdown of voters closely mirrored Georgia's population. African-Americans, who comprise 31 percent of the state population, made up 29 percent of the voting electorate. Among white and Latino voters, turnout rates closely matched (within six percentage points) population rates.
"Turnout was lower everywhere," Gillespie said. "Blacks are actually not underrepresented in the electorate. … There just weren't enough African-American votes in the state to offset the percentage of whites who voted for Nathan Deal or David Perdue."
Nationwide voter turnout was also low. Only 36 percent of eligible voters cast ballots, the lowest rate since World War II. Exit polls from CNN show that the white and black voter percentage accurately represented the percentage of the U.S. population, and gender was represented equally as well. The Hispanic vote, however, was underrepresented by a margin of nearly 10 percent.
Younger voters also had lower turnout. Eligible voters under the age of 45 were underrepresented while those 45 and older were over-represented. According to a study conducted by Gallup, younger voters and minority voters are more likely to align with the Democratic Party.  Strict voter identification laws in some states made it difficult for voters to cast their vote. According to a nonpartisan congressional study, states that toughened voter identification laws for the midterm election had larger drops in voter turnout than those that did not, with disproportionate falloffs in minority and younger votes.
Republican efforts to eliminate voter fraud through stricter policies caused outcry in states such as Texas, North Carolina and Georgia where thousands of voters were unable to cast ballots. These states implemented measures such as eliminating same-day voter registration, cutting early-voting times and requiring photo IDs. In Georgia, more than 40,000 people who registered to vote were not included on the state's voter list. Hundreds more were not assigned a polling location.
Despite voter issues, the results from the election produced a myriad of firsts across the nation. Next session, Congress will seat 100 women for the first time, though women still represent just 19 percent of the governing body. Mia Love, a Utah Republican, will enter the House as the first black, female Republican in Congress. Tim Scott of South Carolina became the first African- American Republican elected to the Senate in the South since Reconstruction.
Another notable outcome of the election was its hefty price tag. The Center for Responsive Politics estimated candidates spent an aggregate $3.67 billion on their campaigns, the most in any midterm election in history. The most expensive race, North Carolina's Senate election, elicited $111 million total in election spending.
In July, Nunn asked Jack Kingston and David Perdue, the Republicans vying for candidacy, to sign a pledge refusing donations from outside spending groups. The Republicans declined, so the cash flowed freely to both parties. Nunn raised $14.2 million compared to Perdue's $11.8 million. Although Nunn raised more money, Perdue won at the ballot box.
"Bonnie and I are committed to go to Washington and fight for you, not the special interests and not the insiders in Washington, but you, the Georgians that we love," Perdue said to supporters on election night.
As the Senate session approaches, beginning Jan. 3, Democrats prepare for the lean years ahead. For the first time in Obama's presidency, Republicans control both houses of Congress. John Boehner and Mitch McConnell, Republican leaders of the House and Senate, respectively, pledged in a Wall Street Journal op-ed to make a renewed attempt to repeal the Affordable Care Act.
Senate Republicans still don't have the 67 votes requisite to override a presidential veto, or the 60 to shut down a Democratic filibuster. In an October interview with Fox News, McConnell said these limitations would be a problem.
"[Repealing the ACA] would take 60 votes in the Senate," he said. "No one thinks we're going to have 60 Republicans, and it would take a presidential signature."
The wave of GOP victories brought back images of 2010, when Democrats lost control of the House to the Tea Party's meteoric rise. Obama described that election as a "shellacking." The speech he gave on Nov. 5 this year was not so concessional.
"Obviously, Republicans had a good night," he said. "And they deserve credit for running good campaigns. Beyond that, I'll leave it to all of you and the professional pundits to pick through yesterday's results."
Obama joked that he "would enjoy having some Kentucky bourbon with Mitch McConnell," and said he was eager to work with Congress.
"That's not to say that we won't disagree over some issues that we're passionate about," Obama said. "We will. Congress will pass some bills I cannot sign. I'm pretty sure I'll take some actions that some in Congress will not like."