My Grady basketball experience really is worth a sit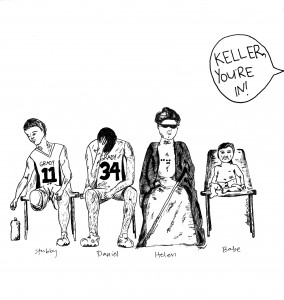 By Daniel Wilco
For four years now, every December through February, on Tuesday, Friday and Saturday nights, I sit. But it's not as simple as it sounds. I don't just show up and plop myself down in a seat every week, I prepare for the sitting—every other day of the week and a month before the sitting even starts. And after February, I work out every day after school—preparing myself for next season's sitting. On those Tuesdays, Fridays and Saturdays, 13 of my peers sit with me. Some of them leave their seats for extended periods of time, but I am one of the few who rarely leaves his seat. When I do, however, I am always quick to return, never staying away for more than four minutes.
I have been "playing" APS basketball since seventh grade. I say "playing," because in two years of high school basketball, I can count the minutes I've played and the points I've scored on my fingers.
Two years ago, I was overcome with this delusion: I thought that I was good enough to play high school basketball. I couldn't have been more wrong. I scored three points that year, and when I say year, I mean my 10 minutes on the court. But this year I tried out for the varsity team. One might think that after riding so much pine, I might give up my high school basketball career—but I was stubborn. I wasn't just going to be able to walk on to the University of North Carolina basketball team, I had to make sure that they would notice my talent on the court. I worked on my game throughout the summer, but my real practicing started in August, when I would go to school each day and sit down in chairs during the entire class period (talk about dedication) in order to improve my bench warming stamina.
While we had more than a month of practice to get ready for the season, I had to learn the ropes of bench warming by myself. For instance, every player is responsible for his warm-up top. After one away game, Coach realized that he was missing a top, so he instituted a new policy: there would be a number on the tags of the warm-ups. Each player was assigned a warm-up and its number, and if you didn't bring back your warm-up you had to run. After the next game, as I was turning in my uniform, Coach asked me if I was turning in the warm-up I had been assigned. To which I replied, "Coach, if I never take my warm-up off, how am I going to lose it?" He never asked me again.
Our first away game was against class AAAAA powerhouse Walton High School. According to Scout.com, Walton's top player, senior Ryan Harrow, is the eighth best point guard in the nation. Nine of their players are taller than 6 feet. (At 6-foot-3, I am the fourth tallest player on our team.) That night, I got a front row seat to what became a slam-dunk contest. Harrow had 31 points and five Raiders scored in double figures, including several off-the-backboard dunks and a few 360s, and one of our players getting jumped over by Harrow for a slam. So, with a little over a minute left in the game, the score was 92-40, their way. Coach decided all hope was lost and cleared the bench. After a few uneventful possessions, we were bringing the ball up the court. I cut toward the basket and a teammate dished me the ball. I beat my man. I went up for the layup. But my slow-motion moment was cut short; another Walton defender came off his man and, well, annihilated my shot to the point where his teammate caught the ball with outstretched arms outside of the three-point line as the buzzer sounded. It was a fitting end to a dismal night.
After winter break, however, we started winning. We won our first seven games of 2010. But during that stretch, rarely more than eight of the 14 players played in each game. While I was accustomed to my seat on the bench, riding the pine did not sit well with some of my teammates. Practices became less crowded, and some players complained about their lack of playing time. During one halftime speech, Coach had had enough and went off.
"Daniel gets the LEAST minutes on the team," Coach said. "But he has the BEST attitude out of all of y'all." I think that was a compliment.
The next game, Coach put me in the game during the first half—something that only happens every other Halley's Comet. Even though nothing too exciting happened, when I got in again in the second half, I scored the only points of my varsity career. In that game alone, I think I doubled the playing time I had logged the entire season.
But the thing is, it isn't all about the minutes for me. Basketball has been a part of my life for more than 12 years now and not getting into a game as much as I would like seems pretty trivial. Basketball has offered a life that I would not have without it. There is a certain camaraderie that is exclusive to sports. You would think that a skinny white kid would be ostracized on a team of big black guys. Maybe at another school I might be, but at Grady, I feel just the opposite. Basketball—practicing together, traveling together, and of course sitting on the bench together—has allowed me to befriend people I would not know without the sport.  I look forward to my last season of Grady basketball because even if my net point total doesn't exceed Ryan Harrow's average points per minute, I bet I can still sit better than he does.
This story won All-Georgia in the Sports Column category at the 2011 Georgia Scholastic Press Associations  Awards Assembly held April 28 2011.