Biology Dissected: 7 weeks, 1 lesson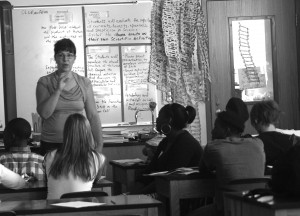 By Nile Kendall
For 180 biology students, 17 school days and 14 hours of class time passed before they had seen a qualified teacher. They had two different instructors in the first two weeks of school and went three additional weeks with no qualified teacher and five different substitutes. By the seventh week of school, the students had only had one biology assignment, given by science teacher Nikolai Curtis, during his planning period.
Biology teacher David Olorunfemi taught the students for the first week of school, but due to an increase in enrollment, biology teacher Graham Balch was brought back to Grady from B.E.S.T. High School for Boys in Bankhead. Principal Vincent Murray transferred Balch away from Grady to B.E.S.T. over the summer.
"Every year we go up in enrollment in the first semester and down in enrollment in the second," Murray said. "At the end of last year some of our teachers were lost, and at the beginning of this year we had to add new teachers."
Although Balch was disappointed when he was asked to leave Grady, he did not agree with APS's decision to transfer him from B.E.S.T. and back to Grady after just one week of school.
"After having taught for a week at B.E.S.T., I felt it was unfair for APS to take the students' teacher away, and I expressed my preference to remain at B.E.S.T," Balch said. "Also, it was hard on me because you can't move a teacher around like a yoyo and expect them to invest emotionally in their teaching."
After Balch's return to Grady he found, to his dismay, that he had no classroom of his own for the fourth year in a row. Balch said the stress of this situation, combined with the fact that he was caring for his sick newborn daughter, was too much for him to handle. Balch said that he went to Murray and asked to resign due to the stress in his personal life and the lack of a classroom. Balch said that Murray then suggested that he take a leave of absence instead, which he did.
Murray, however, said that Balch came to him and requested a leave of absence, and since every teacher is legally entitled to a medical/family leave, there was nothing he could do.  He also said that because Balch is taking a leave of absence, Grady is not allowed to hire a new teacher until his original return date of Nov. 8.
Parent Anne McGlamry, however, said that APS has given Murray incorrect information.
"I've read the Medical/Family Leave Act," McGlamry said. "APS can hire a new teacher as long as Balch has a paying position when he returns from his leave. APS just doesn't want to spend any extra money and end up with an extra teacher."
Whatever the case may be, the absence of a biology teacher has Grady students up in arms.
"I'm very frustrated that Mr. Balch has left at the beginning of the school year," freshman Samuel Heller said. "If it was necessary for him to leave, then fine, but I wish he would have at least left us some work."
Murray said that Balch still sends his lesson plans to environmental science teacher Korri Ellis. Ellis, however, said that Balch's first couple of lesson plans were sent to Public Policy & Justice Academy Leader Russell Plasczyk. Ellis did say that Balch later sent her lesson plans for his class but they were bounced back from her e-mail. None of the substitutes for Balch's classes have received any lesson plans for the class.
"There were no lesson plans or [anything] when I got here," said one of Balch's substitutes, who has asked to remain anonymous. "Another teacher had to come in and start a movie."
According to Ellis, substitutes could not be given Balch's lesson plans because of technological difficulties.
"The subs don't have computers," Ellis said. "They don't have the technology to connect to the projectors, and some of [Balch's] lesson plans were PowerPoints."
Because of these technical difficulties, students have been forced to watch movies from Aug. 30 to Sept. 17.
"I think it's ridiculous," junior Audrey Miller said. "It's not fair to the students. We didn't come to this class just to watch movies."
Since Balch's absence, substitutes have not always shown up for Balch's class. Ellis said that the sub has not shown up for five of the last 10 school days, which has really put stress on the entire science department. This confusion is due to the fact that APS's substitute system still has Balch listed as working at B.E.S.T. High School, and the substitute teachers have been reporting there. Because of this error, Balch has been working with Grady to hire a long-term substitute for the class until his return.
Instructional coach Kimberly George-Reid said that the permanent substitute for the class was Amy Allen, who began on Sept. 28, but two days later Grady realized that Allen was not certified to teach biology. Grady quickly interviewed new certified biology teachers and chose Tatjana Relja, who started on Sept. 30.
"I'm very relieved and glad that they finally have someone in place," McGlamry said. "I just think it's about four weeks overdue."
Balch said that because of the mistreatment of his students, he plans to cut his leave short and return to Grady on Oct. 12.
"My students have not been properly served," Balch said. "This is why I'm returning."
Balch said that he feels as if all of this frustration could have been avoided if he had not been transferred away from Grady in the first place.
"My students placed among the top 1 percent of students in Georgia on the Biology EOCT," Balch said. "I think it is a shame to transfer any teacher who has helped Grady students do that well."
According to APS guidelines, when transferring teachers to different schools, administrators are not allowed to transfer teachers with ratings in the top and bottom 20 percent of all teachers. Administrators are only allowed to move teachers within the middle 60 percent. With test scores in the top 1 percent in the state, Balch said that he does not know why he was not in the top 20 percent of Grady's faculty.
"Teacher ratings are not exclusive to test scores," Murray said. "There are other components in the evaluation. Balch was by no means a bad teacher, but his rating was just not as high as other faculty members."
When asked who conducted these teacher evaluations, Murray said that he could not release this information. Balch said that he had no idea how evaluations were conducted.
According to the campaign website for Sen. J.B. Powell (D-23), Balch is managing Powell's campaign for state agriculture commissioner. Balch said that this temporary job is a lot of hours but allows him to work from home.
Despite all of the frustration that students, parents and teachers have faced this school year, Balch said that he believes that his students will do well on the End of Course Test in April.
"My kids will do well on the [EOCT] regardless of these tough circumstances," Balch said. "I still believe that my students would learn more from November to April if I had a classroom than from August to April without a classroom."
This article won the All-Georgia Award in the News category at the 2011 Georgia Scholastic Press Association on April 28, 2011.