Grady journalism program shines at 2011 GSPA Awards Assembly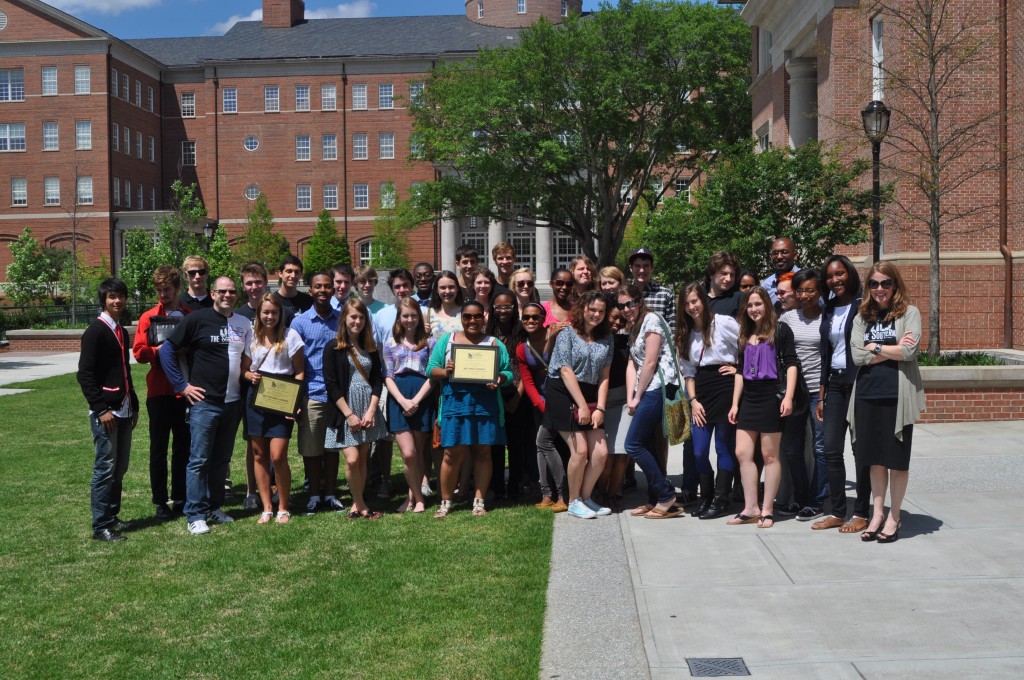 The Southerner
February 23, 2012
Grady News Now and The Southerner earned General Excellence Awards, and Southerner reporter Shaun Kleber was named the Junior Journalist of the Year at the 2011 Georgia Scholastic Press Association Awards Assembly held April 28 on the campus of the University of Georgia. 
Grady's publication and broadcast programs combined to win 42 individual awards including 13 All-Georgia (or Best in State) awards. Senior Ben Gittelson, co-managing editor of The Southerner was named one of two runners-up as the Georgia Champion Journalist (or Journalist of the Year).
The Southerner also was recognized for having the Best News Coverage and the Best Editorial Coverage in the state. 
Grady News Now and Gametime swept the broadcast categories entirely as Grady won all eight individual awards that were announced. 
The Southerner staff captured six All-Georgia awards and 20 Superior awards.  Nexus pulled in three All-Georgia awards to go with five Superior awards. 
Complete results are listed below.
GSPA Staff Awards
General Excellence
Grady News Now
The Southerner
Superior rating
Grady News Now
The Southerner
Excellent rating
Gametime
Nexus
The Orator
thesoutherneronline.com
The Unmasking
Best News Coverage
The Southerner
Best Editorial Coverage
The Southerner
GSPA Individual Awards
Gerogia Champion Journalist
Ben Gittelson, runner-up
Junior Champion Journalist
Shaun Kleber, winner
All-Georgia (Best in State) – 13
Broadcast News Package
Alexandra McColl, "American Families Award," Grady News Now
Broadcast Feature Package
Zoe Taylor, "Knight in the Limelight," Grady News Now
 Broadcast Production
Lindsey Ferris, "Important African-American in History (Bad Brains)," Grady News Now
Broadcast Sports Package
Kourtney Outlaw, "The Real Damian Swann Story"
Artwork (Magazine)
Perrin Turner, "Intricate Swirls," Nexus
Cover Design (Magazine)
Murphy DeMeglio and April McFadden, "Nexus Cultural Cover," Nexus
Photograph (Magazine)
Allie Duke, "Child Play," Nexus
News Story
Nile Kendall, "Biology Dissected: 7 weeks, 1 lesson," The Southerner
In-Depth News Story
Sam Weinstock and Ben Gittelson, "Black and White," The Southerner
Feature Profile
Lucy Leonard, "Mayor of Adair Says Cameras See What People Can't," The Southerner
House Editorials
Ashley Brown and Ben Gittelson, "APS No Honest Abe," The Southerner
Sports Column
Daniel Wilco, "My Grady Basketball Experience is Really Worth a Sit," The Southerner
Photo Essay
Lucy Leonard, "Gauntlet Goes 4-2 at Tourney," The Southerner
Superior – 29
Broadcast News Package
Arleshea Wright and Carmen Booker, "MARTA Cuts," Grady News Now
Broadcast Feature Package
Arielle Clay and Sefenech Henok, "Best of Atlanta: King of Pop," Grady News Now
Broadcast Production
Lindsey Ferris, "Candy's Christmas," Grady News Now
Artwork (Magazine)
Lindsey Ferris, "Senior's Lines and Squiggles Convey Much More Meaning than Meets the Eye," Nexus
Photograph (Magazine)
Connor Singh, "Nail Art," The Unmasking
News Story
Sam Weinstock, "Dysfunctional School Board Fractures Over Accountability," The Southerner
In-Depth News Story
Shaun Kleber, "Pencil Me Out: Students, Teachers Denounce GHSGT Diagnostics, The Southerner
Column
Deranda Butler, "Finding a Different Girl in the Mirror," The Southerner
Opposing Viewpoints Column
Ngoc Vu, "Femininsm Failed Movement," and
Willamae Boling, "Still Going On and Still Going Strong," Nexus
House Editorials
Sam Weinstock, "Fair Media Crucial," The Southerner
Commentary
Grayson Fuller, "Feeling Overwhelmed? Follow a Senior's Advice: Just Sleep on It," The Southerner
Emma Powers, "Education Gimmicks Can't Fix Schools," The Southerner
April McFadden, "Awareness on My Mind/Where are the Public Schools in Town," Nexus
Elizabeth McGlamry, "New Curriculum Fails Its Students," The Southerner
Critical Review
Jack Douglas, "Cake Album Takes the Cake for Fans," Nexus
Sports News Story
Mason Gepp, "Seniors Take Talent to College," The Southerner
Nally Kinnane, "Court: Riverwood Illegally Recruits APS Students," The Southerner
Sports Game Coverage
Taylor Jones, "Knights Lose Heartbreaker in State Playoff Opener," The Southerner
Sports Feature Coverage
Nally Kinnane, "Former Coaches Receive Stadium Nominations," The Southerner
Headline Writing
Ashley Brown, "Late Buses Drive Tardiness Plague," The Southerner
Caption Writing
Daniel Wilco, The Southerner
Editorial Cartoon
Emma Powers, "Before Pressing Send…," The Southerner
Sports Photograph
Lucy Leonard, "Disc Management," The Southerner
News Photograph
Elliott Erickson, "Assistant Principal Roosevelt Foreman Out on Medical Leave," The Southerner
Daniel Wilco, "Can You Feel the Love?" The Southerner
Feature Photograph
Lauren Scott, "Face in the Crowd," The Southerner
Allie Duke, "Hairspray," Nexus
Illustration
Rachel Cruz, "My Grady Basketball Experience," The Southerner
Doubletruck Layout Design
Grayson Fuller, "Pencil Me Out," The Southerner