Metal detectors discourage contraband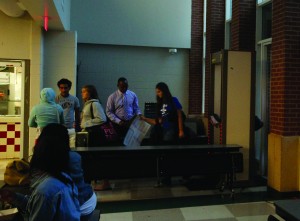 The Southerner
October 26, 2012
Hang on for a minute...we're trying to find some more stories you might like.
By BEN SEARLES
In order to ensure safety at Grady High School, metal detectors are positioned at the entrances to the school on either side of the cafeteria. According to APS, schools in the district may use metal detectors sniffing dogs or other detection devises to ensure school safety. Unlike Druid Hills, Chamblee, Lakeside or Saint Pious, Grady rules require all students to enter the school through the metal detectors.
Grady uses Garnet Pinpoint Detection 6500i metal detectors. These machines meet all TSA requirements and use an x/y coordinate system to detect metal in 33 distinct zones. Red LEDs on the sides light up to correspond with the location of metal on the person walking through.
The metal detector, however, only works when one person at a time walks through. When ready to be used, the entrance side displays a green walking man symbol. While someone is waking through and several seconds afterwards, a red "stop" hand is displayed, signifying that the machine is reprogramming and it is not ready to use. On any given weekday morning, when the 12 school buses arrive—each containing about 35-40 students—the path through the metal detectors is a massive jumble. The detector has no time to reprogram and could not distinguish which beep detects metal for which person. In addition, for the metal detectors to work accurately, students would have to remove all metal items (apart from the ones that they would potentially try to slip by) from their person before walking though.
Despite this, Vice Principal David Propst said the metal detectors work and are useful.
Every teacher at Grady is required to do "metal detector duty" for a small portion of the year. Physics teacher Jeff Cramer feels the metal detectors do not help keep students safe and give little information. He thinks to properly do the job, the school would need 10 metal detectors, and the teachers would need metal detecting wands.
Teachers are instructed to check all bags as students come through the doors. Bag checkers encounter the same dilemma as the metal detectors: with massive crowds, the accuracy is diminished. The teachers are not only looking for weapons or items that could be used as weapons, but also for other items of "contraband." These could be anything that disrupts learning, such as water balloons or even eggs.
Propst estimates an item of contraband is found between one and three times a month.
Cramer believes students think the bag searches are an invasion of their privacy. He said the main purpose of the bag checks and metal detectors is to give the illusion to students that if they bring a banned item to school, there is a chance they will get caught. Instead of conducting strict searches, Cramer said he likes to use his time on metal detector duty to greet students with a cheerful "good morning."
English teacher Lisa Willoughby, however, said she likes to use her to time on metal detectors duty to check bags as a deterrent against contraband, but, being a dutiful Enlgish teacher, also to see if students have a novel for personal reading. She feels Grady is a very safe environment.
History teacher Roderick Lee Pope agrees that there is not enough manpower to do a good job as far as security.
"I think they do the best that they can," he said.
Students also feel the metal detectors and bag searches are questionable. Sophomore Griffin Kish said when he gets off the bus and walks into school, the teachers give his bag "a little pat." Kish said that last year in his orchestra class, a student had a knife, which he snuck past the detectors.
"After the horror of Columbine and other recent disasters the thought of doors simply being 'open' is scary," said art teacher John Brandhorst. He thinks the mere presence of the metal detectors creates something of a deterrence against criminal activity. Brandhorst feels that the same level of security must be maintained even after the bell rings.
"The time after 8:15 on when no one is controlling the doors of the cafeteria or any other with a metal detector is the equivalent of not having the detectors at all," he said.
Junior Eliza Renner is frustrated that she is required to go through the metal detectors, because one of her first period classes is on the C400 hallway. She does think, however, there is a good reason to sacrifice freedom for safety.
"It's most important to keep Grady safe," she said.