Free, reduced lunch 'deeper' than discounted meals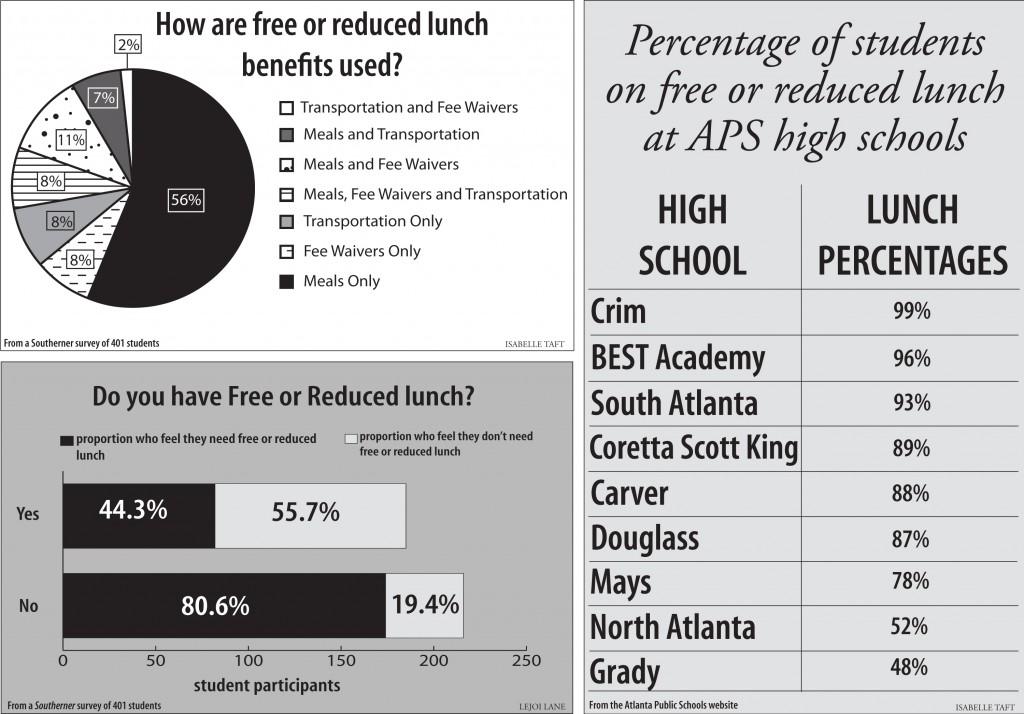 The Southerner
February 3, 2012
By Jasmine Burnett
Since middle school, senior Marius Jackson has been on reduced lunch, a service that has provided him with 30-cent breakfasts, 40-cent lunches, free MARTA cards and waivers for the SAT. According to 2011 data from the Georgia Department of Education, 48 percent of Grady's 716 students are like Jackson and utilize the service––the smallest percentage of any APS high school.
Jackson said he was surprised by the number of students at Grady who don't qualify for free or reduced lunch. "[In] middle school, I was surrounded by people who had more need because of the middle school I went to," Jackson said. "I was in an environment where people had a greater need. … There weren't many who weren't on free and reduced lunch."
Grady Project Success coordinator Kaye Myles said, in order to qualify for the program, students' families must receive food stamps, welfare or social security, or meet certain income guidelines based on salary and the number of people in the household. She said the school receives federal money based on the number of students who qualify for the program.
"From the number of people that get free and reduced lunch, that's how we get our federal monies into the school to do all kinds of things," Myles said. "That's how we get our Title I money, and that's how we're able to buy supplies.  We [also] do salaries here at the school, we get certain equipment, the Breeze cards, the stamps, teachers going for staff development [and] when people have to go for different conferences. That's how we get that."
Grady social worker Elesha Williams said 50 percent of her case load is comprised of students who are economically disadvantaged and are on free or reduced lunch. She believes some of those students' issues stem from the economic challenges they face.
"I guess stereotypically, a lot of the issues that they're having is because they are being disadvantaged in some way and not having access to certain things that they need," Williams said.
Williams said the homeless students she assists are on free or reduced lunch and need additional help outside of the program.
"I'll just say in a nutshell, most of the homeless kids I serve are on free lunch, and they have had to [come] for additional assistance such as senior fees [and] coats during the winter," Williams said. "Usually they don't come themselves. Usually their parents will call and say, 'My child needs a, b, c, and they are afraid to come to you.' So I'll call, and we'll go from there."
In order to ensure families don't abuse the free and reduced lunch system, each year the program randomly selects students' names to verify they are actually in need of the service, Myles said.
"Every year there's a check point, [and] randomly they pull so many students. This year I had about 20 students that I had to go find," she said. "Because when you send initially your paperwork in and say, 'I get this [or] I do this,' they trust you to a certain degree. Then when you send in information, a lot of times they can look and say, 'You're over income, you don't qualify.'"
Myles said she gives those students a form to take to their parents, who must then send the requested information to the APS nutrition office. She said she is not sure how many, if any, students were denied services last year after submitting their paperwork.
"I don't know, just like I don't this year how many kids really returned [their forms]," Myles said. "Some of the children who I would see in the hall, I'd say, 'Did your mother return that thing?' and they'd go 'I don't know.' So to be honest I have not followed [up]."
Jackson said he believes some students abuse the program to obtain benefits for which they don't qualify.
"I know there are people who do that," Jackson said. "[But] I'm not one of them."
Myles agreed that students who use the service take advantage of the system by sharing their lunch numbers with students who are not on free and reduced lunch in order to pay a cheaper price for their meals.
"I don't have any control over that, and the people in the cafeteria don't have control over that," Myles said. "Yeah, you know the kids probably abuse it. To be honest there's always trickery in what people do."
Myles said the program is "deeper" than the free or discounted meals. She believes students who may qualify don't sign up because they think the system is solely for food and don't realize it provides services like SAT waivers and MARTA cards.
"The free lunch program is a bit more than just eating in the cafeteria," Myles said. "That's what I try to explain to kids."