Arena of Acceptance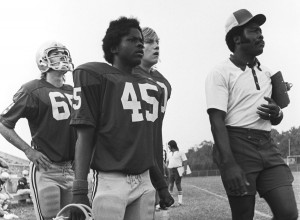 The Southerner
March 6, 2012
Hang on for a minute...we're trying to find some more stories you might like.
Before the Georgia Dome, before Turner Field, Grady's facilities were home to Atlanta's first integrated games
By Phillip Suitts
On any given day, black and white athletes compete with and against one another in Grady Stadium. While a passerby may give that issue no thought, there was a time when it represented historic news, and potentially led to protests, demonstrations, and racial slurs.
During the Civil Rights Movement of the 50s and '60s, Grady High School's sports facilities were an important testing ground for advancing racial desegregation in Atlanta and the South. Historic records show Grady was one of the first public schools in the state to desegregate in 1961, but that wasn't the only desegregation movement Grady was involved in.
This untold story shows how Grady's own sports venues were the early, perhaps pivotal, places where Atlanta's white and black people first came together to begin to break century-old rules of segregation.
In the spring of 1949, more than a decade before the Atlanta Public Schools system was integrated, Atlanta's first public desegregated sporting event was held at the old Ponce de Leon Park, less than half a mile from Grady. Jackie Robinson and Roy Campanella played in an exhibition baseball game between the Brooklyn Dodgers and Atlanta Crackers. The Ku Klux Klan protested, and state legislators tried to ban the event. A well-integrated crowd of around 50,000 fans, however, watched a three-game series, including 25,221 fans who turned up for the third game, in which America's first black Major League Baseball player broke Atlanta's sports color barrier.
Eight months later, in December 1949, this nationally publicized event was quietly followed by the first desegregated football game in the history of the state—held at Grady stadium.
The sporting events
The historic game was between an army regiment and naval base. Charles Hall, a black tailback playing for the Third Army All-Stars, ran all over the Navy offense, setting up their only touchdown, and his fellow black defensive lineman Robert Murphy had a similarly successful night. Their efforts were for naught as the Jacksonville Naval Air Station beat the Third Army All-Stars 12-7 the Atlanta Daily World reported. Hall and Murphy still had reason to rejoice, though. Only three years after Kenny Washington officially integrated the NFL in 1946, football in Atlanta and Georgia was integrated as well.
In 1953, an integrated weightlifting competition was held in the Grady gym.
James Milsap, the first black person to compete in an integrated weightlifting competition in Atlanta, went on to win in his weight class according to the Atlanta Daily World. In addition, Milsap prepared under a white trainer.
In 1962, Grady and Brown High School became the first public schools in Georgia to sponsor integrated extracurricular activities: their basketball teams. Although they were ineligible for varsity-level competition, sophomores John Henry Carter and Grady Davis played on Grady's "B team" that year, and along with Clemsey Wood from Brown, became the first black athletes to play with white teammates in Atlanta Public Schools.
On Aug. 11 of that same year, Grady Stadium hosted the first integrated NFL game in Atlanta. First, the Chicago Bears took on the Pittsburgh Steelers in an exhibition game. The game featured black players like Steelers running backs Bob Ferguson, a former Ohio State All-American, and Bears running back Willie Galimore, offensive lineman Willie McClung and Charles Bivins, a native Atlantan.
Those athletes were joined by black fans in the stands. Columnist Marion E. Jackson from Atlanta Daily World, the prominent black newspaper in Atlanta, believed that sports, and this game specifically, had the power to bring white and black people together.
"It is a happy occasion that we have professional sports which have done so much to wipe out the misconceptions of race, color and regionalism," Jackson wrote in his column on the day of the game. "NFL football is giving us an opportunity and a challenge. To the South, the challenge is to forgo the yardstick of color as the measuring rod of a man's acceptance."
There were no major incidents or demonstrations reported.
Less than a month later, on Sept. 8, the Dallas Cowboys played the Minnesota Vikings in another exhibition game held at Grady Stadium. Black players, like Jim Marshall, a Vikings defensive lineman, and Cowboys fullback Don Perkins played with and against their white teammates and opponents.
"We had no professional sports teams, and the mayor [at the time] Ivan Allen believed attracting pro sports and big pro events would be critical to proving to business leaders around the country that we did believe in a 'New South,'" former mayor Andrew Young said in an ESPN.com article last January.
Residents near Grady Stadium complained their property values would be lowered by the invasion of a cross-section of fans. Former  law professor and Grady alumnus Elwood Hain believes this was code for the residents saying they didn't want black people in their neighborhood.  As a result, after the second preseason game, the Atlanta Board of Education adopted a resolution that limited the use of its stadiums to amateur competition.
A year later, however, Grady would again host another integrated event that brought numerous black people into the neighborhood around Grady Stadium.
Georgia AAU track meet
It was a "precedent-setting event," Jackson wrote in Atlanta Daily World. On May 25, 1963, for the first time in its history, the Georgia Amateur Athletic Union track meet was integrated.
Former Georgia Tech track and field coach Douglas "Buddy" Fowlkes, the chair of the meet, remembers meeting some resistance after announcing the meet would be open to black runners.
"We [Fowlkes and his wife] started getting some calls," Fowlkes said. "I talked to some of them. We heard their side and they heard my side. A lot of them were hate calls. You would start to say something, and then they would make a derogatory comment and hang up."
Fowlkes was undeterred, and the meet preparations proceeded. He said no one involved in organizing the meet raised any concerns about allowing black and white people to run together. Fowlkes believes sports culture had something to do with that.
"I think you find that people in the sports world aren't nearly as opinionated [about integration] as in other sectors of society," Fowlkes said.
The morning of the meet, Fowlkes drove to Grady Stadium concerned there would be a large demonstration. It turned out his concerns were unnecessary since he remembers only two protestors showing up.
What he remembers more is his surprise when he saw the size of the crowd at the meet. Fowlkes said track and field typically didn't draw a very big crowd in the early 1960s.
Morehouse College, a historically black college, was the champion of the meet that year, and the following year, Florida A&M—another HBCU—and future Olympic sprinter Bob Hayes finished second at the meet.
Jackson believed that desegregating the meet helped its popularity immensely.
"For years the Georgia AAU barely merited a flick of the eyelash," Jackson wrote the day of the meet. "That is because it was restricted and channelized. It was a Caucasian show. … No one recalls any significant publicity about it."
But the added popularity was just a bonus for doing the right thing, Fowlkes said.
"I feel thrilled that we had the intestinal fortitude to go through with [the meet] because it was right, and right was on our side and it prevailed," Fowlkes said.
Why Grady?
Grady was selected as the host of numerous desegregated events, but why?
Clifford Kuhn, a Georgia State history professor and former Grady parent, said Grady's stadium was a "modern venue" during the '50s and '60s with its light fixtures and ability to hold numerous people. He also pointed out that, until Fulton County Stadium opened in 1965, there wasn't a major stadium in Atlanta.
Fowlkes said Grady's facilities were better than the ones he had at Georgia Tech because spectators at Grady could see the entire race.
Kuhn, also a historian of Atlanta, believes the moderate racial climate at Grady explains why the school hosted so many desegregated events.
"[Grady held these events] in part because of the student body and where it was positioned in Atlanta, in a more liberal district, in contrast to some other parts of town where there was much greater resistance to desegregation," Kuhn said.
Kuhn believes Grady's racial attitudes had a lot to do with its Jewish population. Hain, who once conducted a survey of the Grady student body's attitudes towards integration for The Southerner, said that when he attended Grady in the mid-50s, the school was about 25 percent Jewish, and about 25 percent of the students surveyed said they favored integration. He believes there's a connection between those two figures.
Beyond athletics
In addition to the sporting events held at Grady, the school hosted two other events that were important to the desegregation movement in Atlanta.
In March 1954, Grady's gym hosted possibly the first integrated meeting of educators in Georgia. The all-black Washington High Boys Chorus sang at the Georgia Music Educators Association's second annual convention. The event was held in conjunction with the all-white Georgia Education Association's 87th Annual State Convention. Guests included Rual Stephens, the principal of then all-white Grady, and Clinton Cornell, principal of then all-black Washington. Just six years later, in March 1960, the only Atlanta-based hearing for the Sibley Committee—one hearing was held in each of Georgia's 10 congressional districts at the time—was held in Grady's gym. The Sibley Committee was created in order to gauge public opinion on public school desegregation. Black leaders spoke in favor of keeping public schools open and desegregating them all but faced opposition from some white people.
Kuhn said the Sibley Committee hearings were "where local option was developed and individual school systems could figure out by [themselves] what to do about the desegregation issue."
A little over a year later, Grady was desegregated by Mary Francis and Lawrence Jefferson, the first two black students to attend the school.
The effect of events
The effects of the Sibley Committee hearing are evident, but the effects of many of the sports events held at Grady are not as easy to notice.
Only four years after the preseason NFL games were played at Grady Stadium, professional football came to the city in the form of the Atlanta Falcons. Black players such as defensive backs Lee Calland and Ken Reaves and running back Junior Coffey suited up for the Falcons that year. That same year, the Atlanta Braves played their first year in Major League Baseball with black Hall of Famer Hank Aaron. Two years later, the Atlanta Hawks, in their first season, were led by Walt Hazzard, a black all-star.
In order to bring professional sports to Atlanta, former mayor Ivan Allen had to prohibit segregated seating and facilities for sporting events.
Young believed sports events, like the ones held at Grady, were not only important in bringing professional sports to Atlanta but also affected the Civil Rights Movement.
"People always talk about the marches and the protests, but what they don't talk about is how big a part sports played in the economic part of the movement, in changing the perception of what the South was," Young told ESPN.com last January.
Kuhn has seen evidence that supports Young's contention.
"There's been lot of studies written about how sport offered a way to connect, to have a place for new black students and an arena where both black and white students had an investment in the athletic teams," Kuhn said.
Kuhn also believes these sporting events previewed what was to come for desegregation.
"Things are happening before Brown v. Board and the student sit-ins that are going on under the radar," Kuhn said. "Changes begin even before actual desegregation occurs in school."
Kuhn also believes "sports helped smooth the bumpy road of desegregation."
Jackson believed that sports had a power to bring black and white people together that other events simply lacked.
"Whatever 'demonstrations' on the performance level that take place at Grady Stadium will be far more effective than a thousand sit-ins," Jackson wrote in 1963. "This is not censure of our young people who are courageously tackling problems often ignored by their adults, but we must move into arenas of acceptance that will win in a profile of good will, understanding and forbearance. Not all of this can be gained with acts of hostility but in the grass roots of tolerance."
Allen Edward Joyce's 1975 doctoral Emory University thesis, "The Atlanta Black Crackers" was a source for this article.