Montero strides into healthy, exercise-filled lifestyle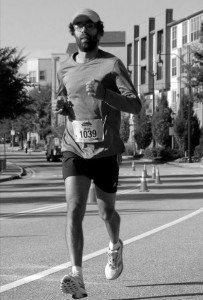 The Southerner
March 6, 2012
Hang on for a minute...we're trying to find some more stories you might like.
BY DIANA POWERS
His tennis shoes beat rhythmically across the dark pavement as Brian Montero crosses the finish line surrounded by supporters.
The 36-year-old has ridden his bike to Grady every day for four years, and he cites this daily commute as the first step toward a realization that would forever change his life. Being consistent with biking led Montero to become interested in long-distance running. He has run three half marathons, one full marathon and is training for his second full marathon.
"I actually started out with an online program I found," Montero said. "I enjoyed doing smaller distances for about a year or so, but it didn't really excite me. It really clicked with my body when I completed my first half marathon."
Now, Grady graduate and media specialist Montero devotes great effort and time to running long-distance trails. He said that, just like any other sport, other athletes will try to get him to be overly competitive or to run a particular way, but he likes to have his own methods. He feels he has created a base that is strong enough to draw upon and has given him endurance.
Montero ran his second half marathon more quickly than his first, which encouraged him to try to complete a full marathon. He said marathon training took him to the next level in terms of running, with 17 weeks of intense workouts. Montero continues to bike daily, which he says is good cross-training exercise.
Montero runs about four times during the school week—occasionally before work—and completes long runs on the weekends.
"What I'm interested in is not fast running but seeing myself able to go longer and actually enjoy the adventure, while continuing to build that endurance up," Montero said.
Faster times might not be his objective, but he's achieved them anyway. In the Atlanta Marathon on Oct. 30, which was his first full marathon, Montero placed sixth out of 120 men in his age group, 43rd out of 1,128 total runners. His goal for the race was to complete it in under three and a half hours, and he achieved this goal with 10 minutes to spare.
"I have noticed myself steadily progressing … getting faster," Montero said. "That's always exciting. My parents and friends are always supportive, and even people who don't know me think it's cool."
Montero and world history teacher George Darden often talk about Montero's racing, and Darden said his time was very solid for a recreational runner and well above the common marathon runner's goal of finishing under four hours.
Darden said he's seen Montero change over the course of the past three to four years, from being heavy-set and out-of-shape to becoming a much fitter and healthier person.
"As an endurance coach and athlete, I can tell when someone's fit," Darden said. "He definitely looks it."
Following Montero's first full marathon race, Darden sent an email out to the faculty informing everyone of his race results.
"Finishing a marathon, and especially finishing well, is a remarkable achievement that deserves recognition from the community, and he should be proud," Darden said.
Montero is currently preparing to run his second full marathon, the Georgia Publix Marathon, on March 18 and will spend the weeks prior doing strength building and increasing his weekly mileage.
"Running is therapeutic, a great way to clear your mind and leaves you feeling better overall," Montero said. "I feel like I've become addicted. There's nothing like it."