On the first Saturday of November for the past 20 years, residents of Cabbagetown, Atlanta, gather in the streets to eat chili and listen to bluegrass music at the Chomp and Stomp festival.
"[Chomp and Stomp] is a chili and bluegrass festival with a good size artists market that we throw to raise money for the parks of Cabbagetown and the surrounding areas," Chomp and Stomp festival Chair Lauren Appel said. "Every first Saturday of November we throw a big festival with about 80 individual chili [vendors] and about 20 chili restaurant [vendors]. We have 114 artists markets, and music all throughout the day."
During this one-day festival, Cabbagetown closes its streets to celebrate as a neighborhood.
"It goes throughout the entire neighborhood," Appel said. "Our individual chilies are all down Wiley Street. Our restaurants are on Estoria [Street]. Our artists' markets are all the streets kind of in between and out to Gaskill [Street]. And then we've got another stage in a kid's area and Esther Peachy Park. And we've also got a lot of local businesses that we're trying to partner up with and make sure that they're having a good day too."
Chomp and Stomp was started by the residents of Cabbagetown in 2003 as a fundraiser for the upkeep and building of neighborhood parks, such as Cabbagetown Park. 
"We entered into an agreement with the city many years ago, [to] take on some of the financial burdens to take care of parks," Appel said. "So in order to do that, we need to raise money."
Now, the festival serves multiple purposes beyond raising funds for park maintenance. Chomp and Stomp raises funds for other Cabbagetown events and communicates what the neighborhood represents.
"[Without the festival] we wouldn't be able to do our community garden or run our Forward Warrior mural project on Wiley Street, or our concert series," Festival music director John Dirga said. "Any of the things that we do that's outdoors and free really depends on Chomp and Stomp. But it's also how we communicate our vibe and values to the city. So it kind of shows off who we are and how we roll."
Cabbagetown is rich in history and was originally built for the Fulton Bag and Cotton Mill workers. Chomp and Stomp was also created to honor Cabbagetown's roots as a cotton mill town. 
"It started 20 years ago as sort of a celebration of the town's history with recalling some of the mountain traditions of home cooking and sharing recipes and porch picking and string music," Dirga said. "And so it's always been kind of chili and bluegrass and we kind of gravitate towards that kind of anachronistic, rural Americana [feel]."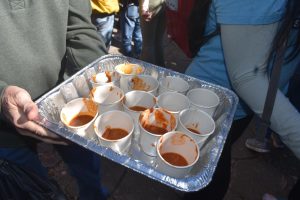 While some musicians come from out of town, most performers are local Atlantans. The many local  musicians allows the festival to reflect Cabbagetown's past as a musically vibrant neighborhood. 
"Cabbagetown has a storied past as being a place where lots of musicians lived, sort of a proud tradition of being home for bands and songwriters," Dirga said. "So, there are mostly local bands but we have two that are coming here from Nashville. And we have one performer that's coming from Austin, Texas."
Since the early years of the festival, Dirga has worked on the music portion, finding musicians for Chomp and Stomp. 
"We started with one little tiny stage under a tent in the middle of the park and now there's five stages," Dirga said. "So we try to do bluegrass or old-timey adjacent music in the park. But we also have rock and roll and punk at the 97 Estoria Stage and we have some blues and some other honky tonk kind of stuff on our other stages; [the music] spreads throughout the entire neighborhood."
The main part of the festival are the chili stands along Wylie Street and Estoria Street. There, restaurants and individual chili teams dress up in costumes and serve their chili to attendees. Each vendor's chili is also entered into various competitions where winners can earn cash prizes and plaques.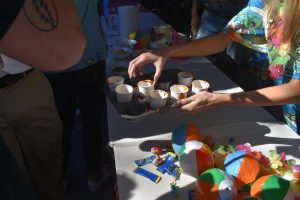 "We all got together on Thursday and chopped onions, tomatoes, ground beef, and it was really fun," member of the booth 'It's Chili O'clock Somewhere', Lauren Cusimano said. "[The festival has] been so fun and everyone's been so friendly. And we love just walking up and down and seeing all the different stands and themes and costumes. It's been wonderful."
Chomp and Stomp is a unique Atlanta festival because of its consistent ties to the history of the neighborhood and the enthusiasm from the community, Appel said.
"Since we're in a historic neighborhood and the festival is tied to that kind of history, it makes us a little bit unique," Appel said. "Just the combination of the focus on chili and bluegrass, I think sets us apart a little bit."
The festival not only celebrates the history of Cabbagetown, but also the end of summer. 
"What I really love about Chomp and Stomp is it coincides with kind of the end of festival season," Dirga said. "The weather is changing, and the leaves are turning and everybody gets a chance to put on their cute scarf and their fun winter mittens, and it just feels like the beginning of fall. It kind of puts a cap on the end of summer, and it's a transition to winter."