Before the Homecoming football game, the Athletic Booster Club planned its annual football tailgate at Park Tavern. Parents, staff and alumni attended to prepare for the game, a 30-0 win over Clarkston
By bringing the Midtown community together, the Booster Club hoped to increase spirit and raise money for the school.
"The goal is just to build school spirit … [and to] continue to build on the momentum of the excitement around homecoming and Midtown High School," co-president of booster club and parent Jenny Richman said.
Last year, the tailgate was held in the Midtown courtyard. This year was a change of pace with the booster club wanting a more sound location. 
"We decided we didn't want to do it at the school this year because it becomes a little hectic with all the logistics," Richman said. "So we thought Park Tavern, since it's across the street, would be a great location." 
Laura Rebillot, president of the booster club, put together last year's post-game barbeque, which had a decent turnout of alumni. However, this year, the club wanted to bring more of the Midtown community together, including staff and parents in this year's festivities. 
"It started last year as a way to get alumni to come back," Rebillot said. "Unfortunately, last year's game was at 5:30, so we ended up having do a post-game barbecue, and we had about 50 alumni come. It was really fun, and it was pretty successful. We felt like it would be even more fun to include parents and staff this year to make it bigger, and it's fun for parents to meet the alumni and vice versa." 
Since it is not at the school, there is a small fee for those attending. The tailgate had many activities.
"We had a committee of parents on our booster club who took care of securing the space," Richman said. "There's food there for anyone who comes, and then it's a cash bar. We'll also have some spirit items for anyone who buys a ticket and then it will be right before the game and people can just walk over to the game."
After the name change and pandemic, school spirit has decreased substantially, according to Rebillot but she hopes activities like these can bring back Midtown pride from parents and students.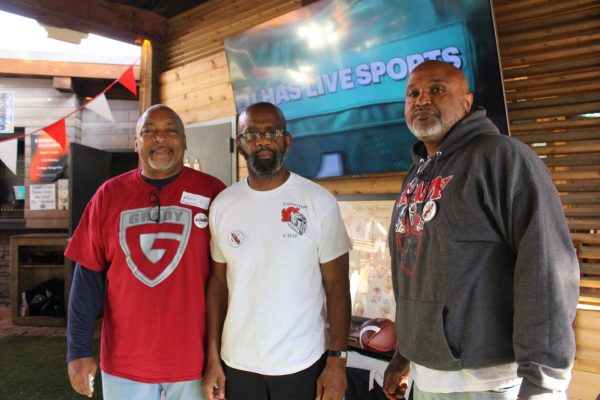 "I feel like there was an entire three or four years worth of students where we kind of lost that connection with them and their parents and the community," Rebillot said. "So with the name change and kind of coming back out of Covid, we felt like it was really important to have events where people felt like they could come and mingle and connect again."
The tailgate is just one of the steps the booster club is taking to improve and increase school spirit within the Midtown community. 
"From a personal volunteer perspective, I think it's going to be really fun," Richman said. "A really fun get together for parents and staff and alumni, and we hope that that enthusiasm will pour into next year, as well. It also may become a bigger booster club event to show our supporters what we do and to build the school spirit and continue to build on that momentum."
Alumni Ronnie Hull graduated in 1979 and remembers students to be active in supporting one another, as well as the school spirit being strong. 
"The pep rallies were insane," Hull said. "Lots of school spirit for being in the 70s, I mean sports was a common denominator that brought people together. We support each other. The football team would go see the girls play softball, volleyball, and even the golf team, which played at Piedmont (Park) at the time." 
Hull and other alumni from the late 1970s and early 1980s decided while in high school that they would stay in touch, and established the Grady High All Men Athletic Committee. The group helps plan alumni events and has other ideas to continue contributing to the school. 
"A lot of times you graduate high school and college and you just go live life, and you lose touch," Hull said. "We made a pact in high school, when we were graduating [to stay in touch]; so, some were going to the military, college, others straight into the workforce, but we would always stay in contact, some odd years later." 
Bringing the old and new Midtown community together has been exciting for Rebillot. 
"It's really fun to see the old Grady alum come and mix with the new Midtown High School parents and staff members," Rebellioit said. "It's a great way to get people to come and then segue into the game, and hopefully, get attendance there."
Bobby Dennis, the president of the All Men committee, who graduated in 1980, attended the barbeque last year and enjoys watching the Midtown and Grady community come together. 
"I like everything," Dennis said. "You see some of the young students who come down here now versus when some of my teammates come — just to see everybody, to see Midtown come together with Grady."
The All Men's committee not only attends and helps plan alumni events, but it is also working on getting something in the school dedicated to former Principal Dr. Thomas Adger who was the principal when they attended Grady and the school's first Black principal.
"We were going try to name it [Midtown] Thomas Adger High School, but it didn't work out," Dennis said. "But what we want to do now is get something in his name, like there is a hallway, we are thinking about trying to see if they'll let us put a plaque up in his name."