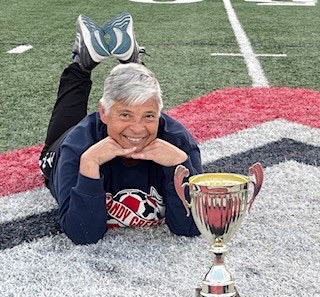 After two seasons of deep playoff runs, including advancement to the state championship in 2022, former head girls soccer coach and now Athletic Director Blair Barksdale, and former head boys soccer coach Jamie Benedetti have been replaced by Silvia Riet. Riet will serve as head coach of both teams.
Riet will be the first coach to lead both the girls and boys soccer programs, as well as teach Spanish. Riet said she is excited for the opportunity to coach two competitive soccer programs. 
"Dr. Bockman (Principal Dr. Betsy Bockman) reached out to me, and she said, 'We have this opening, would you consider it? And at first, I wasn't going to," Riet said. "I'd been at my previous school for 25 years, and I was very happy there. But the more I thought about it and the more I saw [Midtown] play, then it became a challenge to me." 
Riet hopes to not just have two teams at Midtown, but a soccer program. She believes coaching both teams together will forge a unity and create an unstoppable force.
"My one condition when coming over to coach for Midtown was that I wanted to coach both teams," Riet said. "Separate teams don't win championships, but a program does."
Junior varsity player Ella Gagnon is looking forward to the change in leadership, and the opportunity to learn new skills that come with it.
"I think coach Riet can bring a new perspective and coaching style, which could be really helpful for us," Gagnon said. "We all obviously loved coach Barksdale and what she did for our team, but getting a new perspective can help us in being more well-rounded and versatile."
Riet is passionate about the soccer programs and is said she is determined to win a state title this year. 
"One goal only: I am single-mindedly committed to winning the state championship this year for both boys and girls," Riet said.
Having grown up surrounded by soccer in Uruguay, Riet grew very close to the sport. She has been either playing or coaching her entire life. 
"Culturally and traditionally, soccer is a very important aspect of Uruguay and who we are," Riet said.  "We would go to Uruguay to visit the family, and I would play with my cousins in the streets."
Riet has an extensive background, having played Division 1 soccer for St. John's University. She never intended to start coaching, but ended up loving the idea of sharing her passion for the sport.  
"Women's sports started to gain a little momentum by the time I graduated college, and there really weren't that many women coaches at the time," Riet said. "Someone I knew was the one who said to me, 'My kids play, and they don't have a coach; would you come out and do some practices?' So, it wasn't really my intention to coach, but I did, and I loved it."
Riet has been coaching for 33 years, and she wouldn't trade that time for anything.
"I've loved every minute of it," Riet said. "I've never wanted to do anything but coach clubs and high school. Really, it's my happy place. When I step out in the stadium, that's when I'm happiest. I just love being around the game."
Despite having never won a state championship before, Riet believes Midtown's teams have the potential to win the coveted title.
"I've won quite a few region championships, but I've never won a state championship," Riet said. "That's something I'd like to do before I'm done coaching. Coming to Midtown was the perfect opportunity. Seeing how good of a program they were, seeing how close they were, I hoped that I could maybe bring something to the team that gets us over the finish line."
Coaching along with Riet will be her son Gabriel, who also has an extensive history with the sport. 
"My parents taught me [to play] when I was little," Gabriel Riet said. "My dad played professionally, and my mom played Division 1, so that was just what I was always around. I moved away when I was 13, first to Spain and then Sweden, and back and forth a couple times for soccer." 
Like his mom, Gabriel Riet also enjoys coaching soccer and is excited for this upcoming season. 
"I was her assistant when she was at Sandy Creek, and I do most of the boy's stuff because she can't really be in two places at once," Gabriel Riet said. 
Gagnon is hopeful that the team can make it far with the players and with the new leadership Riet brings.
"I think we have a really good team this year including the returning players and new incoming talent," Gagnon said. "With the right leadership and coaching, we could go far in the playoffs."
Riet and her son's priority is to win state. By coming to Midtown and implementing her style of coaching, she thinks both the boys and girls teams have a chance to be crowned champions.
"They absolutely look promising; there are a lot of good players," Gabriel Riet said. "I know we lost some good players, but I also know there are a lot of young players coming in, and we have some old players with experience. I think we definitely have a chance at state with what we have."