Morningside Elementary School began this year at its primary location after three years of construction and temporary relocation to the Virginia-Highland Elementary building.
"We had a lot of stuff to move," Morningside Principal Audrey Sofianos said. "Morningside was very much a construction site while teachers were trying to move everything to the new building. It's been a $17 million total renovation, including the two HVAC [Heating, Ventilation and Air Conditioning] renovations and the new building we just had incorporated."
Sofianos said using the Virginia-Highland Elementary space, which is the former Inman Middle School, created a stable school environment for students, even after moving from virtual school. 
"We loved it at the Inman building; we called it 'MES@Inman,'" Sofianos said. "For the kids, it was their school. When we returned in January 2021 [from virtual school], we returned with about 60% of our kids at that time, and then that went up to about 75% in April 2021. It was great, even though we had obstacles."
Science teacher Valerie Taylor has worked at Morningside for 40 years and believes the move back was important for the student community. 
"The students were super happy to be back at Morningside," Taylor said. "Although we certainly enjoyed the [Virginia-Highland] campus because of the generous space it provides, gym with bleachers, two playgrounds, auditorium and wonderful classrooms, we are super happy to be back on East Rock Springs(Road)."
 Taylor said Morningside administrators tried to make the transition smooth by supporting the teachers.  
"Principal Sofianos and our Assistant Principal Brian Baron had the move super organized and packaged for the move to [Virginia-Highland] and back," Taylor said. "You had to pack every single item; so it took a bit of time, but it was very smooth. Mrs. Sofianos also gave us time to unpack and get our rooms ready; the teachers were very grateful for that time."
However, Morningside parents faced some challenges, such as the increased distance from the school. 
"The biggest impact was that we did have to move our morning schedule up by about 15 minutes to make it to school on time given the location was further away from our residence," parent Kerri-Anne Griggs said. "Additionally, we had some challenges in that the aftercare program shifted its end time from 6:30 to 6pm., so my husband and I had to shift the time we could take calls or be at our office because the routes to get to the VHE (Virginia Highland Elementary) building were typically traffic-filled close to 5:30 when we would have to leave."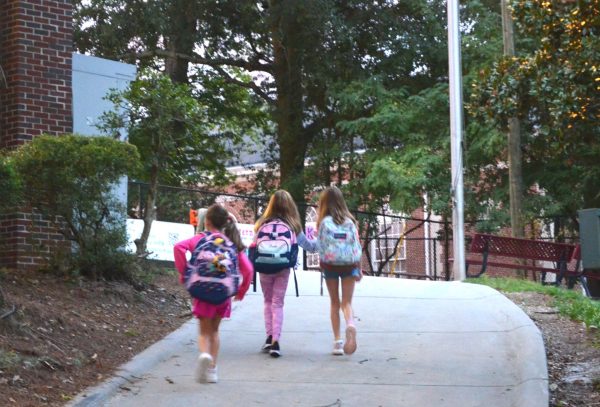 Taylor said returning to the Morningside building came with a lot of new additions. 
"The school now has a new feel but still has the old, historic feel of Morningside," Taylor said. "The architects left the beauty of Morningside but added new and improved spaces with a new gym that segues into our amazing athletic field. We have a beautiful cafeteria, and that goes out to a spacious outside auditorium. We are even safer because we have a bridge that spans across our carpool line."
Griggs said another benefit to returning is that the students now have improved learning spaces.
"One thing I'm certain will be an improvement is that no students will have to be attending classes in very old modular (portable) classrooms that are past their useful life data," Griggs said. "In fact, modular classrooms won't need to be used at all."
Ultimately, Sofianos believes staff and students are glad to be back at Morningside. 
"During that time at Virginia-Highland, we just maximized the property," Sofianos said. "We loved having the larger gym with bleachers [and] having an auditorium with seats; that was really cool. There were some cool features of that building that we just really enjoyed during the time we were there, but Morningside does feel like home to us."