Music from across the Caribbean filled Piedmont Park over the weekend of Aug. 11 at the BeReggae Music & Arts Festival.  People from all over Georgia gathered to celebrate the festival's 10th anniversary. 
Booths full of authentic pieces from African culture and black-owned businesses lined the streets. Owner of B&B African Prints, Beth Mbuthye, said the festival is a great market for her business. 
"Well, I know it's a lot of black, and everything that I have is authentic," Mbuthye said. "Everything that I sell is Kenya-made so that was one of the reasons why I decided to come." 
In previous years, the crowds consisted of thousands of people. However, Mbuthye said that the crowd this year was smaller compared to previous years. 
"This year it's very different because the past few years it had a bigger crowd," Mbuthye said. "But this year, not as much. It's gone way down."
Senior Savannah Strongman attended the festival on Saturday. She was introduced to reggae at an early age.
"My dad is really into reggae and he used to show it to my family growing up, so I was always really into it," Strongman said. "The festival so far is really good. I really enjoy the music."
While reggae originated in Jamaica, it has evolved into a genre of music that combines many African and Caribbean styles and beats. This variety allows many people to connect to the music. 
"It's so inclusive," Strongman said. "It highlights a different kind of genre that's dedicated to a specific area of the world. And, I think it's cool when people admire other music like this and foreign cultures."
Festival goer, Marie Tinker, has grown up around reggae music and said she loves the way it brings people together.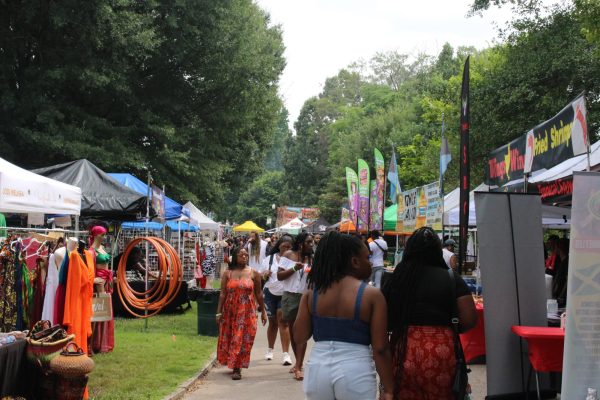 " [Other reggae festivals] compare in the sense that it brings everybody together," Tinker said. "It's so diverse and you can just be yourself."
Owner of the business I Love Waistbeads, Micah Blackmon, said the reggae festival is different from other festivals. The festival attracted a positive crowd, Blackmon said.
"It's just the energy that's out there," Blackmon said. "I love all the people. It's a lot of happy souls out here and this is honestly probably my favorite spot really out of all the festivals." 
Following the storms on Saturday, the festival was canceled on Sunday. However, many people and vendors still attended on Sunday. 
"When I was there, they weren't playing any music because it was shut down but some people were playing music through their personal speakers," Senior Genevieve Peterson said. "Most of the booths were shutting down and a lot of the people attending the festival were just sitting in the grass and hanging around."
Despite the absence of music, people still gathered at the park to celebrate reggae music. 
"I liked that even though a lot of the events were shut down, everyone was still hanging out and enjoying themselves," Peterson said. "I think these events are important because they are an easily accessible way to appreciate different types of art and culture within your community."