Holland retires after 16 years, leaves legacy behind the scenes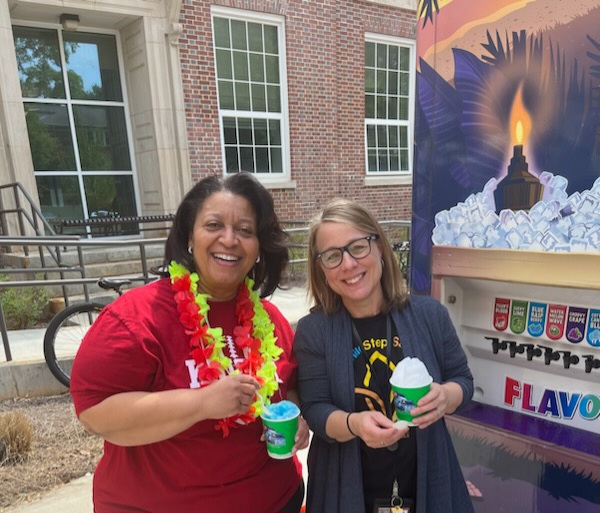 Chinaester Holland has been working behind the scenes at Midtown  for more than a decade and a half. She has filled the halls with joy and dedication. During her time at Midtown, Holland has handled registration, transcripts and enrollment. 
"I've been working at Midtown for 16 years," Holland said. "I started at APS at North Atlanta. I stayed at North Atlanta for two years, and I was in the main office at North Atlanta. And then I moved over here to Midtown."
Holland was born in LaGrange, Georgia but lived in multiple places growing up .She went on to study political science at the University of Wisconsin before moving back to Atlanta. 
"I moved from LaGrange because my family was in the service," Holland said. "When you're in the service, you travel a lot. I traveled to Florida, then Rhode Island, Chicago, and then came back to Atlanta. I graduated from Booker T. Washington High School. Then I went to the University of Wisconsin for college."
Prior to working in education, Holland worked at Turner Broadcasting.
"I was working at Turner Broadcasting and when Time Warner bought Turner Broadcasting, our division was eliminated," Holland said. "That's when I started working at North Atlanta. Then, I worked at Grady for summer school for two years. Then the registrar, Ms. McClain, [passed] Once she [passed], then I applied for the job. That's when I came here."
Working in education was not where Holland expected her career to take her in the long run. 
"I never, in all my wildest dreams, thought I would work in the school; that's the truth," Holland said. "But I did it for my children because it was easier because my daughter graduated from North Atlanta, then I had another daughter who graduated from here. So, it was just easier to just stay in the school system."
While Holland may not be a part of students' lives in the classroom, she is there for them throughout their high school years. 
"Honestly, I love the kids," Holland said. "I love watching them come in as ninth graders and then grow and develop and then graduate in the 12th grade because that's the best part."
After 16 years, Midtown is still the same in Holland's eyes. Although the student population continues to grow, the building continues to be filled with a great staff and students. 
"The administration, faculty and staff are still amazing people, other than the size, it's pretty much been the same," Holland said. "I can't say that anything has changed drastically other than, say, the enrollment has increased."
As registrar, Holland registers students into the school. She not only enrolls students, but also assists students in staying on track for graduation and helping out in other areas.
"I always tease and say I'm like the air traffic controller, and a concierge because I hope I'm helping the parents enroll, navigate the process of enrollment and registration," Holland said. "Then helping them throughout the 9th, 10th, 11th and 12th grade year with different things that they need."
Holland's importance does not get overlooked. 
"She's the heart and soul of Midtown High School," Assistant Principal Willie Vincent said. "She is the one that people meet the very first time they walk in here. She's the grades person; she's the records person;s he's the transcripts; she's the birth certificate person. She's the one that makes every part of everything that we do in this school actually work."
Throughout her years at Midtown, Holland feels she has had the biggest impact on students and seeing them progress from 9th grade to graduation.
"I remember this one student, when we used to do registration face-to-face, I asked her, 'Where are you going to go when you graduate?" Holland said. "She said, you mean I can graduate. I'm like, yeah, you can graduate. Because she was a first generation high school graduate. That year that I called her name, she was like, I did it. And I'm like, yeah you did it. You did it."
Stephanie Case, the school records' clerk, has worked with Holland for over a year. She looks up to her for her kindness and patience with students and faculty. 
"What I admire most about Ms. Holland is her patience to teach," Case said. "No matter what question I ask her or what she's in the middle of, she will always stop and help me. Everybody loves her, and the kids know her. Anybody who needs anything, they come to her. She greets them in the hall. She just is this solid presence, I would say."
Case will replace Holland as the new registrar in the fall of the 2023-2024 school year. She hopes to be able to continue Holland's legacy of being a helpful asset for students and parents.
"I have very big shoes to fill, and I will have her on speed dial," Case said. "I'm very excited for the role, but I feel when you have Ms. Holland, it's hard to do as good a job as she did, but I'll do my best."
As Holland closes out her last year at Midtown, she will miss her relationships with the Midtown community the most. For her, this is what makes Midtown such a unique school.
"I've built some very wonderful relationships over the last 16 years with the staff," Holland said. "I think our staff is the magic of Midtown. They are absolutely wonderful. Some of the parents I've stayed close to, some of the parents who graduated multiple children from Midtown, and then some of the students."