Latin teachers enhance program, teachers win awards
Amy Leonard and Scott Allen have been teaching Latin together for eight years. Originally, Leonard worked at Midtown starting in 2004 and then left for a few years after having her second child. Allen joined the Grady faculty to teach Latin in the 2010-2011 school year while she was gone. 
Leonard then came back in 2015, and now the two run the Latin language program together. Both Allen and Leonard knew of each other when studying at UGA, but they weren't close until teaching together at Midtown. Allen and Leonard teach Latin I, II and III classes, but Allen teaches Latin IV while Leonard teaches AP Latin. Amongst this, they work together to choose the best way to teach students.
"We have a lot of conversations about what's right for our kids here," Leonard said. "We have a lot of conversations about pedagogy and what is effective and what isn't."
Allen thinks that he and Leonard have been able to use their similarities to strengthen the programs for students.
"We have the same philosophy in so many ways," Allen said. "We have a lot of the same personality traits, we try to be very organized and we try to find just funny, silly things so that kids can remember the Latin we teach them."
While she was running the program by herself, Leonard collaborated with other teachers from past schools. 
"When you teach by yourself there are pros to that, especially because nobody's going to call you out on what you're doing since no one else teaches what you do, and when you have a colleague you can be restricted because you have to teach sort of the way that they do," Leonard said. "What happened with Mr. Allen was that he's phenomenal and he kind of caused me to fix some of the errors in my teaching that I hadn't fixed and hadn't even noticed before."
Sophomore Zach Chan has been taking Latin since sixth grade and sees how students taking Latin get to experience a diversity in teaching that not all language classes have.
"The Latin class stands out amongst the other language classes in my opinion because not only do both teachers clearly love what they teach and enjoy teaching it, but the way they teach the class provides many students with a similar appreciation for the subject," Chan said. 
According to Leonard, students at Midtown who take Latin tend to experience things that not all students typically witness.
"When taking Latin, you're in a very small club," Leonard said. "Students have a chance to do something that not a lot of kids get to do, so that's just one of the things that makes you feel special because you know you're making a difference with sort of a dying subject.  Because of that, I know that I come to work with purpose."
Chan thinks that Latin can help students in ways that extend beyond class. 
"Latin is very helpful when it comes to the college and career that I'd like to go into as I'd like to major in political science and become a lawyer, both of which utilize a lot of terms and phrases from Latin," Chan said.
Allen also agrees that Latin not only serves students inside the classroom but outside of it as well.
"I kind of feel like if you open your mind, Latin can be the interdisciplinary course where you sort of learn everything from one language," Allen said. "We talk about engineering, philosophy, literary analysis, critiquing art, I mean it all comes together in this class."
Leonard appreciates her fellow colleagues in the language department and shares how the different cultural backgrounds enhance the teaching experience.
"The language department people are wonderful people, it's kind of by definition multicultural," Leonard said. "We get a lot of experience, we have native speakers in the department, so there's sort of a richness to that where we can all stretch each other's experience."
Senior Zach Spangler has been taking Latin since his freshman year.
"My favorite part of Latin is the community," Spangler said. "Getting to go to Latin Club and LatinCon is such a blast. You meet great people and have lots of fun competing against your friends and other schools."
During her time working at other schools, Leonard learned from other teachers about how to format a successful club for Latin at Midtown. 
"One of the things they say about teachers is that the best teachers are thieves, if you see a good idea use it," Leonard said. "One of the big things that I came back with was that the officers need to run the club because the teacher can only do so much and when the students are more invested, the club runs better."
Spangler is an officer for Latin Club and holds different events with his fellow classmates for their monthly meetings.
"Latin club is all about teaching more people the history and significance of Ancient Rome through fun games and activities," Spangler said. 
Allen finds that something unique about teaching Latin is that he usually gets to have students for more than just one year, allowing him to build bonds and a better understanding of his students.
"To me, the best part about teaching Latin is that I am lucky to teach most of my students for at least two years, oftentimes three and occasionally even four," Allen said. "I don't know if this is a Latin-specific thing but I just love watching students grow and I think it's just amazing to witness."
Each year the Marian P. Kelley Award is given to a Midtown teacher who is a favorite among students, chosen by the Southerner staff Seniors. This year the award was given to Allen, who has taught them all at some point and time. The award originally noted Kelley's work at Grady High School in 1970, as she was one of the first African American female teachers and English Language Arts Chairs. 
"I feel honored and very humbled to have received this award. I was shocked when I found out.  There are so many deserving teachers here, and I never thought I would win this award," Allen said. "When I first came here in 2010, I noticed that winning the Kelly Award was a really big deal, and over the years, teachers whom I really respected and admired have won this award. I feel very honored to join their ranks."
Senior and Co-Editor in Chief of the Southerner, Greta Gustafson played a role in the choosing of which teacher would receive the award.
"Mr. Allen has been so dedicated to all of his students and has been instrumental in so many people's high school experiences, so it just felt right to give him the award this year," Gustafson said.
One of Allens' mentors, George Darden had one of the awards when he taught at Midtown. Allen expressed that to be able to do the same means a great deal to him.
"The award feels especially meaningful because it comes from the students. One of my many mentors was a Social Studies teacher named George Darden. When he taught here, Mr. Darden won every teaching award there is," Allen said.  "When he won the Kelly Award, he told me, "This one means the most because it came from the students." I couldn't agree more, and I am so grateful for the amazing class of 2023 for this recognition. I am also grateful to my colleagues for mentoring me and supporting me over the years. I feel very lucky to teach in this community."
Gustafson has noticed how Allen goes the extra mile to really get to know his students.
"I think I speak for a lot of people when I say Mr. Allen has a genuine care for each and every one of his students," Gustafson said. "For me, that's something I really admire about him."
Additionally, Leonard was awarded the STAR Teacher award this year by the STAR Student for this school year.
"I was named STAR Teacher this year by STAR Student Aran Sonnad-Joshi," Leonard said. "I'm exceedingly proud of Scott for winning the Marian P Kelly Award."
The history of Latin is something that often gets overlooked because it is a "dead" language, but students such as Spangler appreciate learning the language and culture.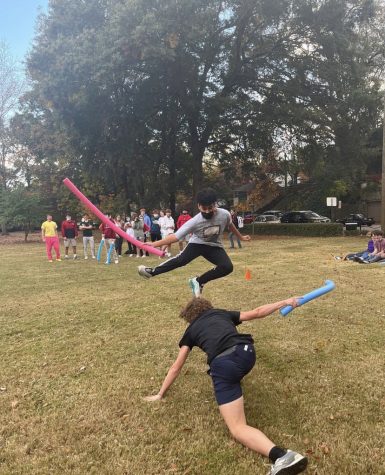 "Latin has taught me that this language is not dead," Spangler said. "Despite what people tell you, you can find hints of Roman architecture and especially language just about everywhere. Latin is unique as there is a whole section of history placed well before [the] history of other languages. It has a unique culture that you see some resemblance in today's world."
Chan appreciates the differences in teaching Latin and the subject itself.
"I feel that the teachers in Latin are unique in their love of their subject because Latin and classics in general are subjects that require a lot of appreciation and interest to get a degree in. It's clear when they're teaching that they not only know what they're talking about but also enjoy sharing their knowledge and love of Latin with others," Chan said.