Williams excels in golf, advances to state
Sophomore Julia Williams began playing golf at the age of four and has now grown to love both volleyball and golf, while also juggling her other life responsibilities. Williams was the captain of the girl's golf team this year.
Williams has been playing golf since she was young and has now begun to compete for the Knights. Williams took a break from playing golf from the age of 10-13 and spent her time exploring different sports. She decided to seriously pursue it again at the start of High School.
"With golf, it's just something that my dad and I always did, and I think coming back from my break made me love the sport," Williams said. "Volleyball I love it because it's a team activity and you can make great friends. I think I wouldn't be such good friends with a lot of people if I didn't play volleyball."
Williams was the only one on the girl's team to qualify for the state playoffs this year. She is looking forward to representing her team and the school. 
"I'm really excited to go to state for the second year, but I really wish the team could've come with me," Williams said. "I'd love for them to experience it because it was so much fun last year together."
Midtown girls golf team coach, Coach Johnson has been William's coach since her freshman year. He has seen her grow and flourish in the sport.
"I would say she's made great strides since last year, although we've had kind of an inkling that she was turning into a very good player late last year because the girl's team did make state last year," Coach said. "She ended up being the top performer on the team at the state tournament."
Williams' mother, Laura Boring has witnessed Williams' growth through the years and has seen her dedication to each sport develop.
"It's been really amazing to watch her come into her own and find her own place and people in school and sports," Boring said. "With volleyball, what we saw was an opportunity for her to flourish in a team sport, whereas she had been doing golf for a long time, which was pretty much just individual."
Johnson witnessed the hard work Williams had in golf and that helped her go further this year.
"She put in a lot of hard work during the off-season," Coach said. "We kinda had a good idea that because of that she would make state again this year. 
To qualify for state, there are roughly 10 teams that compete in the Area tournament, and the top four teams advance to the next round of the playoffs, so either they go to sectionals or state. Among the other teams that don't make the top four, those teams have a top individual, scoring better than the remaining teams. Williams was the top-scoring individual outside of the top four teams.
"At state, there are 12 teams represented and there are six individuals," Coach said. "The only difference between going to state individually or with a team is missing the comradery and being on your own."
David Williams, William's father is glad that Williams has found a home in golf and her other sports.
"I'm as proud as I can be, I even get a little emotional talking about it," David Williams said. "It's hard to put it in words, as a parent it's not about winning, it's about seeing her really put in the work to succeed in the sports she does." 
Sophomore Chase Hopkins has known Williams for two years as a teammate and friend in volleyball and golf. 
"Julia is very caring and reliable as a friend," Hopkins said. "I'm always impressed about how she never fails to give up her determination to do better in the sports she loves. Even if she's having an off day, I think that fuels her to push herself harder."
Boring said Williams was always trying new things, and when it came to sports she always explored her options.
"She was always trying different sports and seeing what she liked and didn't like so much," Boring said. "She is now doing club beach volleyball on top of playing golf, and that was just again another version of trying something new."
Being a student-athlete requires a lot of time and effort. Williams has found a straightforward way to achieve an organized lifestyle.
"I think it's really all about organizing your time well," Williams said. "I try to get as much work done in school as I can because I normally don't get home until at least nine and that doesn't leave me with a lot of time. I have golf every day except for Friday and beach volleyball twice a week, not to mention tournaments, so it can be tricky."
Williams' father sees the amount of time that William's sports can take up, though despite this he believes that she can take away something from it.
"It's a lot to put on yourself in golf because it is very much 60% mental and 40% physical," David Williams said. "Every experience in both sports teaches her something, and being captain for golf this year helped her learn to be a good role model for her teammates."
Hopkins admires how hard Williams works in her day-to-day life.
"Her work ethic in sports and everyday life helps her to work harder and push herself further. I think she's very hard on herself when it comes to golf, but it definitely pays off considering where she is now," Hopkins said.
Johnson knows the work that Williams put into her season allowed her to achieve her place in state.
"I'm very proud of her because she worked very hard to achieve this," Johnson said. "There are definitely a lot less females playing the game, but the schools are fairly well represented, girls teams just tend to be smaller than boys."
Williams expressed that especially when it comes to golf it is hard to prove your worth being a female competitor.
"I think it's kind of hard to be taken seriously if you're a girl and play golf," Williams said. "Whenever I go to practice somewhere new, or I'm by myself I just kind of let people underestimate me. I love when men are surprised that I actually hit the ball, I think it's funny."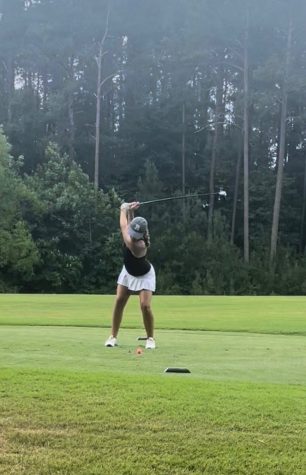 Boring said she is impressed by her daughter's ability to push herself and compete in a sport like golf. 
"I'm so proud of her," Boring said. "I mean she's really found the ability to compete in a pretty male-dominated sport such as [golf] and to represent herself and her school."
Hopkins is proud of the commitment that Williams has had to golf but is also thankful for their friendship.
"Something I appreciate about our friendship is how we have time to goof off, but when it comes down to it we can work together to push each other further in everyday life and in sports," Hopkins said. "I'm very impressed with how far she's gone in golf because I know that she's a great golfer now, and she's not even at her full potential yet."