Taylor ends 20 year legacy coaching boys tennis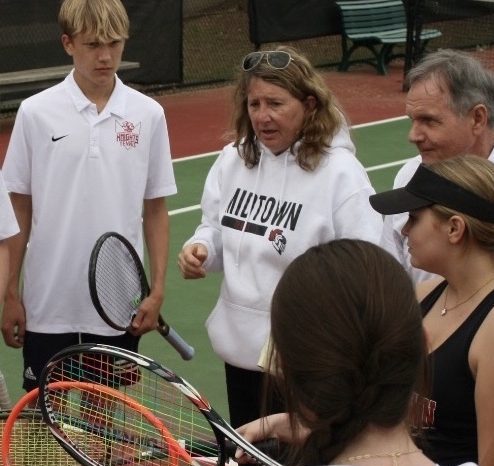 Long-tenured Midtown tennis coach Valerie Taylor is retiring after more than 20 years, following the closing of the boys tennis 2022-23 season. 
The boys year concluded after they were defeated 3-2 in a closely contested match against Centennial in the first round of the GHSA state tournament. Despite the loss, Taylor is proud of the team and their accomplishments. 
"It's always very difficult to lose especially in such a close match, but the boys played their hearts out." Taylor said. "It's bittersweet because we're a very talented team and even though the results may not fully show that, I know that we have some of the best players in the whole tournament." 
Taylor, a former Division 1 player at the University of Alabama, led the boys to 9 straight playoff appearances including two state finals appearances during the team's 2018-19 and 2020-21 campaigns. 
"I will only have fond memories looking back at my time here at Midtown – the best memories ever – but an old timer once told me you'll feel when it's time to retire in your soul, and I finally got that feeling," Taylor said. "I live in this community, I teach in this community, and I love working with all the talented kids and hard-working parents that have helped me make a really good run in the tennis world." 
Athletic director Patrick Johnson acknowledges Coach Taylor's shoes will be tough to fill. 
"Her departure is a big loss," Johnson said.  "I think the program will try to land on its feet to try and find someone to replace her, but she means a ton to the team, building it up and has obviously been one of the huge factors in its success. She's been great, when I became Athletic Director she really helped during the transition period, she does everything with the best interest of the students in mind." 
Even after retirement, Taylor hopes to stay connected with the team. 
"I hope I'm sitting watching by the court on match one with a nice drink sitting in my little green chair, I still want to see my guys succeed even without me alongside them." Taylor said. "They're an incredibly talented team and a great group of gentlemen. I have no doubt they'll continue to work hard."  
Fellow Midtown tennis Coach Sandy Stein, admires Taylor's dedication to the game of tennis. 
"She's part of the reason the team has ever gotten as far as it has. Her tennis IQ and ability to relate that to the players is vital to everything we've done, when she starts talking the kids listen to her because they know she knows what she's doing," Stein said. "It's been awesome working alongside her as a coach." 
Along with coaching at the high school level, Taylor worked with both middle school and elementary school tennis teams throughout her career. 
"One of my favorite parts about this job is helping mold younger kids into amazing players," Taylor said. "Really they do all the work I just guide them along. I'm gonna miss coaching some amazing kids like Teddy Suazo, Ethan Bass, Olivia Allen, Josh Wolfe, and so many other just incredible players."  
Boys tennis co-captain, senior Ethan Bass, says Taylor helped ignite his passion for the sport. 
"I learned more than I ever could have imagined under Coach Taylor," Bass said. "She's been my coach since 4th grade, she taught all my serves, volleys, and ground strokes. She also taught me how to stay positive on the court and fight for every point. She has a really inspiring attitude that helps keep me grounded during my games." 
Despite retiring as tennis coach, Taylor will continue to work as the 5th grade life science teacher at Morningside Elementary School. She plans to utilize her added free time.
"I'm going to enjoy a few more years teaching at Morningside, but I think I'm really looking forward to volunteering at a few organizations," Taylor said, "I want to volunteer at the Shepherd's Center, and I want to work with a lady organization that helps look after the babies at Grady Hospital. I just want to be able to give back to a community that's given me so much."