Iconic Tara Theater reopens after short closure
After almost six months of being closed, Atlanta's historic Tara Theatre will reopen this month. 
Christopher Escobar, the owner of Midtown's iconic Plaza Theatre and Executive Director of the Atlanta Film Society, announced at the Atlanta Jewish Film Festival in February, plans to reopen and take over the Tara Theatre in collaboration with Kenny Blank, the Executive Director of the Atlanta Jewish Film Festival. 
"As the Executive and Artistic Director of the Atlanta Jewish Film Festival, I had the privilege of assisting in the efforts to revive the Tara Theatre, including facilitating an agreement between new owner Chris Escobar of the Atlanta Film Society and shopping center operators Halpern Enterprises," Blank said in an emailed statement. "Our commitment is to support Chris in transforming the Tara into the city's premier film destination and cultivating a community of cinema enthusiasts."
News of the Tara Theatre's reopening brought excitement to many, including sophomore Eden Tejeda-Taffel. 
"I was really excited," Tejeda-Taffel said. "I could just feel that somebody was going to reopen it, just because it's been such a long-standing part of the community for so long. It's also not surprising to me that the owner of the Plaza reopened it too because the Plaza is really similar to Tara in many ways in terms of the films that they show; the Plaza is also an older kind of theater, so I'm sure they'd want to support the other older theaters in the area."
For Tejeda-Taffel, the Tara Theatre has been a foundational aspect in the development of her passion for film.
"It's pretty important to me because I've just been going there for so long," Tejeda-Taffel said. " I feel like it's kind of also one of the theaters where I got my taste for film because they show a lot of newer arthouse films, and that helped me get interested in film."
The Tara Theatre is one of the few theaters in Atlanta that exclusively shows independent and foreign films. Tejeda-Taffel said that Tara Theatre has played a pivotal role in giving independent filmmakers public recognition.
"I think it can be really hard for independent filmmakers to put their stuff out there," Tejeda-Taffel said. "I think theaters like Tara that have been kind of like a long-standing theater in the community can really help these independent filmmakers kind of get their stuff out there and show it to the world."
The Tara Theatre was first opened in 1968 and has since maintained its original architecture. Sophomore Lannea Kimmons admires its unique design and said that it is part of what makes Tara Theatre distinct.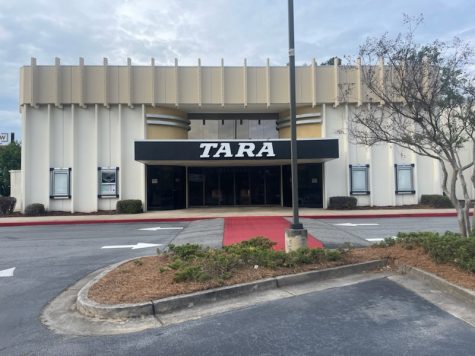 "It's very homey, comforting, and it's very classic," Kimmons said. "I feel like its inside at least is very much like out of a movie. Where it's located is not the best area and the outside of it is not the most welcoming, but I feel like all of that changes as soon as you go inside."
Tejeda-Taffel said that the theater's architecture and interior design, along with its one-of-a-kind movie experience is highly important to its community. 
"A lot of the buildings and architecture surrounding it have a really sterile feeling," Tejeda-Taffel said. "I feel like Tara kind of adds a little bit of that older, authentic feeling and adds a little spice to the community." 
With Atlanta becoming an epicenter for filmmaking, Kimmons said that the Tara Theatre is essential in reflecting local film.
"Especially in the past few years, Atlanta has definitely become a huge film city," Kimmons said. "I mean, there's stuff filming everywhere all the time. I think that any smaller theater in Atlanta has that going for it that people are coming to Atlanta, hopefully, to film movies, watch movies and go to film festivals. And so I think that having theaters like Tara really helps show the community side of film."
Kimmons said that due to both Covid-19 along with its location, the Tara Theatre struggled to remain open, leading to its closure last year.
"I think that, especially with Covid, everything was shutting down," Kimmons said. "AMC almost went bankrupt. Every theater out there was struggling, and I think that for Tara, it wasn't that surprising. But at the same time, I wasn't really surprised because it is in a poor location. [You] can't really walk there. It's not that family-friendly."
Tejeda-Taffel felt that the theater's closure was especially unfortunate because of its uniqueness.
"I was really disappointed because I had been going there for so long," Tejeda-Taffel said. "I think not only was it a great source for all kinds of independent productions, but also just the building itself was a really cool place to go see movies, and there's not many like that in Atlanta, especially."
Kimmons said that overwhelming community support partially accounted for the Tara Theatre making a comeback by reopening.
"I know that Tara made a ton of money before they even reopened just from donations and people and filmmakers alike," Kimmons said. 
Blank said he admires the Atlanta film community's collaboration in reopening the Tara Theatre.
"Taking action to reopen Tara Theatre reflected my belief in community involvement," Blank said. "We seized a chance to revive the traditional moviegoing experience, a vital part of our cultural identity, fostering connection and engagement." 
Kimmons said that she too appreciates the Atlanta film community's ability to step in to reopen the Tara Theatre so quickly.
"It's symbolic for the film and the entertainment industry, coming back after Covid, and beginning to reopen and again to thrive," Kimmons said. "But I think that it really is like a symbol of the strength of the entertainment industry that even though it did struggle throughout COVID, it is resilient, and it can come back."
Blank says that the impact of the Tara Theatre reopening extends beyond its physical restoration.
"It rekindles nostalgia and evokes memories of the cherished traditional moviegoing experience," Blank said. "The theater's revival enables people to relive something unique that cannot be replicated at home."